Are E-Bikes Allowed On Bike Paths? YES !
Yes, e-bikes are allowed on bike paths. It might be provoking a question in your mind that there is a motor attached to the e-bike, it can attain far greater speed than any regular paddle bike, is it really allowed on a bike path? 
Again the answer is yes, from class 1 to class 3 e-bikes are allowed on the bike path.
Most counties are still considering an e-bike as a regular two-wheeler bike.
In most places, while riding an e-bike, you won't need registration, no need for any specific license or insurance. Almost all the roads are open for your e-bike.
The only difference between riding a regular bike and an e-bike on the bike path is the speed limit restrictions. While riding an e-bike, you will have to strictly follow the speed limit for both your and the pedestrian's safety. You should follow all the etiquette and rules made for regular bikes and you will be able to enjoy your ride safely on the bike path. 
The thing said here are quite basic and obvious but the frequent cases of e-bike riders neglecting the speed limit, causing disturbance for the pedestrians and others, have kept the authorities on the edge. It won't be that surprising if new restrictions are added on e-bike in the upcoming days.
Table Chart For Different Classes E-bike
There are 4 different classes of e-bikes. The class is divided according to speed and wattage. Except for the class 1 e-bike, every other e-bikes will have throttle features available. Here is a chart for you to help understand the class in e-bikes. 
| | | |
| --- | --- | --- |
| Class of e-bikes | Wattage  | Speed  |
| Class 1 e-bike  | 220 watt | 20 mph |
| Class 2 e-bikes  | 500 to 750 watt | 20 mph |
| Class 3 e-bikes | 750 watt | 28 mph |
| Class 4 e-bikes  | 1000+ watt | 35+ mph |
Table Chart For Different Classes E-bike
Where You Can Ride Different Classes Of E-bikes
You can ride class 1 and class 2 e-bikes almost anywhere. These classes have full access to bike paths, parks, trails, mountain terrain, and more. The max speed you can expect from these e-bikes is 20 mph which is considered safe to handle and even in case of collisions, it won't cause any major damages.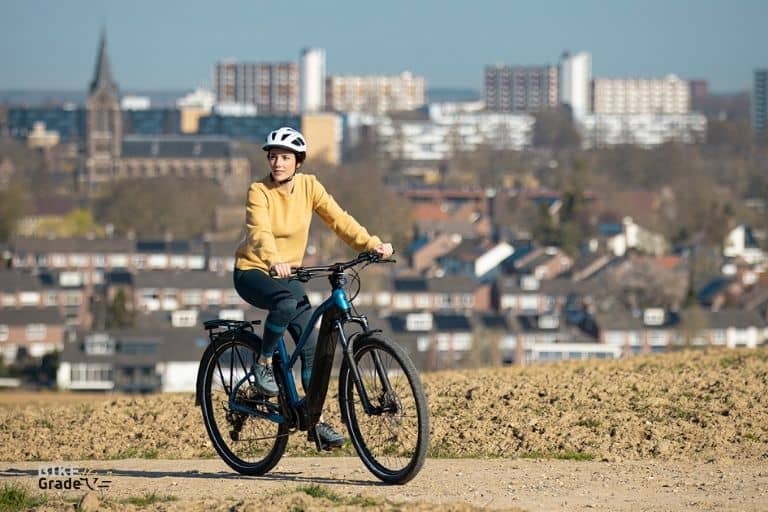 Class 3 e-bikes are allowed on both bike paths and car lanes. When riding on a bike path, a rider must control their speed and keep it under 20mph. Also a class 3 e-bike with a top speed of 28 mph, might face some restrictions on entering public parks but most places won't be too strict with rules and regulations. 
A class 4 e-bike won't be allowed in bike paths but will have access to motor bike and car lanes and off-road. Because of their high speed and wattage capacity, they won't be allowed on most trails and parks. 
Watch Video: Ebike regulations!
Regulation Of E-bikes
The regulations around e-bikes are quite flexible. If you have a class 1 or 2 e-bikes then In many states, you won't need to register your bike, nor will you need any insurance or license. In most places you won't even need to wear your helmet.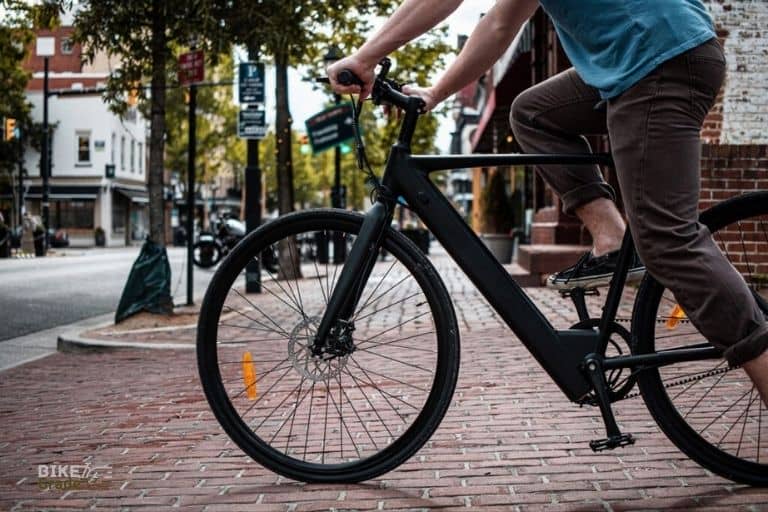 But it's different for class 3 and 4 e-bikes. With a Class 3 e-bike, you might get out of any documentation trouble but for class 4 e-bikes you may need a license. 
For class 1 to class 3 e-bike riders, as long as you follow the general etiquette of a bike rider then you won't get into any trouble. In most countries, the average speed for e-bikes is 20 mph. For taking a ride on parks and trails, you should always follow the local law or get a class 1 or 2 e-bike and enjoy your ride. 
Is It Legal To Ride An E Bike On A Trail In California
The restrictions on trails depend on what kind of e-bike you are riding. 
The restrictions are mainly applied to class 3 and 4 e-bikes. Class 1 and class 2 e-bikes have access to almost all the trials in California.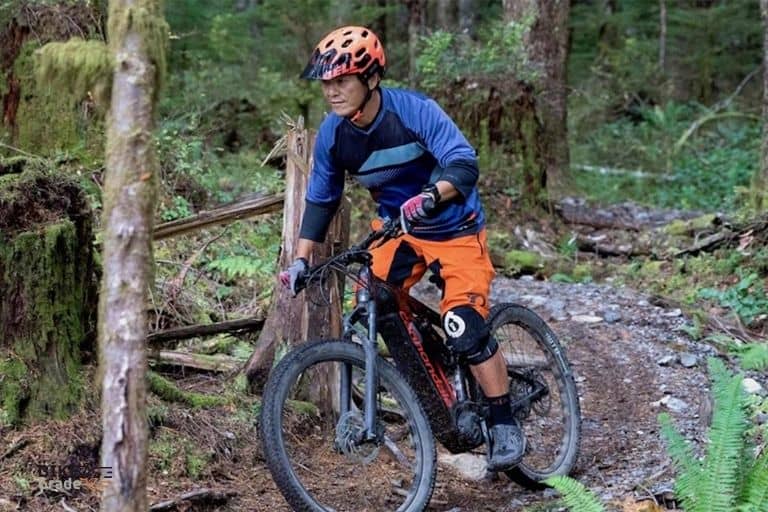 If you have a class 1 e-bike (no throttle and max speed of 20 mph) then you won't face any restrictions on the trails of California. With a class 2 e-bikes (with throttle and max speed of 20 mph) you will rarely face any restrictions but with a class 3 or class 4 e-bike, you might not get access to many parks and trails. 
Can I Ride An Electric Bike On Trails?
Yes, you can ride an electric bike on trails. No matter where you are on the world map, you will have access to parks, trails, and mountain terrain to ride your e-bike. 
That being said, if the trail you pick is a private property or used for preserving wild animals then there might be restrictions. Also, you might find a perfectly suitable open for all trails but no e-bikes are allowed, you can blame the riders who didn't follow the speed limit and created chaos for the visitors. 
If you have access to a trail, make sure that there is enough room for your e-bike to comfortably move on. While riding on the trails always keep in mind, it's gonna be difficult to control a motorized bicycle and even a tiny bit of error on your side may lead to complete disaster. 
FAQ
Why Do Some Trails Not Allow E-bikes?
The restrictions put on riding on some trails is purely for safety reasons. As it's seen that most riders ignore the safe speed limit and try to attain high speed on the motorized electric bike.
Can E-bikes Go On Trails?
Yes, most trails allow e-bikes but ignoring the speed limit and other mischievous behavior from a number of e-bike riders may force the authority to put on restrictions.
Where Can You Ride E-bikes In Virginia?
As long as your e-bike speed is around 20 to 24 miles per hour, you are allowed to use all roadways in Virginia.
Are E-bikes Legal In Rhode Island?
Yes, e-bikes are legal and Rhode Island has a flexible outlook on the e-bike as you don't need to register the bike, also you can ride an e-bike on all roadways without any license.
Can Electric Bikes Use Bike Lanes?
Yes, e-bike can be used in bike lanes. Despite being a motorized vehicle, most federal States consider e-bike as a 2 Wheeler regular bike so there are no restrictions.
Is It Safer To Bike On A Sidewalk?
Yes, sidewalks are far safer for riding a bike than riding on any other roadways.
Conclusion 
Among all the 4 classes of e-bikes, class 1 and 2 with a max speed of 20 mph will have access to almost every bike path, park and trail. Class 3 and class 4 e-bikes might not be allowed in all the Parks but you can enjoy worry-free rides on almost all roadways.
Also, class 4 e-bikes may not be allowed in most bike paths so you will have to stick to the car and motor bike lanes. No matter what e-bike classes you ride, make sure to control your speed and always follow the general riding etiquette. 
Resources
BONUS
Classification of E-bikes?
There are 4 e-bike classes-
Class 1 and 2 with a max speed of 20 mph,
Class 3 and class 4 E-bikes which have motors capable of going up to 36 MPH
Has a throttle pedal and a throttle hand grip
Is pedal assist able- You pedaling the bike while the motor assists you.
Does not have pedals, it uses electric power to help you pedal. The motor is activated when you lift your foot from the ground off of the throttle grip.
These bikes are designed for people that want an e-bike but don't necessarily want to ride on trails or go fast .
These bikes have pedals and the throttle is attached directly to the motor. This gives you more control over how fast the bike goes.
They are best for riders that want to go fast, but also want a bike that is comfortable to ride.
This is e-bike class that has motors capable of going up to 36 mph. These bikes are meant for experienced riders who know how to handle a powerful bike
All e-bike classes are allowed on almost every bike path, park and trail. However, some bike paths may have restrictions for certain e-bike classes. Be sure to check the rules before you go out riding.
What's required for each class?
Class 1- pedal assist only, throttle not attached to the motor
Class 2- pedal assist and throttle attached to the motor
Class 3- pedals and throttle attached to the motor
Class 4- pedal assist, throttle and brake all connected