How Much Does An Ebike Battery Cost [ An Exact Estimation]
The price of the ebike battery has always been a matter of concern for a large number of riders. High price of battery may not always mean high performance as most brands try to get as much money out of your pocket. Finding the best performing batteries on a budget might be a chore. Don't worry, we made it easy for you.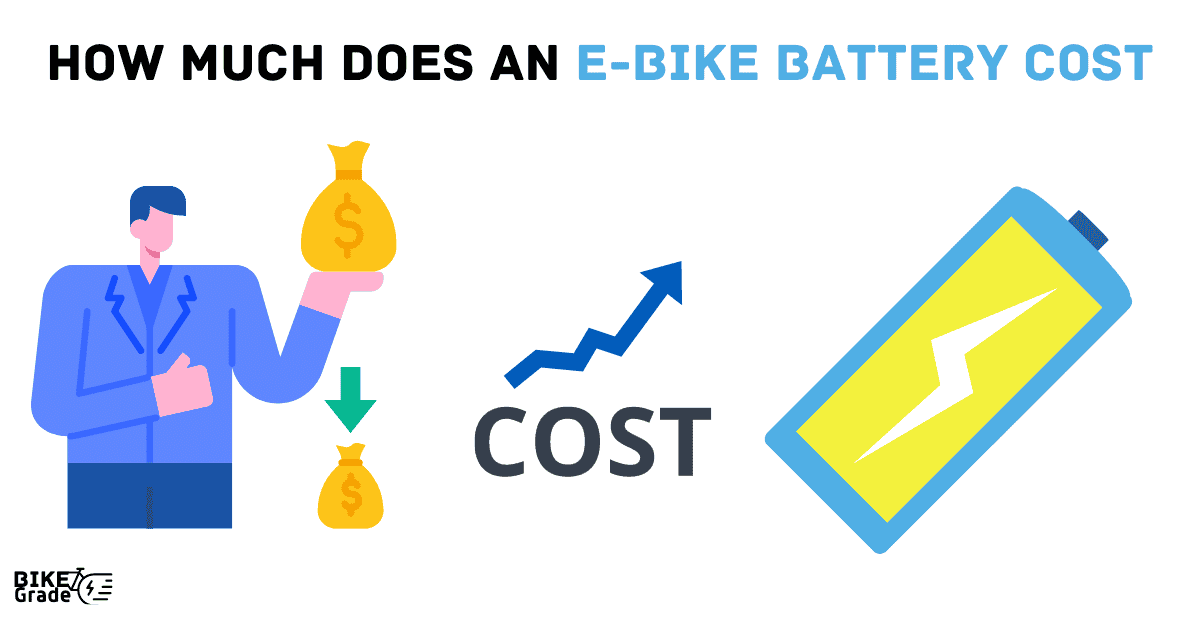 How Much Does An Ebike Battery Cost?
Depending on the built quality, capacity and brand value you may find an ebike battery at $300 to $900 price range.
You can probably get several ebike batteries at a low cost, and some prices may appear incredibly low even with high traits. Don't get scammed, there is a high possibility that all of those are clone batteries attempting to rip off a well-known brand.
Before purchasing an ebike battery, it is best to search for quality, rely on brands, browse customer reviews, and then settle on a price range. 
Comparing The Cost Of E-bike Batteries Between Brands
Here are the best performing batteries on the market and a relative comparison between their prices. 
Comparing The Cost Of E-bike Batteries Between Brands
How Much Does It Cost To Replace An Ebike Battery
If you are familiar with the battery replacement process then your overall expenses are just the cost of a new battery. Replacing a worn out battery might cost you around $450 to $800.
That being said, if the battery went bad due to a faulty connector, motor malfunctioning, weather damaged or any other major issues then adding on $250 to $300 on repairing or replacement cost along with $100 to $120 service charge. 
If you're determined to replace your ebike battery, don't jump right away! Give this guide a read to know the whole process. 
What's Inside The E-bike Battery?
Almost all ebike batteries have the same chemical composition, which includes lithium or lead, graphite, copper, and separators.
The visual appearance and core setup layout may differ, but you can be sure to discover the same materials within practically every battery, and there is a good reason for this.
Lithium/Lead/nickel-cadmium: these materials are the heart of the battery. These metals are popular because of their resilience, longevity, and high efficiency. A basic anode and cathode configuration with lithium or lead as an electron source may generate a remarkable amount of power.
Graphite is favored given its high energy storage capacity and sustainable atomic structure. Because it is heat resistant and has a low reactive nature, it is appropriate for use in primary and secondary cells of batteries.
Copper's high conductivity rate makes it perfect for transmitting electric power to multiple battery cells.
Metal oxide is commonly used as a separator. It is provided to safeguard the battery cells from harm caused by overcharging.
How Many Batteries Are Typically In An Ebike Battery
Batteries inside a battery! Ain't it fascinating. The huge numbers of mini size batteries you saw after dismantling your ebike batteries are called cells. Most manufacturers keep it a trade secret on how many they are but on average you may find 30 to 70 inter connected cells inside your ebike battery.  
Which Type Of Battery Should I Choose?
If you're seeking dependable performance and efficiency, lithium ion batteries are your best choice. However, if the cost of lithium ion batteries is unaffordable for you, a lead acid battery is the next best option. Although the battery's weight may be a concern for some riders. 
Nickel-cadmium is the cheapest one with minimal performance. Investing in a good quality battery will surely be beneficial. 
How Much Does A Lithium Ion Battery Cost?
Due to the scarcity of raw materials and the popularity of lithium ion as a battery material, it is one of the most costly ebike batteries on the market. It will cost you between $650 and $960. The price range rises in parallel with the grade of lithium ion in the battery.
Is There Any Cheaper Option?
If you go with the cheaper option you might need to compromise on the quality. So it's kinda hard to decide on battery type so you need to be creative and analyze what makes a good battery expensive?
The price of the battery's raw materials, the humans or robots who assemble the battery are all valid reasons for the price, but the greatest and most annoying factor is the brand value. If the maker is well-known, he may set the price at any amount. 
Let's think outside the box and make a DIY battery. You can cut the cost in half because you will just need the materials. All worker costs and brand value costs have vanished.
Feeling excited? Read the complete guide on How To Build An Ebike Battery.
Diy Or Regular Battery?
DIY batteries might reduce the overall cost to a minimum but the quality of assembly might be questionable. Regular batteries will need to go through several quality checks and ensure safety. So it completely depends on the skills of the person behind the assembly. 
Going with the regular battery is the safest option and DIY is the best way to reduce cost without compromising on the quality. 
How Long Does An Electric Bike Battery Last?
On average an ebike battery can last up to 4 to 5 years; however, if you rarely use your ebike or have been using it for a casual joy ride then you may expect a 7 to 8 year service out of the battery. 
Proper maintenance and better protection against the weather damage is sure to add on a few more years on the service life of an ebike battery. If you want to prolong the battery life then don't forget to follow my special tips. 
How To Extend The Life  Of An Electric Bike Battery?
There are several methods to extend the life of an ebike battery. 
Don't overcharge it
Keep away from extreme heat and cold
Not overloading the bike
Keeping the tire pressure suitable
Property maintaining the wires and connectors. 
Not to compete with other Motor vehicles on the road, ebike not built for speed. 
FAQ
Can You Have An Old Battery "repacked"?
Yes, you can certainly have an old battery repacked.
How Much Does It Cost To Charge An Ebike?
It will cost you between 7 to 13 cents to charge an ebike depending on local electricity (kwh) rate, battery capacity and voltage.
Can You Buy Replacement Batteries For Ebikes?
Yes, you can buy a replacement battery for an E bike through the original retailer.
Which Battery Is Best For Ebikes?
Lithium ion batteries are the most suitable choice for e-bikes.
How Far Will An E-bike Go On One Charge?
On average you may go up to the distance of 20 to 40 miles on one charge.
Conclusion 
Buying an ebike battery is a long-term commitment. A high-quality ebike battery will cost you between $650 to $800. If you have the budget, investing in high-quality lithium ion batteries for your bike may be the safest bet.
Buying regular brand batteries may be the norm, but most riders are now seeking for the DIY battery to save money without sacrificing performance.