Can You Overcharge an E-bike Battery?[Must to Know]
Whether you're taking a leisurely afternoon ride through the park or navigating the morning traffic, you want your ebike to work smoothly. In order to keep its performance smooth and efficient, you need to know about every aspect of charging your battery. And one of the biggest concerns is the overcharging issue. Today I will discuss all the details of overcharging.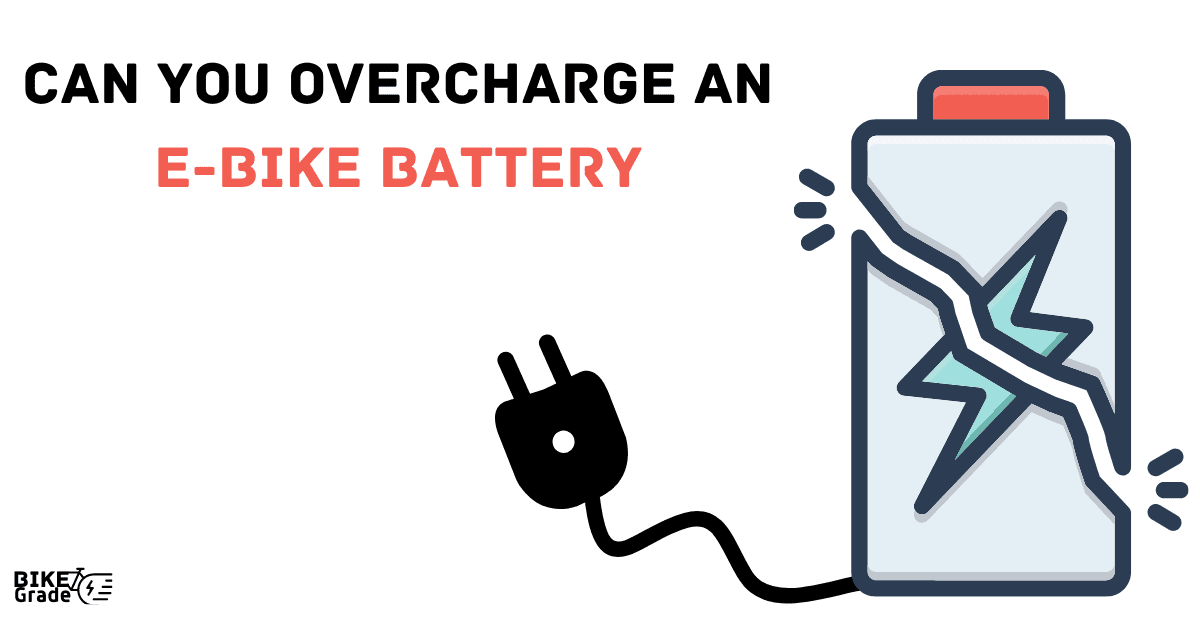 Can You Overcharge an E-bike Battery?
If you have a lead acid battery then you can't overcharge it straightaway. On the other hand, if you own a lithium-ion battery then you can overcharge them. The lithium-ion batteries have built-in technology that they can stop taking charge when it's full.
However, this habit of overcharging isn't good for battery life whether its lead acid, lithium-ion, or nickel cadmium. 
What are the Consequences of Overcharging an E-bike Battery?
Regular battery overcharging can lead to several issues. Some of these problems include:
1. Lower the Battery Life
Overcharging hurts! And reduces the lifespan of the battery. 
2. Higher Battery Temperature
The battery may heat up as a result of overcharging. When a battery is overcharged, it produces more heat than it can expel, which causes the temperature to climb quickly.

Overheated e-bike batteries have occasionally caused fires, but they are infrequent. As you may guess, the harm is not only limited to your battery. The bike itself might potentially sustain damage.
3. Decreased Battery Capacity
Your battery's capacity may be decreased by overcharging, reducing the amount of charge it can store.

What causes this to happen? When a battery is overcharged, chemical processes can occur inside it, causing some elements to break down and lowering its capacity.
4. Lead Sulfate Formation (Sulfation)
Lead sulfate accumulates on the battery plates when lead-acid batteries are overcharged, a process known as
sulfation
. The battery's capacity consequently declines.
How to Charge Your Battery: Charging Tips
There are some general rules to follow that will help you charge an electric bike battery correctly. However, charging an electric bike battery will differ based on the battery's manufacturer. Here are some of the most helpful charging tips for your noting:
1. Charging the E-Bike Battery Fully Before Use

The e-bike battery should ideally be charged for roughly 12 hours before your first ride. The lengthy time frame permits growth and increases the flow of electricity through the battery cell.
2. Use the Proper Charger
Your electric bike must be charged using the charger that came with it. This charger has the voltage and amps that your e-bike battery needs. Consequently, that guarantees secure
charging without compromising
the battery's life.
You cannot, for example, use a charger designed for a 24-volt battery with two amps on an e-bike with a 48-volt battery and five amps.
3. While Recharging, Turn Off the Motor And the Battery
Always turn off the
motor and bike power
before plugging in your e-bike. That ensures faster charging and long-lasting effects. It even prolongs the life of the battery in your e-bike.
If your electric bicycle has a detachable battery, remove it from its frame before turning on the charger.
4. Charge The E-bike to At Most 90%

While overcharging an e-bike battery can reduce its performance, constantly doing so isn't recommended. It doesn't matter if you own a newer or an older model of an e-bike. Try to charge it between 80% and 90%. 
5. Consider The Ambient Temperature

Electric bikes' overall performance and useful life can be harmed when they are charged in harsh and extreme weather conditions. That's one of the reasons why overheating might result in a rapid reduction in battery life.
How to Prevent Damage to Your Electric Bike Battery
While purchasing an electric bike may be simple, maintaining one demands special attention. We have the knowledge you need if you're wondering how to keep your electric bike battery from getting damaged. The following are some things you can do to stop your e-bike battery from getting damaged:
1. Do Not Overcharge Your Battery
An overcharged battery may perform poorly. If you regularly leave your battery for charging overnight then you will face a reduction of battery performance. 
2. Avoid Draining Your Battery
In the same way that overcharging your e-bike battery might harm it, running it down to nothing could also cause problems. Battery performance is peculiar. Your battery will probably suffer if there is any balance loss.
3. Be Cautious When Cleaning With Water
The battery terminals link the electronic parts of the e-bike. When cleaning the power pack, you must refrain from using a water jet. A wet towel to wipe down the powerpack walls is a suggested wet cleaning technique.
4. Avoid Doing Repairs Yourself
There are numerous do-it-yourself methods available on the internet to improve the effectiveness of your electric bike's battery. However, you must refrain from performing self-repairs.
How Often Should I Charge My E-bike Battery?
A battery charge indicator of some kind is typically included with electric bicycles. Is it necessary to wait until the battery is discharged? Or should you steer clear of it?
It is not advisable to entirely drain the battery of your electric bicycle. When the battery is between 30% to 60%, you can charge it right away.
How to Check Your Battery Level
You can check your ebike battery level on the display that comes with the ebike. There is a battery percentage level indicator on every ebike display.
Besides, you can check the battery level using a multimeter, in case your display isn't working. The objective of this test is to compare the current battery voltage to its original voltage using a multimeter.
How to Test Your Battery Life
It's easy to check the battery life of an e-bike. You can easily keep track of your battery's general health if you have a reliable multimeter at your disposal. Here is a step-wise process for doing it.
1. Multimeter Connection
This procedure requires a fully charged battery. Put the multimeter into the adapter port or connection. Please don't push it or exert too much pressure because doing so could harm the device.
2. Test Battery Load
Set the multimeter to DC before beginning. The use of AC is generally discouraged because it may overload your e-bike battery.
3. Test the Current
It is important to compare the meter's reading to the reading from the instructions. There may be an excessive drain from your e-bike battery if you notice that you've been losing power too quickly when riding.
4. Voltage Testing
By setting the multimeter to the volts function, test the voltage of your battery. When the voltage is too low the Bike Monitoring System may require maintenance.
5. Examine the Resistance
Next, the resistance is evaluated. You may experience problems with overheating if you discover that your resistance is high.
FAQ
Are There Ever Advantages to Overcharging the Battery?
There are no notable merits of overcharging. It will cause more damage than good.
Is it Bad to Charge Your E-bike Battery Overnight?
Your e-bike shouldn't be left charging overnight because doing so raises the possibility of the battery overcharging and overheating.
Should You Charge Your E-bike Battery After Every Ride?
An electric bike typically does not require charging after each ride. However, if the battery capacity drops to under 40%, you must charge it between 80% and 85%.
Can You Overcharge a Bosch E-bike Battery?
No. The Bosch charger does not trickle charge and will not in any way "overcharge" the battery.
Can You Ride an E-bike Without the Battery?
It's a straightforward yes. When not using the motor, whether on purpose or due to a dead battery, an e-bike will function the same as a regular bicycle.
In Conclusion
It's not a good idea to overcharge an electric bike battery because doing so could reduce its lifespan. It's critical to comprehend how to charge your battery and take care of it correctly.
You can prolong the life of your electric bike battery and keep it in good condition by adhering to these guidelines.