Can Ebike Go Uphill? Yes !
Yes, an electric bike, or "ebike" can go uphill. Ebikes are designed with powerful motors that are capable of climbing hills and inclines, making it easy to navigate hilly terrains.
Ebikes contain a motorized system that helps riders gain energy efficiency when pedaling
Depending on the model, ebikes can travel up to 40-100 miles per charge
Lower powered ebike motors are designed for relatively flat terrain, while more powerful versions are capable of steep hill climbs
The motorized systems used in ebikes vary and determine how much power the rider has when going uphill
Ebikes are a practical and reliable solution for those that have difficulty riding uphills, as the motorized system will help riders climb without the same strain as a traditional bicycle. Ebikes provide a unique and convenient way to navigate more varied terrains, while also increasing overall efficiency of travel.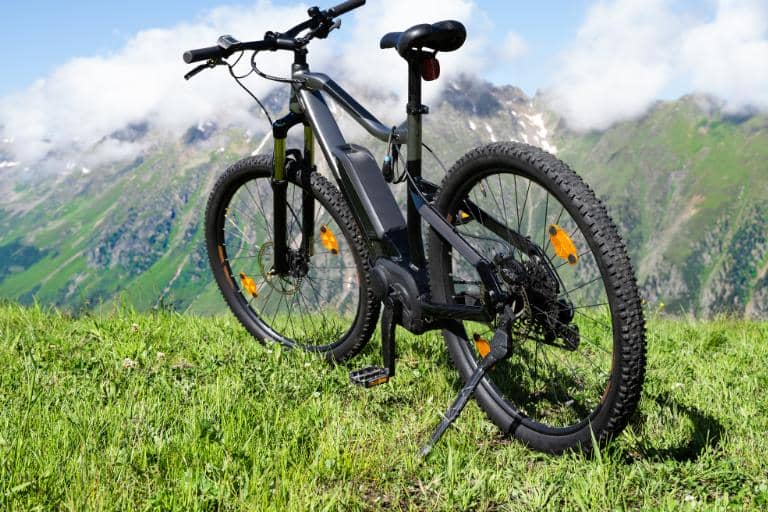 How Does an Ebike Work?
| Component | Description |
| --- | --- |
| Battery | The source of power for an e-bike, usually made of lithium-ion and mounted on the frame or rear rack. |
| Motor | The electric motor is what propels the bike forward, and is typically located in the hub of the rear wheel or in the middle of the bike's frame. |
| Controller | This electronic device regulates the power output from the battery to the motor, and can be adjusted to control the level of assistance provided to the rider. |
| Pedal Assist Sensor | Also known as a PAS, this sensor detects when the rider is pedaling and sends a signal to the controller to activate the motor. |
| Throttle | Some e-bikes have a throttle that allows the rider to activate the motor without pedaling, similar to a motorcycle. |
| Display | Many e-bikes have a display mounted on the handlebars that shows information such as speed, distance, battery level, and assistance level. |
| Brakes | E-bikes have the same types of brakes as traditional bikes, including rim brakes, disc brakes, or hydraulic brakes. |
| Gears | E-bikes can have a variety of gearing options, including traditional derailleur gears or internal hub gears. |
| Frame | The frame of an e-bike is often reinforced to support the weight of the battery and motor. |
| Tires | E-bikes can have a variety of tire types, including road, mountain, or hybrid tires, depending on the intended use of the bike. |
How Does an Ebike Work?
Does an Ebike Have Uphill Capabilities?
Yes, an ebike is capable of going uphill. Uphill capabilities depend on the type of motor and battery in the ebike. The motor and battery both play important roles in the ability to go up inclines.
Additionally, the weight of the rider and cargo, the angle of the climb, and the terrain are other factors that can affect the bike's performance when climbing hills. Here are some additional factors to consider when determining how well an ebike can perform on hills:
Motor Power: Bikes with more powerful motors typically have an easier time with inclines.
Battery Capacity: The size of the battery determines the amount of current that the motor can draw, which affects the bike's performance on hills.
Gear-Ratio: Ebikes with assistance systems such as a pedelec system, or lower gear ratios, can assist the rider in climbing hills.
Rider Weight: Heavier riders usually have to pedal harder than a lighter rider to climb inclines.
Terrain: Different terrain can also influence an ebike's performance when going uphill.
Tire Size: Larger tires may provide more traction, which can help with hill climbing.
Suspension: Suspension can help absorb shocks when negotiating steep hills.
Wheel Size: Larger wheel sizes
What Factors Affect an Ebike's Uphill Performance?
| Factor | Description |
| --- | --- |
| Battery capacity | The capacity of the battery affects the distance an ebike can travel on a single charge. A higher capacity battery can provide more power to the motor, resulting in better uphill performance. |
| Motor power | The power of the motor is another important factor in uphill performance. A more powerful motor will be able to provide more assistance when climbing hills. |
| Motor type | The type of motor also affects uphill performance. A mid-drive motor is generally more efficient than a hub motor when climbing hills, as it can take advantage of the bike's gears to provide more torque. |
| Weight | The weight of the ebike, including the rider and any cargo, can make a significant difference in uphill performance. A lighter bike will require less power to climb hills. |
| Tire size and tread | The size and tread of the tires can affect the amount of traction the bike has when climbing hills. Wider tires with a more aggressive tread pattern can provide better grip on steep inclines. |
| Rider input | Finally, the amount of effort the rider puts into pedaling can also affect uphill performance. While the motor provides assistance, the rider still needs to pedal to keep the bike moving forward. A more experienced rider may be able to maintain a higher speed on hills than a less experienced rider. |
What Factors Affect an Ebike's Uphill Performance?
What are the Benefits of Riding an Ebike Uphill?
The benefits of riding an ebike up an incline include increased efficiency, reduced physical exertion, and an improved overall riding experience.
Increased Efficiency: An ebike can help riders traverse uphill terrain with greater ease and efficiency than riding at a constant speed on level ground.
Reduced Physical Exertion: Since an ebike has an electric motor to assist with pedaling, it can actually help reduce physical exertion and stress on the rider, particularly when traversing long hills.
Improved Overall Riding Experience: Leveraging an ebike's motor and torque to climb hills can also help to improve the overall riding experience, as the rider will not become fatigued as quickly and will have more energy to enjoy the ride.
Greater Speed on Uphill Rides: An ebike's motor can help increase the rider's speed, enabling them to cover greater distances and ascend steeper inclines than they could otherwise.
More Relaxing Ride: An ebike's motor extends the amount of time riders can keep pedaling, which can lead to a more comfortable and relaxing riding experience.
Time Savings: The time savings offered by an ebike can help riders reach their destination with greater ease and efficiency.
Control: A rider can control the amount of assistance they receive from their motor, enabling them to customize their ride.
What are Some Tips for Riding an Ebike Uphill?
Riding an Ebike uphill requires strategy and the right equipment. Here are some tips to consider when tackling hills on an ebike:
Gear Selection: Choose the right gear ratio to help you climb hills with ease. Smaller chainrings will provide more torque and power when riding uphill, while larger chainrings will provide less resistance.
Sprocket Sizing: Increasing your sprocket size can make it easier to pedal up hills. Make sure you have enough gear inches for inclines.
Electric Power: Use the power of your ebike to help you climb hills. Make sure your bike is set up with the correct power settings for your terrain and weight.
Weight Distribution: Balance your weight and center your gravity when riding uphill. Make sure your center of gravity is low to the ground for better traction.
Tire Pressure: Make sure your tires have the right amount of inflation for the type of terrain you are riding. Softer, wider tires will give you better traction when riding uphill.
Balance: Practice balancing on your bike while climbing hills, even if you're using electric power. This will help you stay in control on difficult terrain.
Training and Strength: Increase your body's strength and endurance by training off your bike. Regular exercise can significantly improve your riding experience.
Practice: Practice makes perfect. Get out and try
Are There any Disadvantages to Riding an Ebike Uphill?
Yes, there are a few disadvantages to riding an ebike uphill. These include:
Limited range – Ebikes will generally have a shorter range when climbing hills compared to flat terrain, as the motor has to work harder.
Weight – Ebikes tend to be heavier due to the presence of the motor, battery and other components, making them harder to ride up hills.
Speed – The maximum speed of an ebike is limited, so it may not always be suitable for traveling up steep hills.
Cost – Ebikes tend to be more expensive than standard bikes due to the components and battery, so they may not be the best option for people on a budget.
Maintenance – Electric components require regular maintenance, so owning an ebike can be more costly in terms of servicing.
Heat – The motor can generate heat on steep climbs and must have adequate ventilation to avoid overheating.
Stress – Riding an ebike up hills can be physically and mentally taxing due to the extra effort needed to ascend.
Skills – Riding an ebike up hills requires skill and experience, so it may not be suitable for novice riders.
Sustainable – Depending on the type of battery used, the impact on the environment might be less sustainable compared to regular bikes.
FAQ
Can electric bikes go up hills?
Yes, electric bikes can go up hills.
How do electric bikes manage to climb up hills?
Electric bikes have powerful motors that provide the extra assistance needed to ride uphill.
Do electric bikes require extra effort when going up hills?
No, electric bikes require little to no extra effort when going uphill due to the motor's assistance.
Can all electric bikes go up hills equally well?
No, some electric bikes have a stronger motor and are designed specifically for off-road and mountainous terrain.
Is it safe to ride an electric bike up steep hills?
Yes, it is safe to ride an electric bike up steep hills as long as the rider wears proper safety gear and follows recommended guidelines for riding uphill.
Conclusion:
Electric bikes, or ebikes, are a convenient and efficient way to navigate hilly terrains. With a powerful motor, users can easily climb hills and inclines that would be too difficult using a regular bicycle. Ebikes are ideal for riders who struggle to make it up steep grades.