What is Cadence Sensor on E-bikes: All You Need to Know
Pedal-Assist mode is one of the modern features of an e-bike that has made our riding efficient and effortless. This outstanding feature works with the help of a few sensors, and cadence is one of them. A cadence sensor is cheap yet greatly helpful to riders.
Nevertheless, you might wonder why I would choose a cadence sensor over others? In this article, I will dive deeper to make you understand why it's a good choice for you and how exactly it works.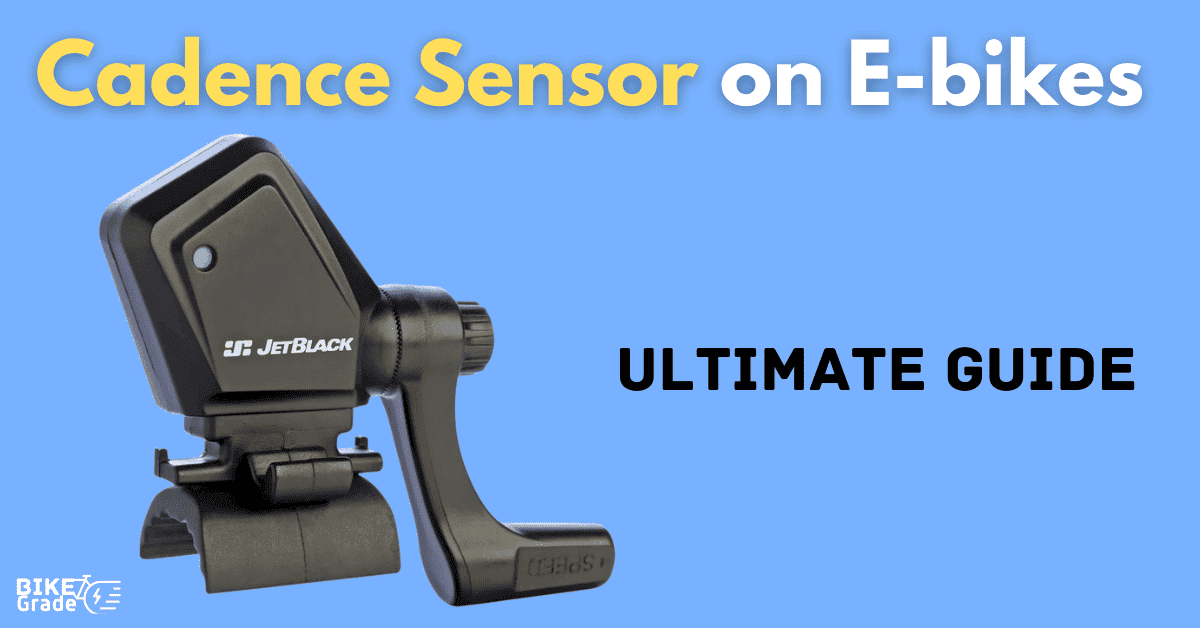 What Is a Cadence Sensor on an E-bike?
Cadence sensor is the heart of pedal-assist mode. Before diving deep into cadence sensors, let's understand the pedal-assist.
It's a mode that helps you move faster with less effort. It's a combination of pedaling and motor support. The help from the motor depends on the assistance level you set. And the cadence sensor works like a bridge between the motor and pedaling. It transfers the pedaling information to the motor and tells the motor how much support the rider needs. Then the motor provides the required power accordingly.
How Does a Cadence Sensor Work?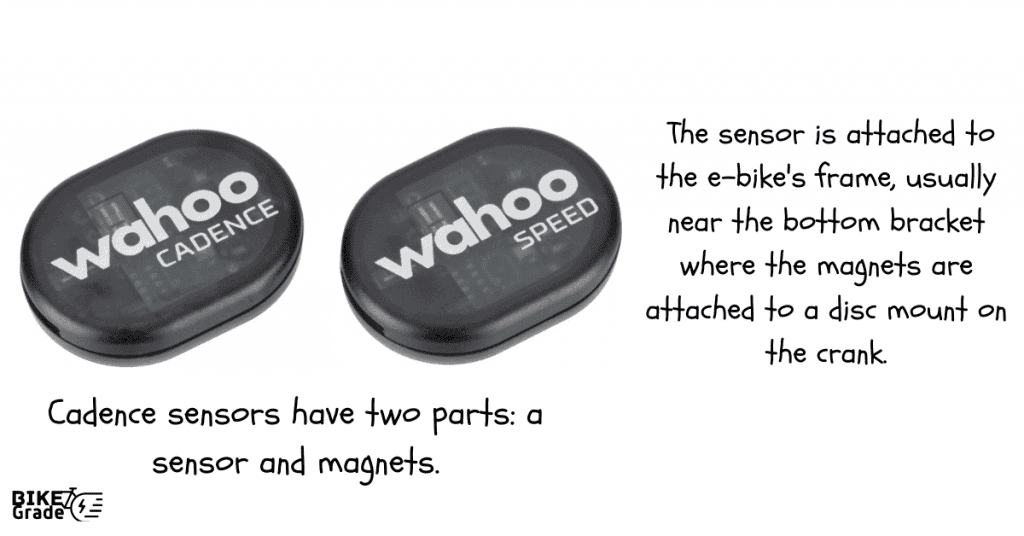 Till now, you have understood what a cadence sensor is. Are you wondering now how a cadence sensor works? It's pretty simple! Cadence sensors have two parts: a sensor and magnets. The sensor is attached to the e-bike's frame, usually near the bottom bracket where the magnets are attached to a disc mount on the crank.
Cadence sensors sense the movement of the magnets. When pedaling, the magnets pass by the sensor. And when stopped, they don't. Thus, the cadence sensor measures if you are pedaling. 
The performance of the cadence sensor depends on the number of magnets. When there are more magnets, the computer receives information more frequently. That's why the more magnets on the disc, the smoother and more responsive the pedal-assist will be. 
Electric Bike Cadence Sensor vs. Torque Sensor
As I stated before, there are different types of sensors in e-bikes. Cadence sensors and torque sensors are two main types of e-bike sensors. To choose between these two sensors, you must know the differences.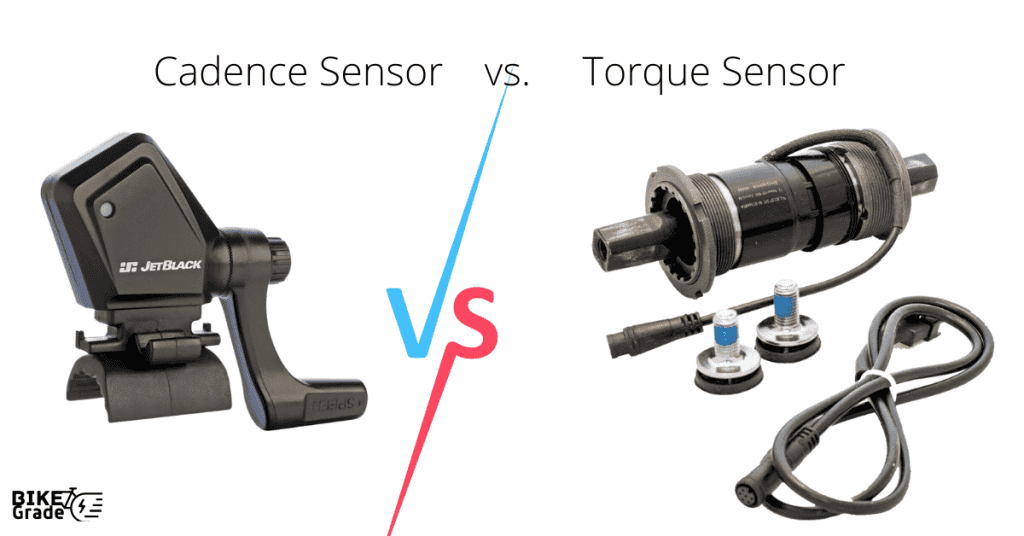 Here's a list of differences between cadence sensor and torque sensor to better understand: 
| | | |
| --- | --- | --- |
| | Cadence Sensor | Torque Sensor |
| Type of measurement | The cadence sensor measures how many times you pedal. | The torque sensor measures the actual force on the pedal. |
| Main Components | The cadence sensor uses a magnet on the crank. | The torque sensor uses a precision strain gauge. |
| Working procedure | The cadence sensor turns on the motor when you pedal and off when you stop. | The torque sensor makes real-time adjustments according to your force on the pedal. |
| Type of work | The cadence sensor works like a switch. | The torque sensor works like an amplifier. |
| Benefit | The cadence sensor helps riders to ride with a low effort after adjusting the level of assistance based on pedaling speed. | The torque sensor allows riders to increase the pedaling force by 50% to 300%. |
differences between cadence sensor and torque sensor
Learn More From evelo About Cadence Sensor and a Torque Sensor.
What Are the Benefits of Using a Cadence Sensor?
After comparing it with torque sensors, cadence sensors may seem dull to you, but it's not! Cadence sensors are simple yet beneficial. Let's look at its benefits:
Cadence sensors allow keeping a consistent speed regardless of effort.
With a cadence sensor, it is easier to
activate pedal assist
. To employ it, you need relatively light pressure.
Cadence sensors are suitable for recreational riders or riders with tender knees.
It is cheaper than torque sensors.
What Are the Drawbacks of Using a Cadence Sensor?
Because of the cadence sensor's lower price and benefits, most e-bikes have it. But it has some drawbacks also. It won't be fair if I don't share those with you! Here's a list of its drawback you may want to look into:
It is less responsive than the torque sensor. Cadence sensors measure pedaling speed less frequently.
Cadence sensors are harder to control. A lag can occur before the motor turns on or off.
Cadence sensors sometimes produce jerkiness.
Can You Use Zwift With Just a Cadence Sensor?
Whether you are already an e-bike owner or not, you will hear about Zwift at some point in your e-bike research journey. So, what is Zwift? Zwift is an online app that makes indoor training interactive and fun. Zwift uses sensors to collect information, compares it, and then calculates it to use in its virtual world.
Now, as you learned how Zwift works, you may ask, can you use Zwift with just a cadence sensor? Yes, you can use Zwift with just a cadence sensor if the cadence sensor also transmits speed like the Garmin cadence sensor.
Do You Need Both Speed and Cadence Sensors for Zwift?
You don't need a speed and cadence sensor both for Zwift. With Zwift, capturing speed is more important. And a speed sensor does this job accordingly. On the other hand, some cadence sensors only transmit cadence. Information provided by cadence sensors is helpful, but it can be viewed as an add-on item.
Are Cadence Sensors Worthwhile?
Cadence sensors are beneficial to those who want to maximize workout results. It is a suitable choice if you are a recreational rider or want to use it daily. Keeping cadence sensors' price in mind, these are worthwhile.
E-Bikes With a Torque Sensor and Throttle
Torque sensor is a great sensor for pedal-assist mode. And a combination of pedal-assist and throttle makes an e-bike a beast! The throttle mode provides direct power from the motor to move you places. You don't need to pedal in this mode. 
In contrast, the pedal-assist mode that uses torque sensors starts the motor by pedaling. The torque sensor detects the force on your pedal and sends a signal to the motor for required assistance. The motor then delivers power immediately.
E-bikes with throttle and pedal-assist, like CrossCurrent X, are like the ultimate commuter. This type of e-bike allows you to either utilize pedal-assist mode to increase your mileage or twist the throttle to move you way faster.
Final Words 
If you're looking for an e-bike with pedal-assist mode, then a cadence sensor will surely be a great option for you. Cadence sensor comes with a cheaper price compared to torque sensor and offers better performance. I would recommend the cadence sensor without a doubt. 
FAQs
Is a cadence sensor the same as a power meter?
No. A power meter measures the body's power outlet, while a cadence sensor measures pedal cadence.
Where do you put a cadence sensor?
A cadence sensor is attached near the bottom bracket.
Do cadence sensors measure RPM?
Yes, cadence sensors measure revolutions per minute of the crank and pedals of an e-bike.
Can you put a cadence sensor on a spin bike?
Yes, you can. It can be attached to any spin bike.
Which e-bikes have torque sensors?
Most e-bikes with mid-drive motors have torque sensors.
Do I need a cadence sensor if I have a power meter?
It depends. Most power meters nowadays provide cadence now. So, if your power meter provides cadence, you don't need another cadence sensor.
Also Read