Are Ebike Batteries Universal? Eliminate All The Confusions
If your e-bike's battery is dead or you are looking for a backup, you surely are wondering if they are universal or interchangeable. Well, it's not a one word answer. There are a number of things to carry on your mind when you are considering the final decision. To make things crystal clear for you, I pieced this guide so that you will know every bit of thing about e-bike batteries.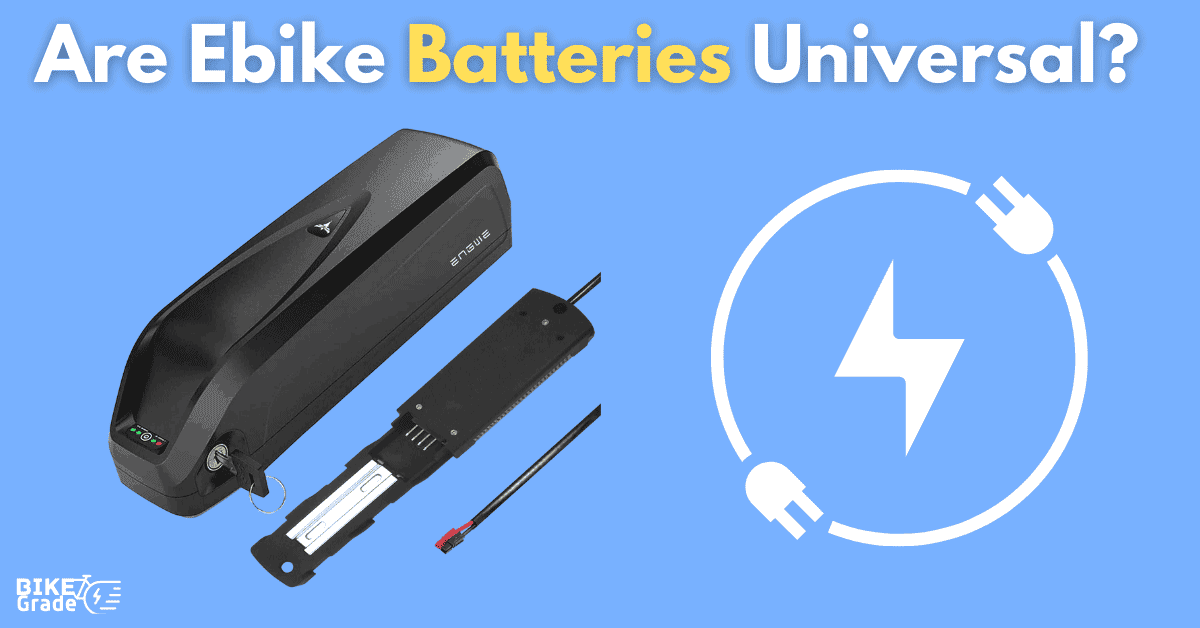 Are Ebike Batteries Universal?
Certainly, ebike batteries aren't universal. We need to dive a little deeper to understand why aren't e-bike batteries universal. The E-bike battery pack comes with different technical features such as Voltage, Ampere hour, Fitment size, Weight, and Controller. All of these are rated and balanced with the motor when it was built.
So, when you replace the battery with different specifications, your e-bike won't move. In the worst case scenario, it might even be dead! So when you need to replace your battery you must replace it from the original manufacturer. But what if your manufacturer gets out of business? Well, that brings the next important question, are ebike batteries interchangeable? Take a break and let me dive deeper!
Are Ebike Batteries Interchangeable?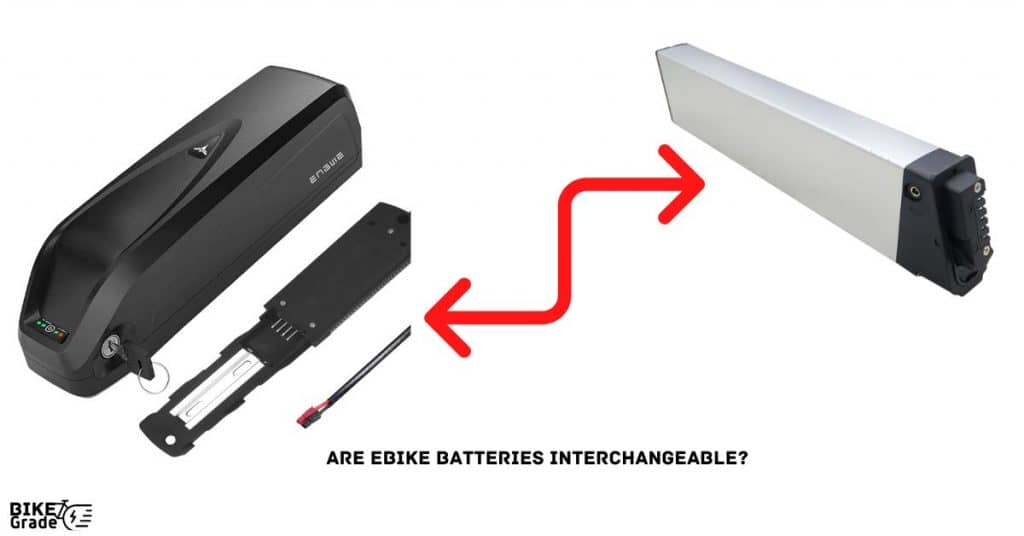 Likewise, you can't really use any battery on your ebike. That solves our first problem, it's not universal. But are they interchangeable? Yes and no! If you can find the exact same battery of yours from a different manufacturer, then it will do your job without any doubt! But you have to make sure these:
Voltage: Both the battery's Voltage are exactly the same.
Ampere hour: Ampere hour isn't any different from one another.
Weight: It's not quite a "must-have" feature; yet you need to make sure you're having the same weight battery so that your bike's weight balance stays the same.
Controller: Make sure your controller supports the battery. If you get the right Voltage and Ah, your controller should support the battery just fine!
Fitment size: You got everything just fine but it doesn't fit your bike anyway, then your hard-earned money is just wasted! So make sure your replacement or backup fits the bike perfectly. 
That brings out the next big question, can you increase the voltage of your battery for a faster ride? 
Can You Put a 48 Volt Battery On A 36 Volt E-Bike?
Technically, you can Put a 48 Volt Battery On A 36 Volt E-Bike as long as your controller supports the higher voltage. You can easily check it by opening the controller box. If it says 63V in the main caps then you can use a 48V battery easily. However, if it says 50V then unfortunately you can't keep a 48V battery. 
Note that, if you increase the battery voltage, you will put the controller at risk. It may heat up consistently and even have the risk of being exploded! So think about it twice if it is worth the risk!
What About Non-Removable Frame Integrated Batteries?
Non-removable batteries are the oldest kind of batteries in the e-bike industry. However, there are tons of brands still producing the frame-integrated battery bikes as it is loved by so many riders. Let's see their pros & cons shortly.
Frame integrated battery bikes look more fabulous compared to the detachable one.

These bikes are lighter than the portable battery bikes.
You have to bring the whole bike in your house for charging.
Type of Batteries Used in eBikes
Over the time manufacturers tried to revolutionize the e-bike industry with different types of batteries. Not all of them worked out in the long run. Out of many only 3 types of batteries manufactured for a longer period of type. 
Lead-acid Battery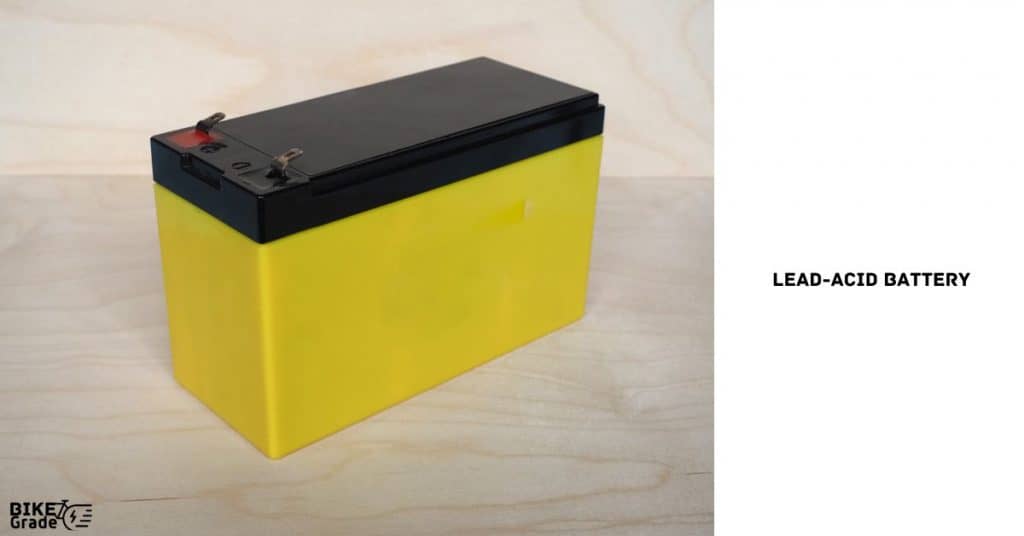 In its early days, riders were fond of getting lead-acid batteries as it is a super durable and heavy battery. However, over time, it lost its fame when a new battery hit the market. Still, it is used on a very few bikes as it is super cheap. Besides, most of the toy cars and toy bikes are now manufactured with lead-acid batteries. 
Nickel-cadmium Battery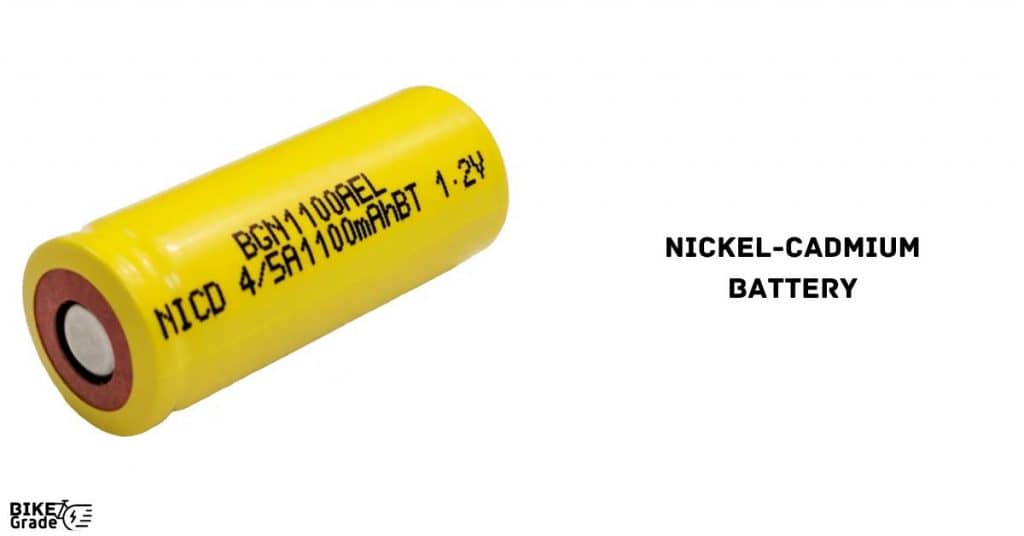 Made of nickel oxide hydroxide and metallic cadmium, the Ni-Cad battery is the 2nd cheapest option available in the market with an efficient usage capacity. 
Lithium-ion/Li-ion Battery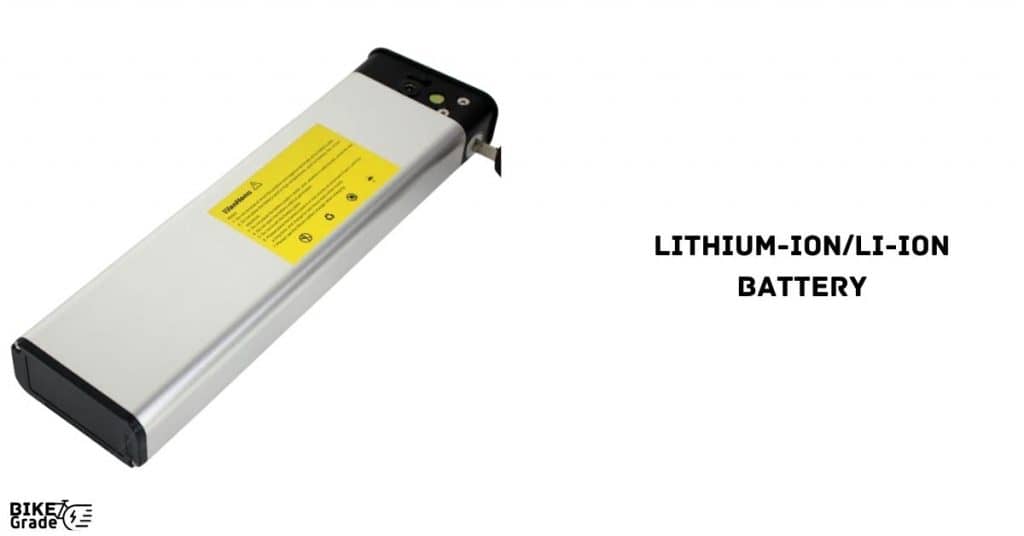 Lithium-ion battery is a widely used battery for not only ebikes but also for other electronic rechargeable devices. It charges way faster than other types of batteries and consumes very low power so that you will be saving on your electricity bill too. Despite that, the Li-ion is the most lightweight battery in e-bike history. 
Also Read : How To Build Lithium-ion Ebike Battery
How To Find The Right Ebike Battery?
There are a number of factors that come into play when you want to choose among different batteries. Let's take a closer look. 
Portability:
You have two options here to choose from. One- frame-integrated battery, two- detachable battery. Frame-integrated battery looks great but the detachable one provides more flexibility. While frame-integrated batteries are comparatively cheap and need the whole bike to carry for charging, the detachable battery is more expensive and you can just detach the battery and charge them anywhere you want. 
Type of battery
Among different types of batteries such as Lead-acid Battery Nickel-cadmium Battery, the Lithium-ion Battery provides the most efficient performance.
Charging ability
Don't forget to check how much the battery needs to be fully charged from battery level zero. The lowest, the better!
Distance & Budget
Depending on the distance and budget, choose the voltage of your battery. If you need to commute long distances daily then you need bigger voltage and bigger Ah. And bigger voltage and bigger Ah means bigger budget!
How Can I Replace My E-Bike Battery?
Replacing the removable battery is just a piece of cake. You just remove it like you do for charging it and place it with the new one. Nonetheless, when it comes to replacing a frame-integrated battery, riders start sweating! Don't worry if you follow the steps below carefully, you can do it within 10 minutes. 
Approx Time 10 minutes
Step-1: Disconnect all the battery cables
First, you need to disconnect all the battery cables. Hence, unscrew the two screws holding the battery cover in place and remove it. You then need to disconnect each cable by pulling up on it until it pops out of its connector.
Step 2: Remove the display to protect it while flipping the bike
Step 2: Remove the display to protect it while flipping the bike
Step 3: Use a three millimeter hex wrench to remove the two screws holding the battery in place
Use a three millimeter hex wrench to remove the two screws holding down on either side of the Display. Once they're removed, gently lift off and set aside whatever was obscuring your view.
Step 4: Remove the battery
Now comes the easy part! Just remove the old battery by unscrewing the two screws holding it in place and pulling it out. Make sure to store this piece away safely, as you'll need to replace it later on.
Step 5: Insert new battery
After removing the old battery, insert your newly purchased one by aligning its connectors with those on the bike and screwing them in place using a three millimeter hex wrench. Do make sure that everything is aligned when installing this so there are no surprises down the line.
Step 6: Put through the wires one by one
Now that the battery is in place, it's time to connect all the wires up again. To do so, take each wire and insert it into its connector on the bike.
Step 7: Tighten the screws
Once they're all connected, tighten down on the screws once more to secure them in place
Step 8: Connect all the wires again and that's it!
Now that you've reconnected all the wires, it's time to do a final check and make sure everything is working as it should.
What Should I Do With My Old E-Bike Battery?
When you install a new battery on your e-bike, you should carefully recycle it. To save your recycling money you can contact the manufacturer and they will take care of it without any fee.
If you can't contact your manufacturer, you can go to the nearest bike shop, they will surely help you as they can recycle and reuse some of the parts from the battery. Not to just save some recycling money, it is a safe and sustainable idea for our environment to not dispose of the batteries with regular household item.
Are Bosch Ebike Batteries Interchangeable
Most of the new Bosch ebike batteries are interchangeable only within the brand and with the same voltage and Ah.
Are Giant Ebike Batteries Interchangeable
Giant bike's batteries are mostly frame-mounted and come with different voltages and Ah. Therefore they aren't interchangeable. 
FAQ's
Where can I buy a new bike battery?
First contact with the manufacturer and tell them to provide you with a new battery. You can also check on your nearest dealer shop. Besides, you can always look for a new battery on Amazon, Walmart or eBay.
Can I Replace My E-bike Battery?
Yes, you can replace e-bike batteries.
Why Does my eBike Battery No Longer Work Like it Used To?
Where can you find an inexpensive battery for an electric bike?
You shouldn't go for an inexpensive battery for your ebike. It might harm the motor and eventually the battery won't last for long.
Can I Use Any eBike Battery on my Electric Bike?
No, you can't use any eBike battery unless it has the same design, Voltage, Ah, and controller.
Conclusion
Now that you know ebike batteries aren't universal, you won't get yourself confused next time. Get your replacement from your manufacturer or one with the same specification of your factory battery. And of course, don't hurt your ebike by trying to increase speed with a higher voltage. Eventually it's not an ideal solution.