What Size Battery For Ebike? – Ultimate Guide
Ebike made our life easier than ever with such readily available commuting options in our hands. And the most important part of our luxurious e-bike is its battery. The battery determines how long we can ride with full charge and how long it will take to be fully charged.
If you buy an e-bike that doesn't give you the desired mileage you're looking for then you surely wasted a huge bucks. But don't worry, I am here to guide you about the battery size you should go for and will help you to determine which one is suitable for you.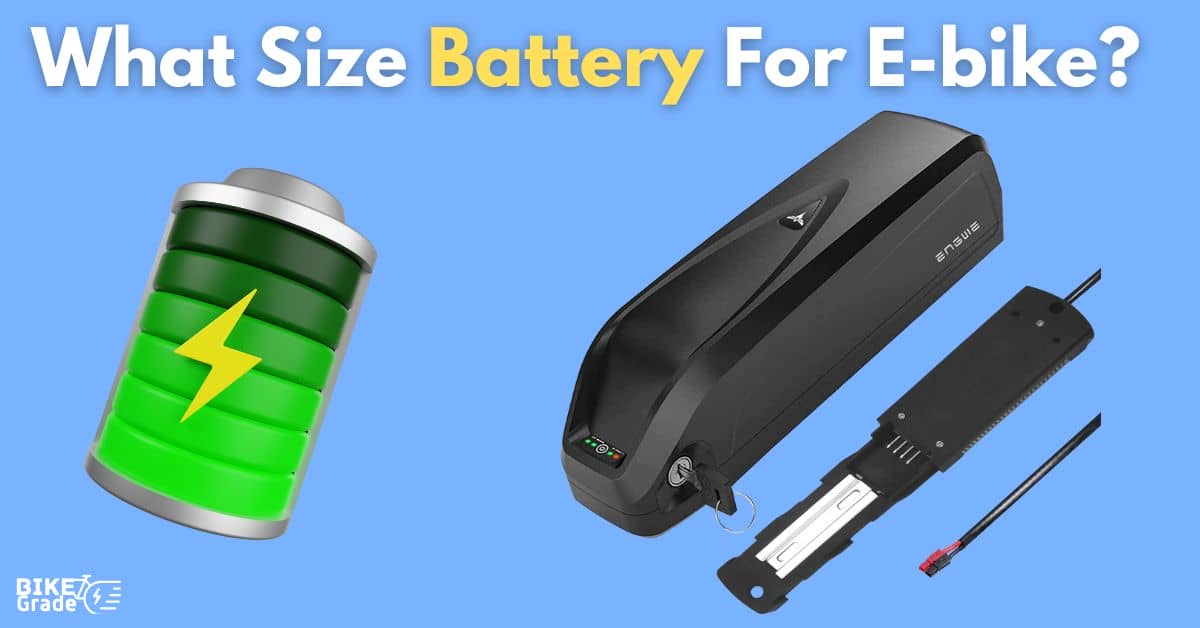 What Size Battery For E-Bike?
Most of the e-bikes are manufactured with either 36V or 48V batteries while some of the e-bikes are now coming with 52V and 72V batteries.
So the question is which one is better for you? Well, in the case of Voltage, the bigger is better. Bigger battery charges faster and provides efficient performance compared to the smaller one. Also, the bigger voltage's battery tends to last much longer than its counterpart. 
However, if you're on a lower budget and looking for an affordable option, then bigger voltages would disappoint you as they come with greater price! In that case, at least try to buy an ebike that has at least 48V battery. It will balance between your budget and battery's performance!
E-Bike Battery Size Chart
The E-bike battery size typically depends on the voltage of the battery. However, Ampere hours(Ah) also play a major role to better understand a battery's power. While Voltage indicates the efficiency and longevity of the battery, "Ah" determines the mileage. I made a list for you with a common combination of Ah and Voltage available in the market.
| | | |
| --- | --- | --- |
| Voltage | Ampere hours | Example |
| 21.6V | 13.5Ah | Gocycle |
| 36V | 3.4 Ah | Bulls |
| 36V | 5.2 Ah | JupiterBike |
| 36V | 7 Ah | QualiSports |
| 36V | 10.4 Ah | Sonders |
| 36V | 14 Ah | OHM |
| 48V | 10.4 Ah | Lectric |
| 48V | 10.5 Ah | E-lux |
| 48V | 11.6 Ah | Electric Bike Company |
| 48V | 13 Ah | Magnum |
| 48V | 13.6 Ah | Boogie Bikes |
| 48V | 14 Ah | Aventon |
| 48V | 17.4 Ah | Electric Bike Company |
| 48V | 17.5 Ah | Himiway |
| 52V | 13 Ah | Juiced |
| 52V | 19.2 Ah | Juiced |
E-Bike Battery Size Chart
How Do You Choose The Right Battery For Your E-Bike?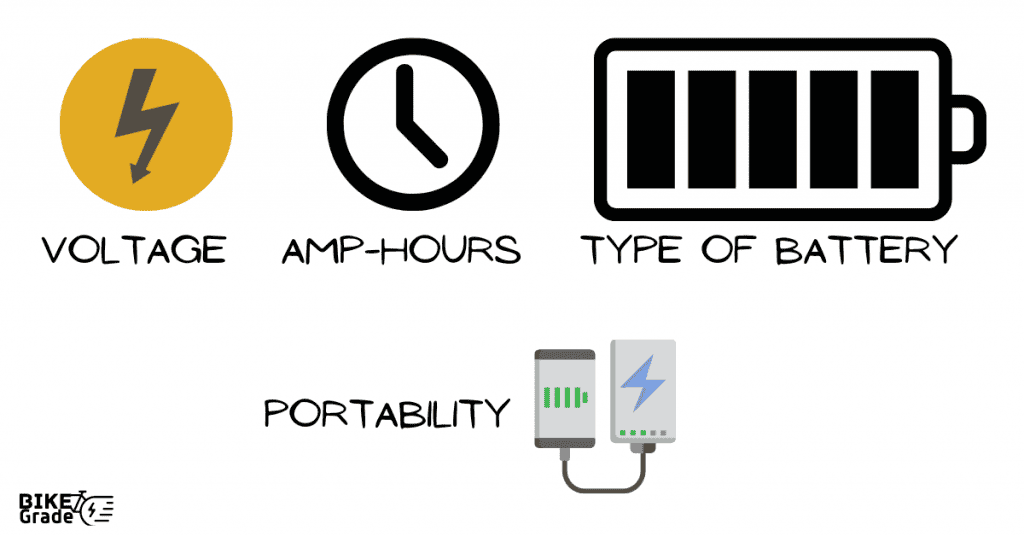 When it comes to choosing the right battery for the electric bike, there are quite a few factors that require proper attention. Here, let us talk about the factors that you must consider while choosing the e-bike battery. 
Voltage
I already discussed the voltage. When choosing your ebike battery, this is the first thing to look at. Always try to grab the biggest voltage possible.
Amp-hours
Ah determines the mileage. The more Ah your battery has, the more mileage you can get. However, remember that speed, your weight and road condition also plays a role in mileage. 
Type of battery
There are different types of batteries out there for e-bikes such as Lead-acid, Nickel-cadmium, Lithium-ion and so on. Lithium-ion is the best in the market for a number of reasons. This type of battery doesn't overcharge even if you go to sleep keeping it plugged in, it won't damage the battery. Moreover, lithium-ion batteries tend to last much longer than any other types.
Portability
Make sure your battery is portable so that you can detach the battery and take it to anywhere you want. It will help you to charge the battery in your house or workplace without bringing your bike. 
Types Of E-Bike Batteries
There are lots of different batteries out there for e bikes. Hence, only 3 of them are widely manufactured. Let's find out! 
Lead-acid 
Lead acid batteries are one of the oldest kinds. It is super cheap compared to other batteries. It also has lesser mileage capacity. Despite that, it is the heaviest battery on the market., 
Nickel-cadmium
Nickel cadmium battery is a budget friendly option with a better usage capacity then lead-acid batteries. It has excellent pressure taking ability from the motor throttle. However, they don't last very long and don't provide efficient power usage. 
Lithium-ion
Now comes, our hero of the market, Lithium,-ion! It has several benefits to offer. You can charge it super fast compared to all other e-bike batteries. It provides high capacity power output,  low power consumption, longevity, and a lightweight feature. The most interesting part is, li-ion battery doesn't overcharge. Even if you keep it plugged in for days, it will automatically stop charging after getting fully charged. 
---
What Battery Amps Do I Get For My E-Bike?
The battery amps refer to the power that the motor draws from the battery. The amps in the battery typically indicate the amp hours, also known as the capacity of the e-bike battery. There are quite a few capacity ratings available for e-bike batteries. 
The range traveled by the battery in one charge depends on this capacity. Typically, e-bike batteries come with a battery amp of 10Ah. However, if you want to cover a longer range in one charge, you will have to opt for a higher battery capacity. 
Are All E-Bike Batteries The Same?
The main purpose of all the electric bike batteries is the same as it powers the motor of the e-bike. But not all electric bike batteries are the same. The batteries vary significantly depending on the type, voltage, and ampere hours.
How Much Battery Power Do You Need?
The amount of battery power you need to operate your electric bike smoothly typically depends on two factors. These factors are the weight of the rider and the terrain on which the bike is ridden. 
Electric bike batteries will require more power to accelerate if the rider has a heavy weight or has to ride on uphill terrains. Typically, a 500Wh battery power will provide a decent electric bike performance. 
What Type Of Battery Should You Choose?
When it comes to choosing an electric bike battery, you have quite a few types available. However, the lithium-ion battery is the ideal e-bike battery in the market and the most available type. Although the lithium-ion battery is expensive compared to the other battery types, it supplies a higher power to the motor. 
In addition to that, this battery type is durable and provides long-lasting performance. It is also lightweight, allowing you to experience a decent biking experience. Not only that, but the risk of lithium-ion batteries catching fire is also low. 
Can I Put A Bigger Battery On My E-bike? 
Putting a bigger battery on your electric bike typically refers to improving the power or mileage of the e-bike. While it is an easy or viable option of increasing the performance of the electric bike, there are certain factors that require attention. 
You will have to check that your motor and sensor supports the bigger  battery. Simply installing a bigger battery without proper calculations and knowledge can significantly damage the e-bike. So, it's wise to contact the manufacturer before installing a bigger battery on your own. 
FAQ
What Size Inverter To Charge E-bike Battery?
The inverter size you will require to charge the battery of an electric bike typically depends on the capacity of the battery. Usually, it takes about 500 to 800W to fully charge an e-bike battery. Thus, relying on a 1000W inverter to charge an electric bike battery is the top choice.
What's The Largest Capacity E-Bike Battery?
While the majority of electric bikes rely on a battery capacity ranging up to 500Wh, Olympia Cycles dropped a bomb on the market. The Olympia Powernine comes with a battery capacity of 900Wh, making it the largest e-bike battery capacity in the market.
Conclusion
The battery is the most expensive and important part of the e-bike. Your electric bike will not be able to function properly if the battery fails to provide the right power to the motor. We are now at the end of the guide, and I hope that you know what size battery for e-bike you need. 
Before you purchase an electric bike, make sure to properly consider the battery connected to it. Do not forget to take the battery capacity, voltage, and other factors into consideration in order to ensure a proper riding experience. 
Learn More