3.8 vs 4.5 Fat E-Bike Tires: For Faster Riding!
If you consider the visual difference there's ain't much but there is clearly a performance difference between a 3.8″ vs 4.8″ width fat bike tires.  
Let's get the physical difference first. The exact width difference between 3.8″(96.52 mm) and 4.8″ (121.92 mm) is  121.92−96.52= 25.4mm.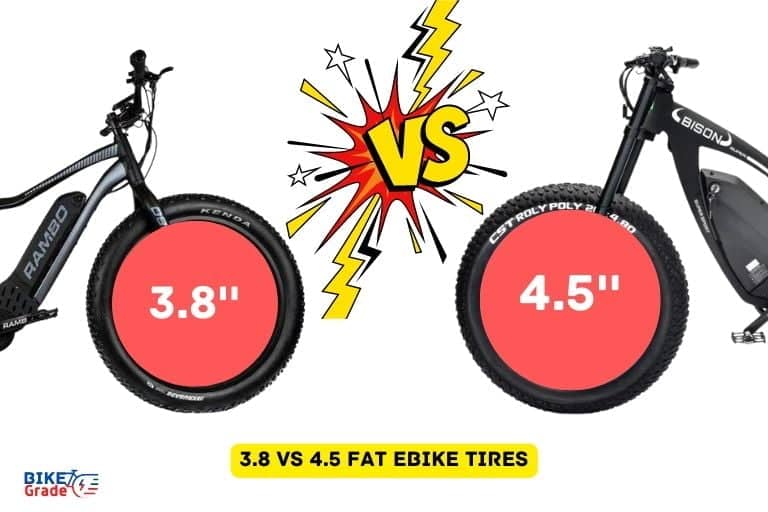 Now about the performance, the bigger width of a tire ensures stability, better traction or more grip on the road, and most important better control while riding. A 3.8″ width bike tire may provide satisfactory results but you will get quite better performance out of a bigger width tire like 4.8″. 
3.8 Vs 4.5 Fat Bike Tires: Side By Side Comparison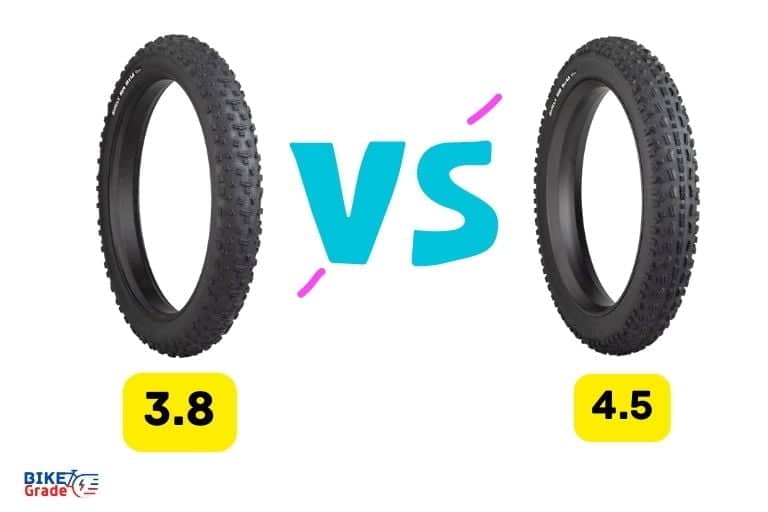 Between a 3.8 Inch and a 4.5 Inch width fat bike tires, the differences are gonna be quite noticeable. 
The physical difference: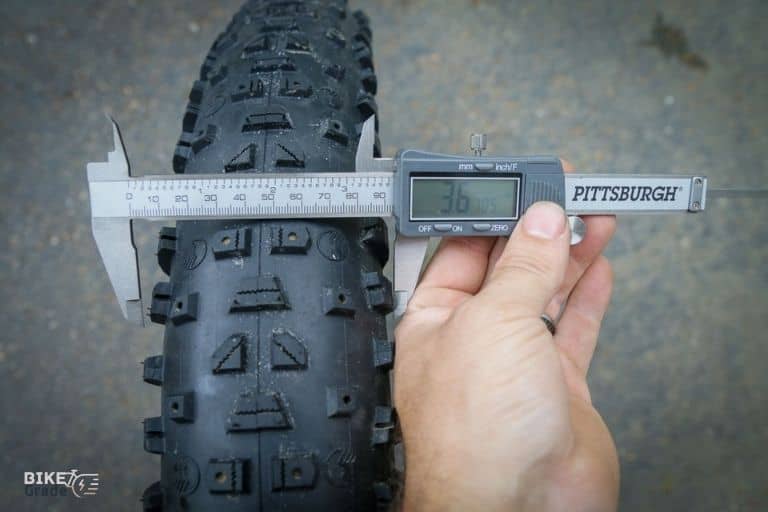 The difference in width between a 3.8″(96.52 mm) and (114.3 mm) is gonna be 17.78 mm. The numbers in millimeters might seem insignificantly low but a bigger width tire means you will need a bigger hub for the tires.
A 3.8″ tire may easily fit in a 170 mm size hub but for a 4.5″ tire you will need a 190 mm hub. 
Performance difference:
If you get down to the performance battle of 3.8″ vs 4.5″ tires then the clear winner will be the 4.5″ tires.
3.8″ tires may get the job done but with a fat bike on snowy roads, the grip advantage of 4.5″ will be the game changer.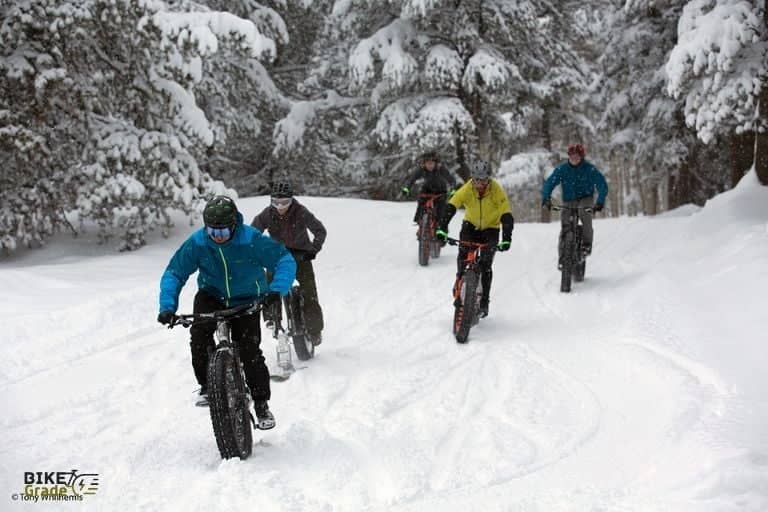 So the wider grip of 4.5″ wide tires means you get better traction, and better stability and the most crucial thing to look forward to is better control over your bike. 
But there is a small catch on being big, it's gonna take a rider more time and effort to pick up the pace on 4.5 inch wide tires. In other words, a fat bike with 3.8 inch wide tires will be able to generate speed at ease. 
Price difference: 
There isn't that much of a difference in the price range between 3.8 inch and 4 inch fat bike tires. If you buy a 26×3.8 wheel, it will cost you around $75 to $85, and for a 26×4.5 it's gonna be $95 to $100.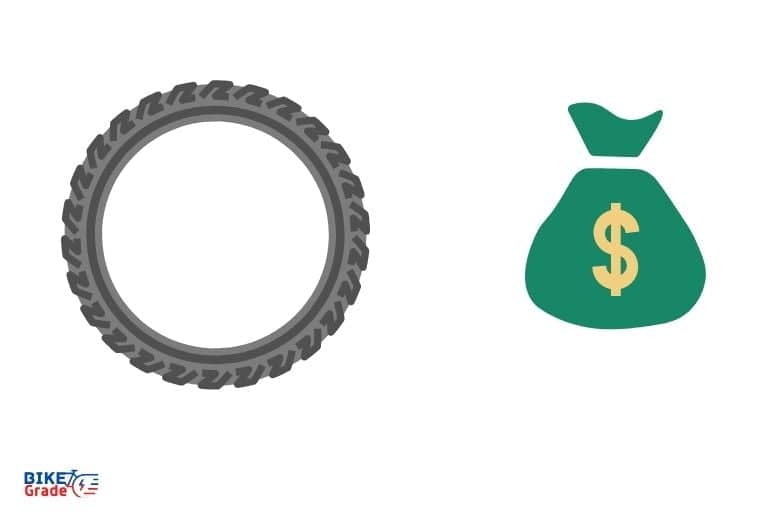 However, not all rims and hubs are gonna fit 4.5 inch tires. You would need a 190mm hub to fit both 3.8 and 4.5 inches which may cost $35 to $45.
Table: 3.8 Vs 4.5 Fat Bike Tires
To understand which one you should pick while buying tires, it is always best to do a side-by-side comparison. 3.8 vs 4.5 fat bike tires, from physical dimensions to performance and cost, there are a bunch of things you can compare between them. Hope this table helps you understand the difference at a quick glance. 
| | | |
| --- | --- | --- |
| Features  | 3.8 inch wide tires  | 4.5 inch wide tires  |
| Size in mm | 96.52 | 114.3 |
| Hub size in mm | 170 | 190 |
| Traction  | Optimal performance all year round.  | Better traction even on slippery snowy roads  |
| Stability  | Good stability  | Noticeably better stability  |
| Maneuverability  | Provides adequate control  | Top-notch maneuverability  |
| Price  | $75 to $85 | $95 to $100 |
Table: 3.8 Vs 4.5 Fat Bike Tires
Pros And Cons Of 3.8 Fat Bike Tires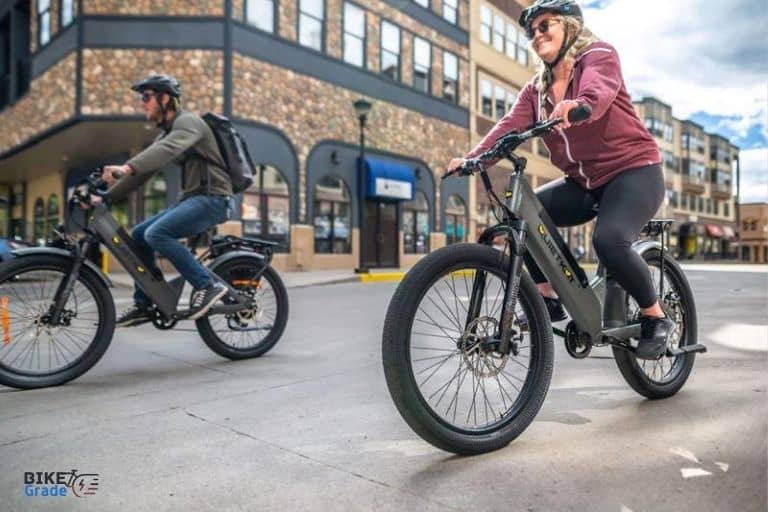 In terms of being fat bike tires, a 3.8 inch wide tire performance is top-notch. But when you compare the 3.8 inch with bigger-width tires, the pros and cons are gonna be more eye-catching. Here is a list of pros and cons of 3.8 inch fat bike tires:
Pros
Being able to fit in both 170mm and 190 mm hub

Affordable price range

Take less effort to generate speed
Relatively less grip on roads

Maneuverability is tincy bit compromised

May provide average performance in harsh weather conditions. 
Pros And Cons  Of 4.5 Fat Bike Tires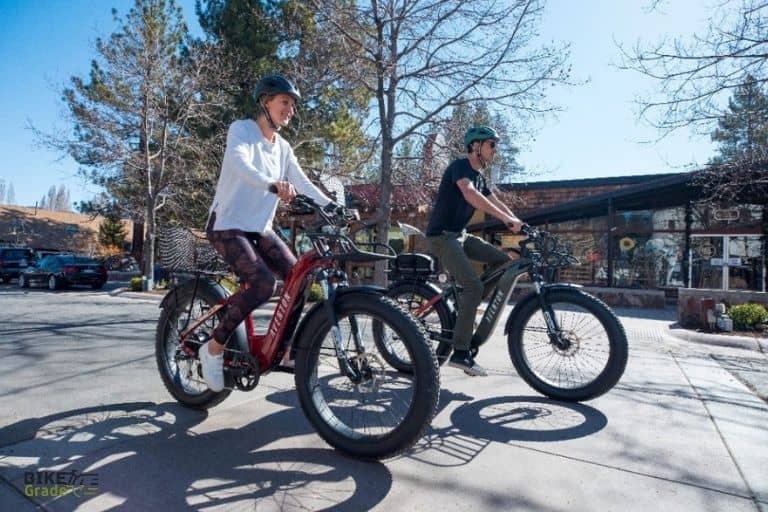 For most manufacturers and riders, a 4.5 is almost at the end range of how wide a fat bike tires can be. With a bigger width, it's obvious that it's gonna give better performance compared to the other narrow fat bike tires. That being said, there are also some cons to being big-size tires. Here are some pros and cons of 4.5 inch wide tires:
Pros
Better traction on the road. 

Better stability and Maneuverability. 

Provide satisfactory performance in harsh weather. 
Cons
Need a big size hub, at least 190mm hub to fit in. 

The price range is a little bit high. 

May take time and effort to generate speed. 
Best Fat Bike Tire Brands
There are tons of fat bike tire manufacturers out there. Here are the currently top trending brands on the fat bike wheels market. Hope you find the perfect fit for your bike. 
Watch Video: Bike Tire Size Explained
FAQ
What Is The Best Wheel Size For A Fat Bike?
A 27.5 inch wheel size with 3.8 inches to 4.5 inch width currently has most market demand and is considered as the best wheel size for fat bikes. 
Is It Harder To Pedal A Fat Tire Bike?
No, fat tire bikes are quite easy to pedal. Thanks to their bigger width, depth, and diameter, the fat tire bike possesses stability and better maneuverability. 
Can I Ride My Fat Bike On A Trainer?
Yes, you can ride your fat bike on a trainer. 
Can You Put Narrower Tires On A Fat Bike?
No, you should not put narrower tires on a fat bike. Putting a narrower tire will reduce the ground clearance and may damage the cranks. 
Conclusion 
Between 3.8 inch and a 4.5 inch wide fat bike tires, a bigger width tire will always have the advantage on performance. That being said, if you are expecting a decent speed out of your fat bike then going for narrow tires is the best bet.
If you already have a 3.8 inch fat bike tire and are thinking about updating it to a 4.5 inch wheel, it would be mandatory to make sure the hub and rim size are well-suitable with 4.5 inch tires.