Are Fat Tire Bikes Better For Heavy Riders? Yes !
Yes, fat tire bikes are better for heavy riders. Fat Tire Bikes, having the most robust built, wide and thick tires having a larger grip on surface areas, and the heavy-duty suspension increase its weight bearing capacity to a remarkable standard. 
If you are a plus-size rider or if you are thinking about giving your friend a ride on your bike then fat tire bikes are the ideal choice. The weight-bearing capacity of a fat tire bike is around 350 to 500 lbs, although it may increase or decrease due to some key factors.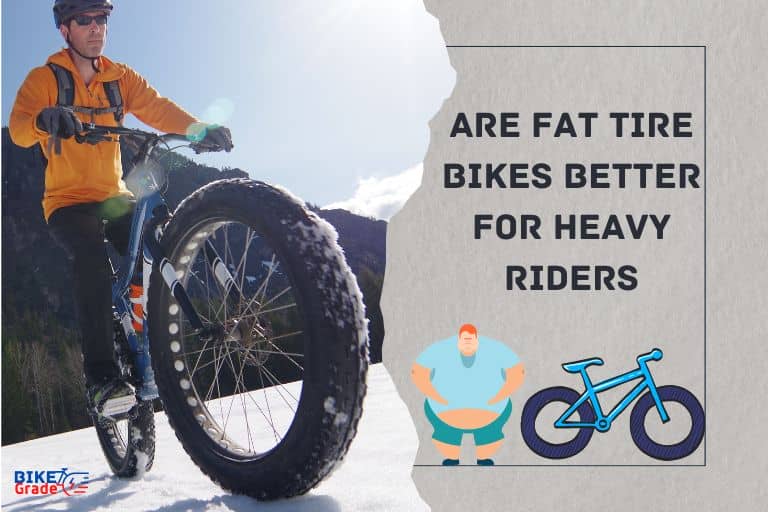 The frame structure and materials are gonna be robust, so you don't have to worry about it breaking down.
To be more certain about the weight-bearing capacity, you can always invest in a Carbon Fiber or titanium alloy frame, if it's too much for your budget then going with a high-quality aluminum alloy frame would get the job done.  
Tire thickness, air pressure, rim quality, and the number of spokes will also play a major role in proper weight distribution and increase the weight-bearing capacity. 
If you are still not convinced and want to understand the pros of fat tire bikes in simple words then
Heavy-duty frame and thick tires make it a mechanical beast with remarkable load-bearing capacity. 
Fat Tire Bikes were made for having better stability, traction or grip on sandy and snowy roads. So even in extreme weather, a smooth riding experience is guaranteed.
A big frame with optimal suspension support makes it easy to control even on rough terrain. 
Do Fat Tire Bikes Hold More Weight
Yes, fat tire bikes hold more weight than any other bike type. According to our research, you can generally expect 150lb to 350lbs from any regular fat tire bike.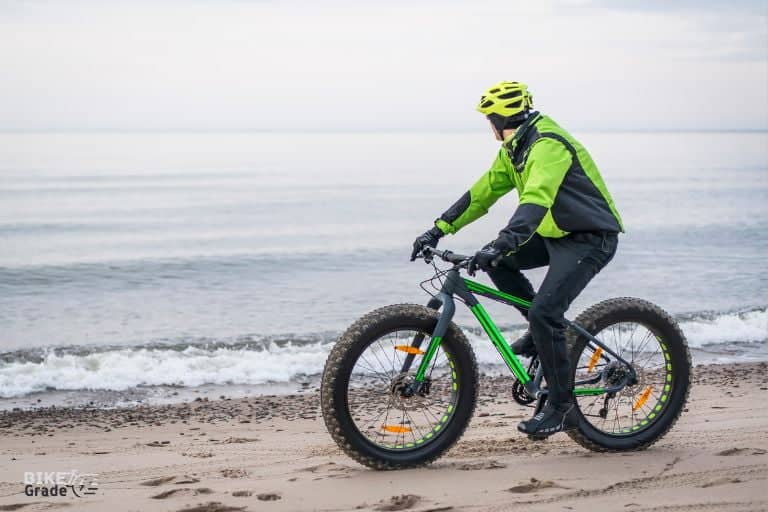 For getting a 550 lbs weight-bearing capacity, you may need to add heavy-duty suspension and highly durable rim and spokes to your fat bike.  
Here is a chart to help you understand the height, size, and weight limit for fat bikes:
| | | | |
| --- | --- | --- | --- |
| Rider height  | Frame size  | Bike size | Weight limit (in pounds) |
| 5'2″ -5'7″  | 15″ | Small  | 150lbs – 300 lbs |
| 5'6″-5'9″  | 17″  | Medium  | 300lbs – 400 lbs |
| 5'9″-6′ | 19″  | Large  | 350lbs – 450 lbs |
| 6′-6'5″  | 23″ | Extra large  | 350lbs – 500 lbs |
Chart to the height, size, and weight limit for fat bikes
DID YOU KNOW
The average weight-bearing capacity of a fat tire bike is around 350 to 500 lbs.
How Much Weight Can A Fat Tire Bike Hold 
Expecting 150lbs to 400lbs would be the norm from a fat bike. The heavy-duty built, durable metal alloy body, thick and wide tires, all of these combined helps the fat bike to carry more weight than other bikes.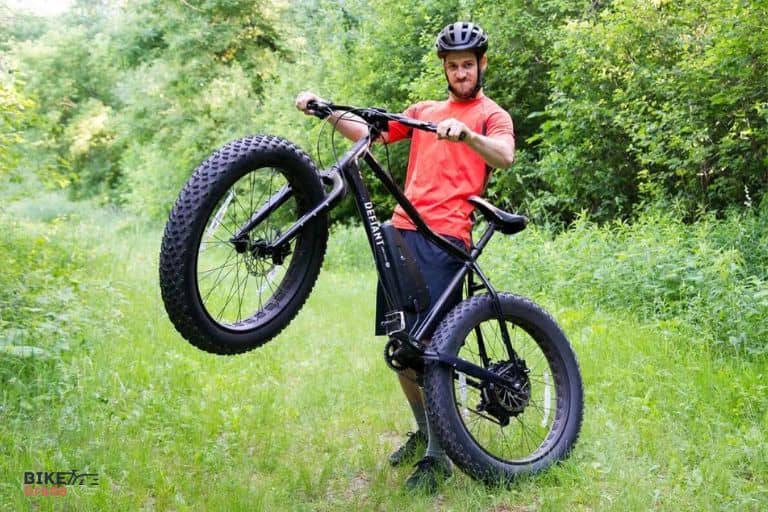 There are ways to increase the weight-bearing capacity of the fat bike. Implementing better heavy-duty suspension, changing the rim and spokes to titanium alloy, and increasing the air pressure slightly may help you even create a 550lbs weight-bearing capacity fat bike. 
Can A 300-pound Person Ride A Bike?
Yes, a 300-pound person can easily ride a bike. Nowadays, most bicycles are made with heavy-duty metal or carbon fiber, and a durable frame structure, ideal weight distribution, and optimal suspension ensure a heavy weight-bearing capacity.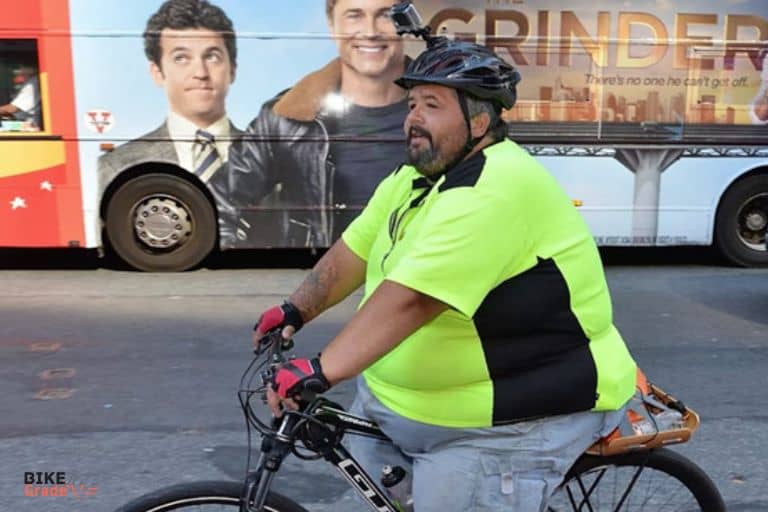 If a 300-pound rider is on a mountain bike or using a fat bike then they have nothing to worry about. Thanks to the carbon fiber frame, rims, and highly durable build, a 300-pound rider can even effortlessly ride on a thin-looking racing bike. 
The only time the weight of the rider is gonna be an issue is if the bike is worn out. If the rims and hub are broken or any defect is found on the frame of the bike, the weight-bearing capacity may decrease. 
Fat Bike Tire Pressure – How Low Can You Go!
How To Know The Limits Of Your Bike Tires?
The weight-bearing capacity of your bike tires may depend on the air pressure, thickness, and structure of the rim and spokes.
For air pressure, its unit would be in PSI. For most tires if the air pressure is 100 psi, it will easily tolerate 160 lbs or more. If you increase the air pressure or PSI just a little, there would be a significant rise in the weight-bearing capacity.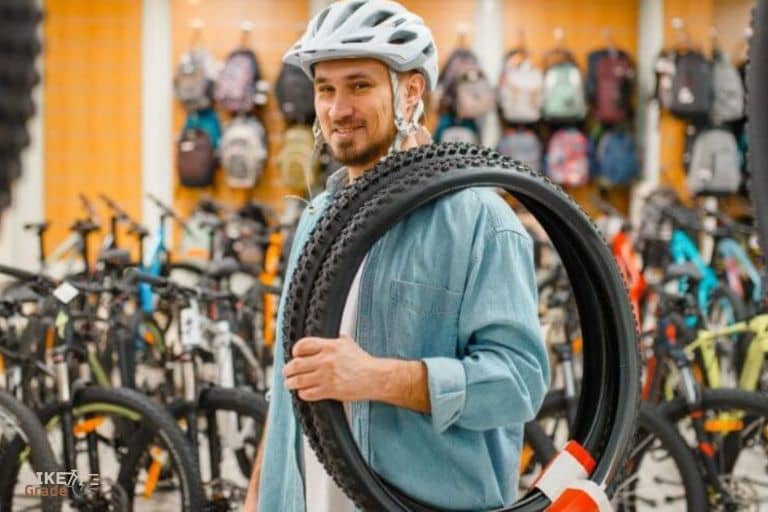 For example, increase the PSI of a tire from 100 psi to 120 psi and you would see that it would effortlessly increase the weight-bearing capacity from 160 lbs to 200lbs, almost 40 lbs increase in weight-withstanding capacity. 
The next key factor in determining the weight-bearing capacity would be the thickness of the tires. For example, a 38 mm thick tire with 70 to 75 psi would easily take a load of around 325 lbs.
If the thickness is small, you can adjust or increase the air pressure and increase the load-bearing capacity. For instance,  a 26 mm thick tire with 100 psi can easily withstand 240lbs.
The Rim of the tire is also gonna be a deciding factor in the tire's load-bearing limit. If budget ain't an issue for you then carbon fiber rims or titanium rims with a tremendous number of spokes are highly recommended. 
Why Can Some Bikes Hold More Weight 
Due to their frame structure and metal quality, suspension, tire thickness & air pressure, rim and spokes quality, some bikes hold more weight.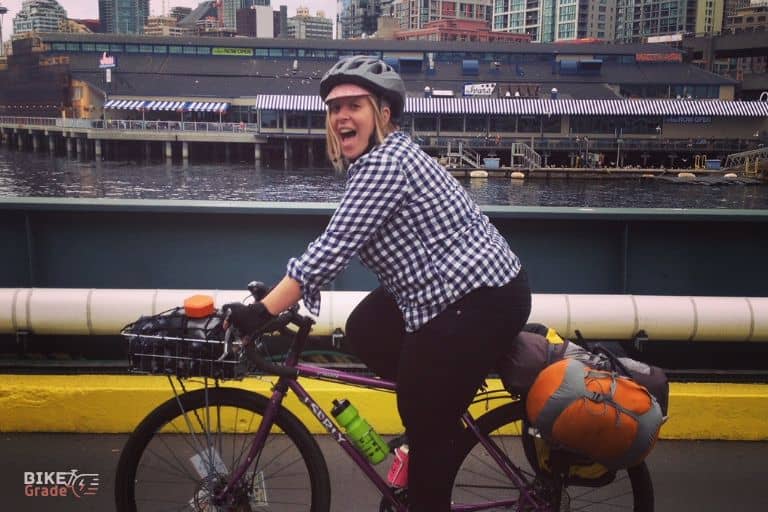 Different bikes are designed for various purposes:
A racing bike will be light & durable, and the air drag would be minimal to achieve top speed.
The mountain bike would be designed to withstand bumpy roads, make quick turns, and have more agility for getting better maneuverability. 
Similarly, fat bikes are designed for better stability on snowy or sandy roads. However, thanks to the robust build and gigantic tire size, the fat bike became a suitable choice for plus-size riders.
There are many ways to increase the weight limit of the fat bike, you can expect a weight-bearing capacity of 150lbs to almost 550 lbs from the fat bike. 
FAQ
Are Fat Bikes Good For Trail Riding?
Yes, you can ride any trail with your fat bike. However, there are other bike options for riding on trails with better suspension and other features. 
Do Fat Bikes Hold More Weight
Yes, fat bikes can hold more weight. The frame built and gigantic size tires help the fat bike to withstand more than 500 lbs. 
What Bicycles Are Good For Heavy Riders?
You can rely on fat bikes, mountain bikes, and more. A bike with a heavy framework, good suspension, and big tires is good for heavy riders.
Conclusion 
Fat tire bikes are ideal for plus-size riders. Depending on your height and weight you can go for a medium or an extra large size fat bike.
The weight-bearing capacity of the fat tire bike depends on the material used for building the frame, suspension capability, rim and spokes quality and quantity, tire thickness and air pressure, and many more.
Having a fat tire bike ensures a smooth and stable ride even in extreme weather. Hope you will enjoy riding the fat tire bike, have a safe ride.