Tire Pressure For Fat Tire Ebike: Find the Optimal PSI
For snowy, sandy, and muddy terrains 10 PSI is the perfect spot for a fat tire e-bike. On the other hand, on hilly tracks, 15 PSI is good for smooth and effortless riding whereas regular commuting is perfect on 20 PSI.
Proper tire pressure allows your bike to travel fast, smoothly, and without flats. Narrower tires require greater air pressure than wider tires. The suggested PSI for each tire is provided by most ebike manufacturers. You should contact the manufacturer to know the exact psi of your fat tire ebike. 
Fat Tire E-bike Tire Pressure Chart
| | |
| --- | --- |
| Road Type | Approximate PSI |
| Snowy terrains | 10 PSI |
| Hilly tracks | 15 PSI |
| Urban Commuting | 20 PSI |
Fat Tire E-bike Tire Pressure Chart
What is PSI?
PSI stands for "pounds per square inch," and is a unit of measurement used to measure pressure. PSI is commonly used to measure the pressure of liquids and gases, such as air pressure, tire pressure, and water pressure.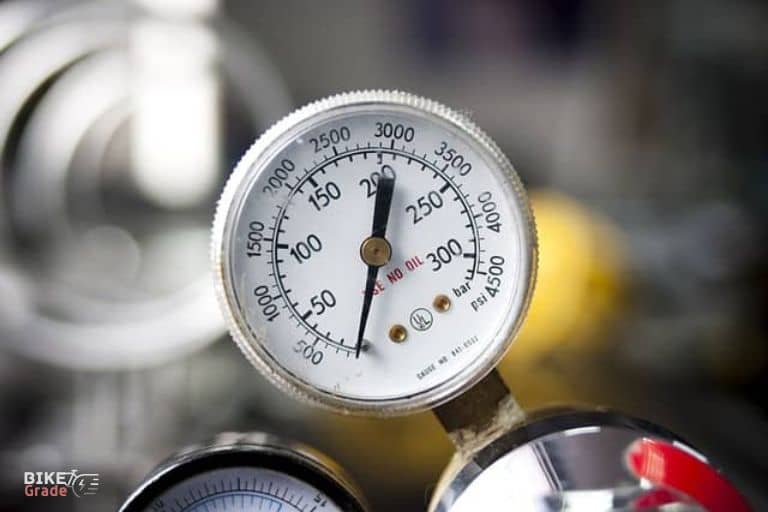 It is also used to measure the force exerted by a force, such as the force of a hammer striking a nail.
What is Bike Tire PSI
A bike tire PSI, or pounds per square inch, is a measure of the air pressure in a bike tire. The recommended PSI for a bike tire depends on the type of bike, the size of the tire, and the rider's weight.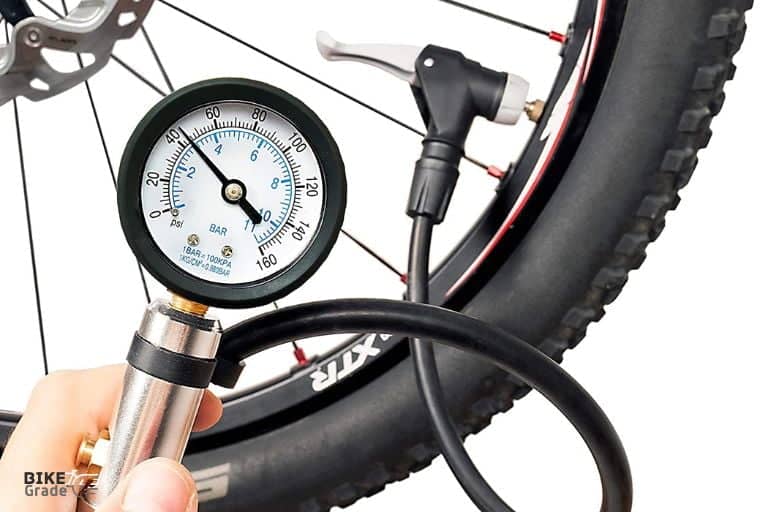 Generally, road bike tires should be inflated to between 80 and 130 PSI, while mountain bike tires should be inflated to between 20 and 35 PSI. It is important to check the manufacturer's recommendation for tire pressure before inflating a bike tire.
How To Test E-Bike Tire Pressure
The most common way to check the ebike tire pressure is by bare hands. Try to push the tire with your hands. An over-PSI tire will feel hard and sluggish whereas an under-PSI tire will feel too soft.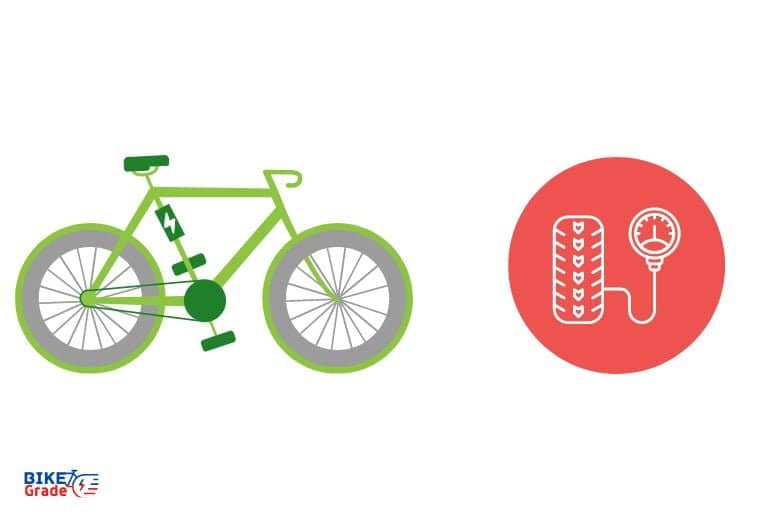 Besides that, you can check your bike tire using a pressure gauge. Just remove the cap of the valve stem of the tires and put the gauge into it. You'll see the accurate reading of the PSI. 
Factors that Affect Tire Pressure
Driving with low tire pressure in one or more tires may be an expensive and hazardous mistake. A few factors that affect tire pressure include
Speed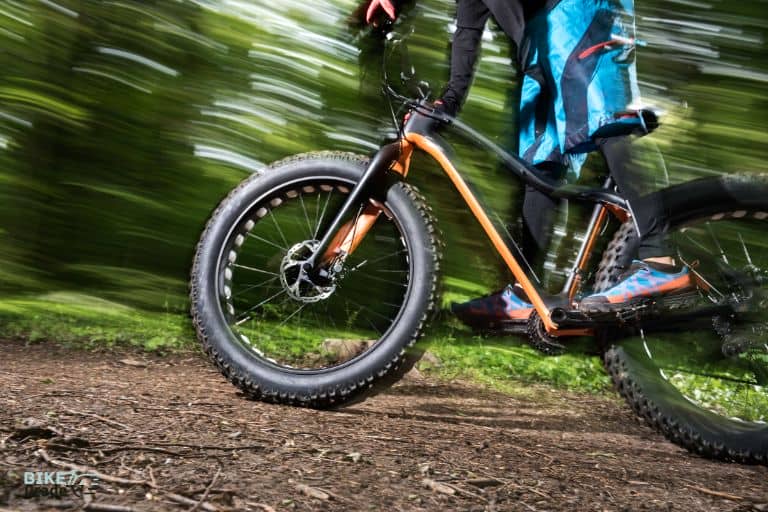 Extremely high speeds cause the higher tire to run at a temperature. This causes greater tire wear and component separation.
Road Circumstances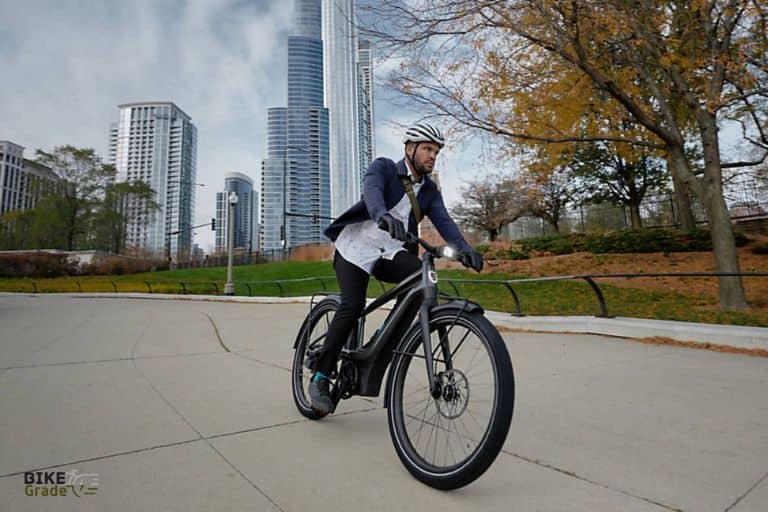 The optimal tire pressure for rocky terrain is somewhat lower than for smooth highways. The operating conditions of a vehicle/tire considerably impact tire life, both in terms of new tire life and structural durability.
Driving habits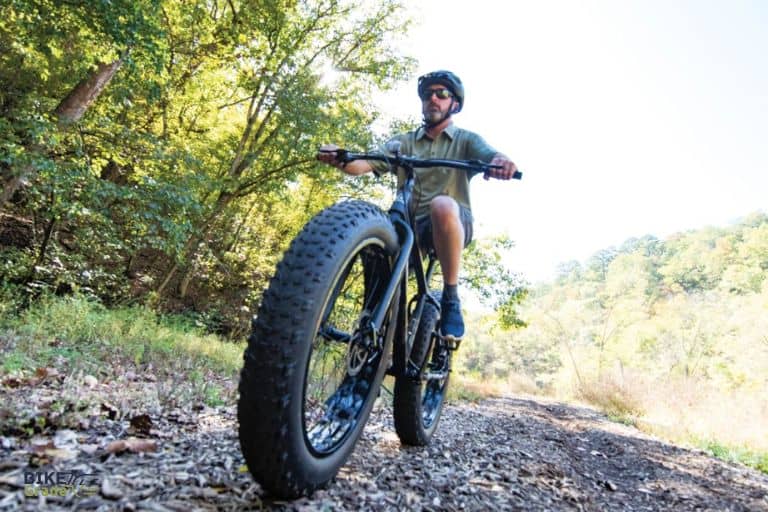 Speeding, exceeding the speed limit over potholes, stones, quick starts, and sudden stops, riding over road dividers and other roadblocks, tight turns at high speeds, hitting the road, obstructions, and running on improperly inflated tires are some of the driving habits that cause serious damage to tires and affect Tire Pressure.
Seasonal Influences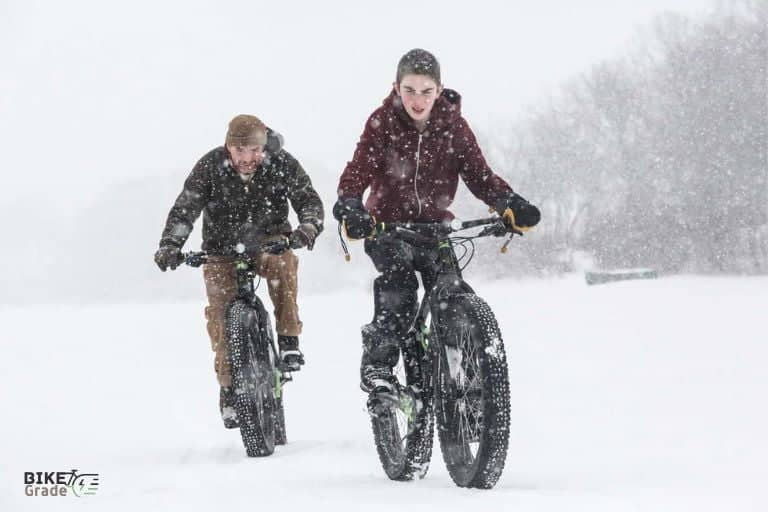 The weather considerably influences the ideal pressure of your tires. Climatic conditions impact tire life in terms of mileage, Tire Pressure, and structural stability.
Inflation Pressure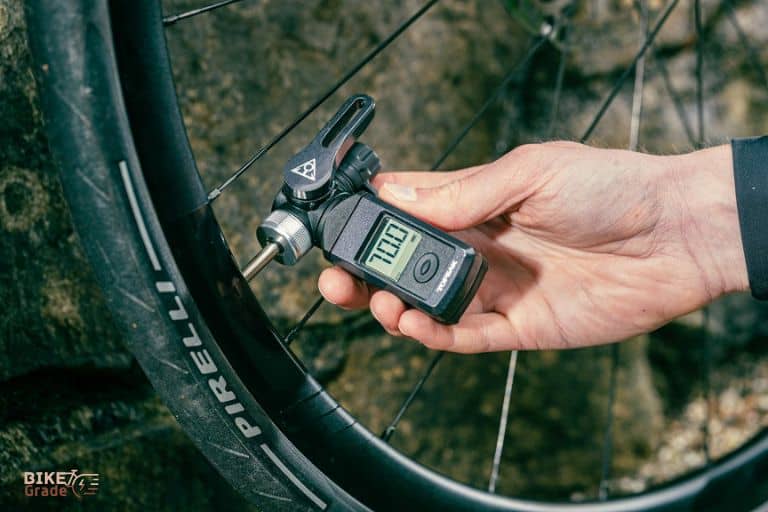 Tyres with "under inflation" or "over inflation" negatively influence tire life, vehicle control, and safety. This can result in heat buildup/tire temperature, life loss, and early removals. All these directly affect tire pressure.
How Does a Rider's Weight Change Tire Pressure?
The required tire pressure is also higher when the rider is heavy. For example, with a 22 mm wide tire, the ideal tire pressure for a 176-pound rider is 92 PSI, while for a 230-pound rider, it is 115 PSI. As a result, heavier riders are recommended to invest in tires with greater PSI ratings.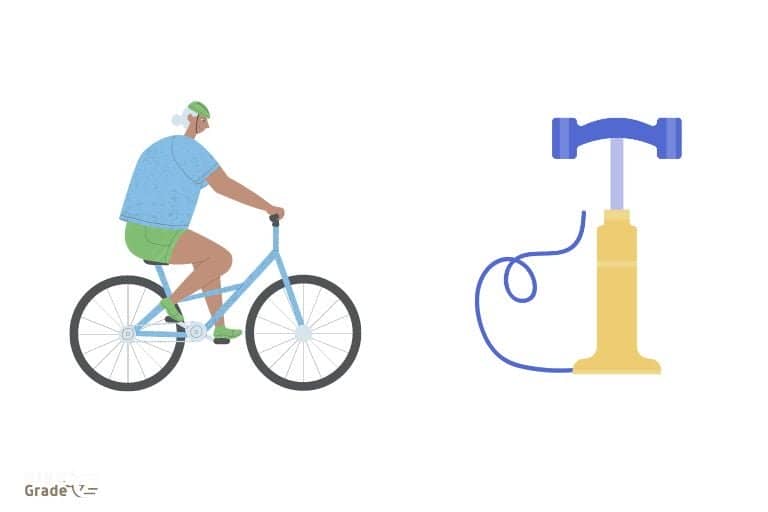 The tire pressure on your bike significantly influences your riding experience. A smooth, peaceful ride is possible with the proper tire pressure.
As a heavy rider, you must maintain tire pressures of at least 110 PSI in the rear and 90 PSI in the front. Weather, road conditions, etc., determine the precise figure.
Benefits and Drawbacks of High Tire Pressure
Reduces rolling resistance which can improve fuel efficiency.

Increases cornering stability in wet and dry conditions.

Improves tire life by reducing wear caused by flexing of the tires.

Improves braking performance, as it increases traction between the tires and the road surface.

Provides a smoother ride due to less flexing of the tires over bumps and potholes.
Can cause an uncomfortable ride due to the excess hardness of the tire on rough roads and surfaces.

Can increase wear on suspension components as they are more rigidly supported by the hard tires which do not absorb bumps, as well as softer tires, would do.

This may result in increased chances of a flat tire or blowout due to excessive pressure on the internal components of the tire, such as the sidewall or rim guard for example.
Benefits and Drawbacks of Low Tire Pressure
Lower tire pressure increases the traction of a vehicle, making it easier to drive in slippery conditions.

Lower tire pressure can provide an improved ride and better handling.

Lower tire pressure decreases rolling resistance, thereby increasing fuel efficiency.

Lower tire pressure increases the contact patch of a vehicle's tires, allowing for better grip on surfaces like dirt or gravel roads.

Lower tire pressure can improve the off-roading capabilities of a vehicle by creating more grip and stability when driving over uneven terrain.
Lower tire pressure may cause premature wear on tires due to increased flexing of the sidewalls when driving at high speeds or cornering tightly.

It can reduce the life span of a set of tires due to increased wear and tear from additional flexing in corners and during acceleration and braking maneuvers.
Adjusting tire pressure on fat tire e-bike for all-terrain!
How do you put air in a fat bike tire?
To put air into a fat bike tire, you will need an air pump with a large enough nozzle to fit the larger valve on the fat bike tire.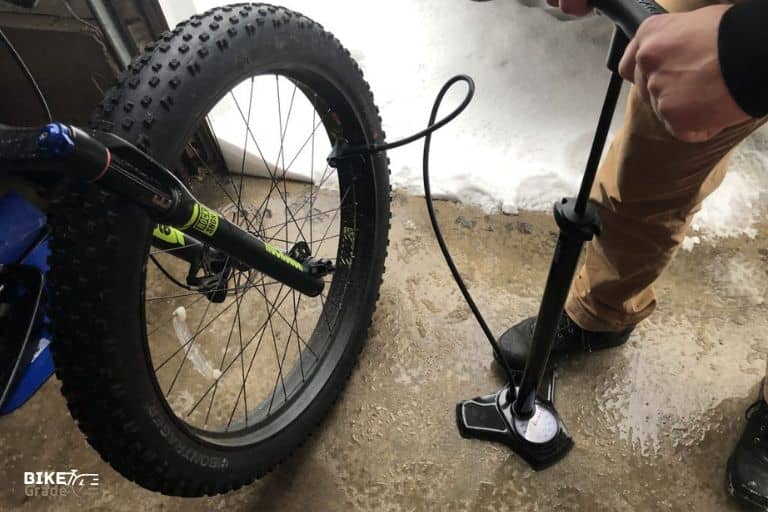 Start by attaching the nozzle of the pump to the valve on the tire. Then, pump the air into the tire until it is at the desired pressure. Finally, remove the nozzle of the pump from the valve and replace the valve cap.
Make sure the tire is properly inflated before you begin. To do this, you can use a hand or floor pump with a pressure gauge.
Unscrew the valve stem cap from the valve stem.
Connect the pump to the valve stem.
Pump up the tire until it reaches the desired pressure. You can check the pressure by looking at the pressure gauge on the pump.
Once the desired pressure is reached, unscrew the pump from the valve stem.
Re-screw the valve stem cap onto the valve stem.
Check the pressure again to make sure it is correct.
Ride your bike and enjoy the ride!
Why is the tire pressure so little on a fat bike?
The tire pressure on a fat bike is kept low to allow the tire to absorb more of the impact from the terrain.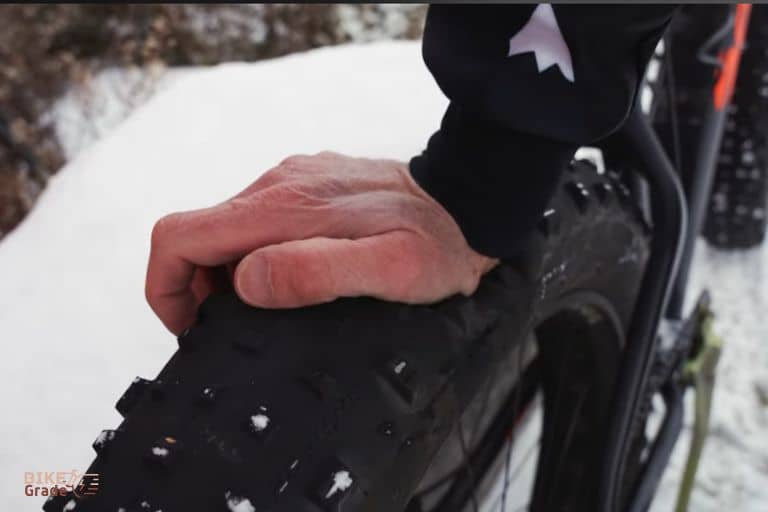 The lower the tire pressure, the larger the contact patch between the tire and the ground.
This increased contact patch provides more traction and better shock absorption, making it easier to navigate difficult terrain.
Low tire pressure also helps to reduce the risk of pinch flats and rim damage.
FAQ
What is the proper tire pressure for Fat Tire Mountain biking?
Tire pressure should be between around 15 PSI while mountain biking with a  fat bike.
Is 40 PSI Good Tire Pressure?
For fat tire e-bikes, 40 PSI is a little much. Therefore, riders shouldn't use 40 PSI. 
At what PSI will a tire explode?
When a tire reaches 200 PSI, it explodes. 
Is Traveling With a Tire Pump Recommended?
Yes, traveling with a tire pump is recommended when you're going for a long trip. 
When Should You Replace Your Tires?
Tires should be replaced before 10 years due to tread loss, punctures, accidental damage, poor inflation, and overloading.
Should Your Front and Rear Tire Pressure Be Different?
Yes, front & rear tire pressure should be different. The front tire should have 2-5 PSI more pressure than your back tire.
Conclusion
Tires' health greatly depends on the PSI. The appropriate tire pressure for your electric fat bike will be determined by where you are traveling and the type of tires on your bike. Other considerations, such as the type of bike, rider weight, personal taste, and a variety of other variables, will influence what tire pressure to use.