Do E-bikes Charge As You Pedal? YES , Here is how!
Most electric bikes don't charge when you paddle. If you have a direct drive motor hub, you may expect regenerative braking and paddle from your ebike. 
The bike with a regenerative paddle may require a lot of work from the riders in order to get results. To generate 1 km worth of charge, you may have to paddle for 11km to 15km. 
The efficiency of regenerative paddling or charge as you paddle is less than 10%. The charge as you paddle or regenerative paddling is still in the development stages and needs lots of nitpicking. In addition, regenerative braking is somewhat more efficient than charging as you paddle.
The most simple, efficient, and effortless way to charge would be plugging in the ebike battery charger in the electrical outlet and waiting for 3 to 6 hours.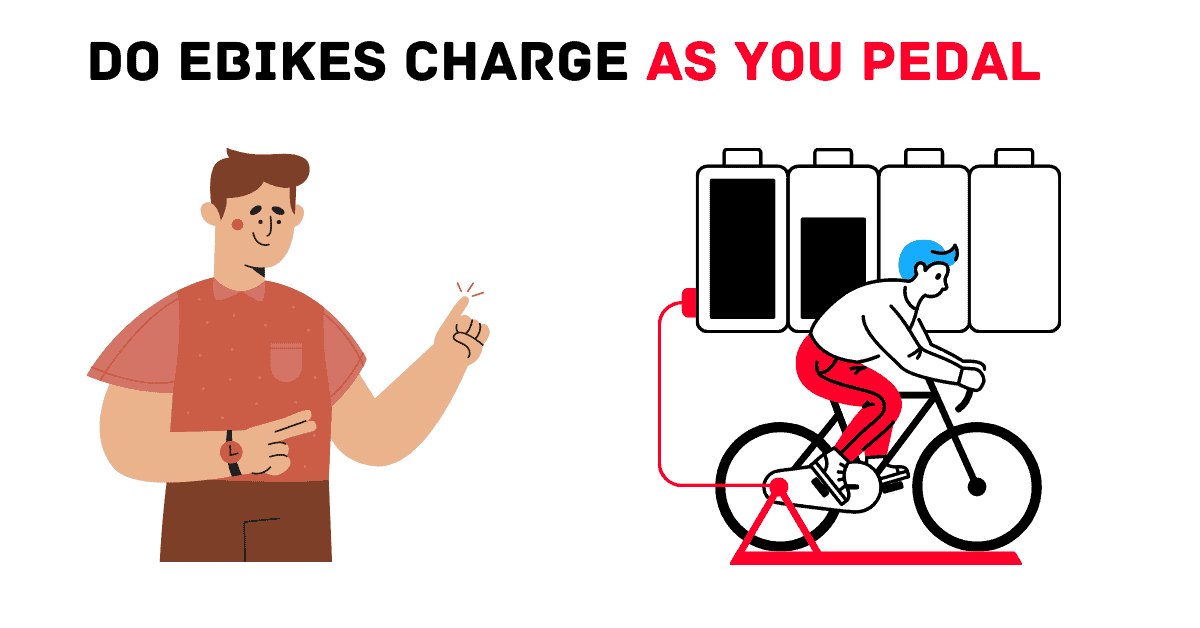 How Do Electric Bikes Normally Charge?
Normally most riders prefer to charge their electric bikes indoors, plugging the charger into the electric outlet. If your house, workplace, or restaurant has a 110-volt outlet but your ebike uses a 220-volt charger, you may need to use a step-up voltage adapter to charge the ebike battery. 
When the battery runs out of charge in the middle of the road, it's best to look for the nearest Electric bike charging station or any EV charging station. Most riders carry an adapter with them to deal with any voltage-related issues.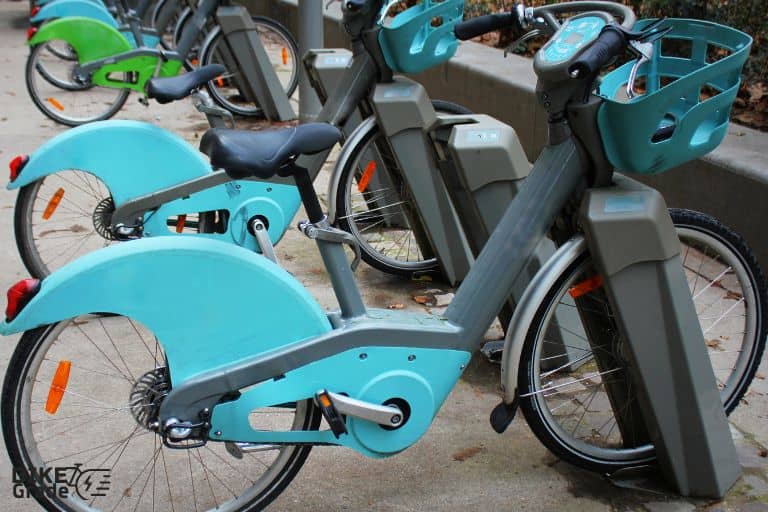 When the rider is planning to go camping outdoors or off the grid, they have multiple options to charge the ebike battery. Most riders rely on eco-friendly options like solar panels to charge the ebike battery. For changing multiple devices at the same time, most prefer portable generators. 
Even using car batteries to charge electric bikes has become a norm among riders. Just connecting a battery inverter to the car battery makes it an ideal charging station for the ebike. 
Is There Currently A Self-charging Electric Bike Available To Buy?
The buzz about self-charging electric bikes has always been on the rise. Currently, you may not find a genuine self-charging bike on the market, but you will surely find articles and news about the development and test drive results of self-charging electric bikes.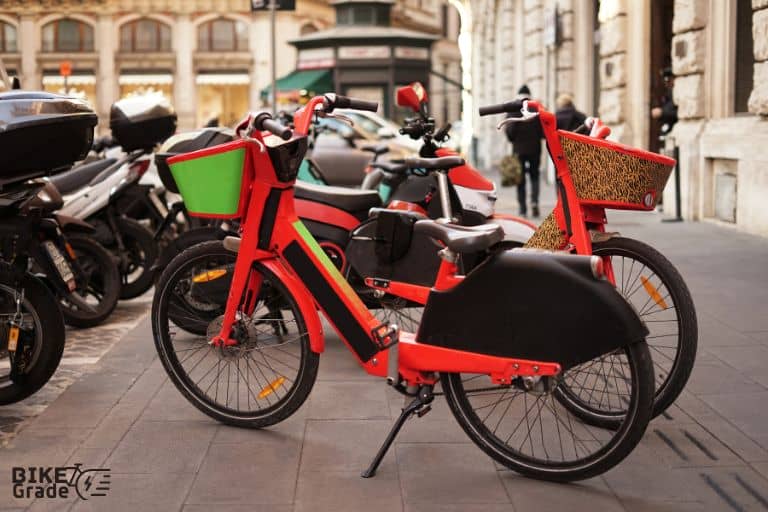 Some manufacturers even tried a few cheap marketing gimmicks and promoted regenerative braking as a self-charging bike. Although the regenerative braking system is quite an amazing feature, it still has a long way to go. 
Few electric bike manufacturers tried to actually achieve a self-charging system but the efficiency wasn't up to the mark, so it will take time to actually find a legitimate self-charging electric bike on the market. 
Could E-bikes Charge Themselves In The Future?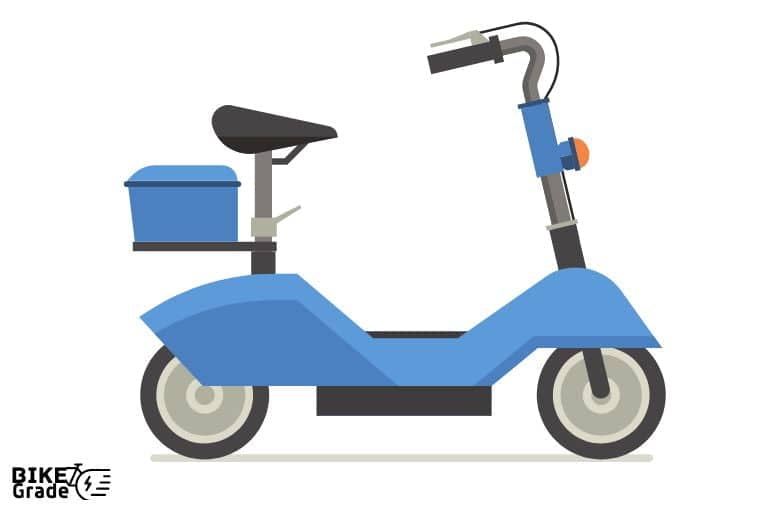 In the upcoming days, self-charging electric bikes won't be that much of a far-fetched idea. E-bikes will be easily able to charge themselves. 
VELLO was the first manufacturing company that started developing a self-charging bike in 2016. After that many manufacturing companies started their research and development departments to get their own self-charging electric bike. 
Converting kinetic energy to electrical energy has always been a challenge for manufacturers. Especially electric vehicles weren't that famous in the earlier years of this era so there hasn't been that much of a development in this field.
The sales of electrical vehicles gradually increased from 2012 to 2015 and it received a remarkable positive response in 2016.  From 2016 to 2022 electric vehicle development and sales skyrocketed and more manufacturing companies invested in this field. The present momentum of the electric vehicle industry clearly shows that It won't take that long to actually have an ebike that charges itself. 
Companies Working On Self-charging E-bikes
The Australia-based company VELLO was the first visionary for the self-charging electric bike; they started devolving one in early 2016. In the year 2019, manufacturing giants like NEOMOUV FURTIVOO, DX, and EAHORA announced their own self-charging electric bike lineup. Many other companies are also developing self-charging electric bikes and have shown remarkable progress. 
How Effective Is Regenerative Braking On An Ebike?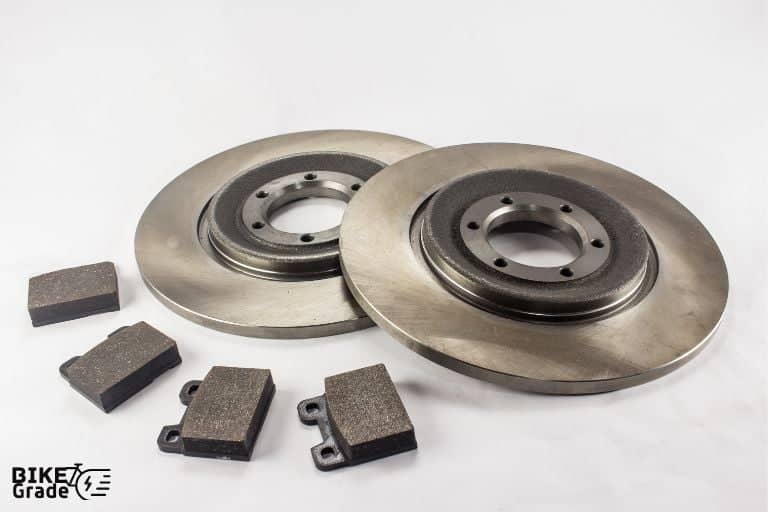 The regenerative braking system on ebike is quite an interesting feature but it still needs a long way to go to achieve noteworthy results. 
The regenerative braking system works on sustaining the kinetic energy of the moving bike and converting it into electric power, along with reducing heat loss and wind drag loss. At present most regenerative braking systems can effectively recover only 10% of the total kinetic energy loss and use it to charge the battery. 
The 10% of total kinetic energy loss won't be enough to charge the battery, if you are lucky it might add 1 to 2% charge to the battery. 
How Will Regenerative Braking Benefit Me And My Ebike?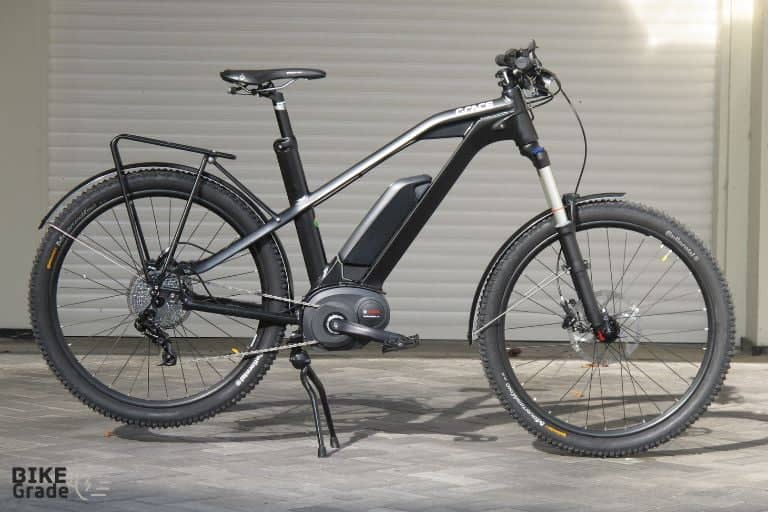 A regenerative braking system will certainly be beneficial for both you and your ebike.
Your ebike runs on electric power; If there is a way to reduce a little bit of energy loss you will surely be able to go some extra miles. There is no harm done if you have a regenerative braking system in your ebike; every time you press on the brake, you will get a little bit of kinetic energy converted into electric energy to charge the battery. 
If you can reduce energy loss and charge the battery at the same time, you will certainly save a chunk of money on your electric bill. The less you need to charge the battery, the more money you can save. It's an absolute win-win situation for you. 
Can You Charge An Ebike While Riding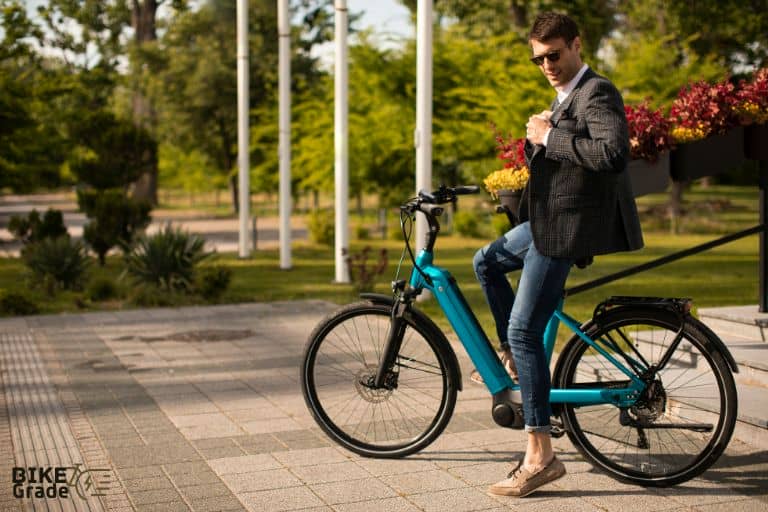 It might be possible to a certain extent to charge an ebike while riding but it sure isn't efficient. There are some cases where a rider has bypassed the battery management system and attached a solar panel to the bike. They were able to charge the ebike while riding but it took extremely long to show significant results.
After going through a proper diagnosis, it was found that almost 85% to 90% of the electric power generated by the solar panel was wasted because of charging the bike while riding. Also, following such methods hold a high risk of frying the wires, ebike's motor, and circuit. It's not recommended to charge your e-bike while riding.
You can implement a regenerative braking system on your ebike, it might not be that effective but it will surely provide a beneficiary outcome in the long run. 
FAQ
Do Ebikes Have A Range Of Power Levels?
The range of power level for a typical ebike is around 250 Watts to 1000 watts.
How Do Ebikes Compare To Other Types Of Bikes When It Comes To Pedal-assist?
Ebikes will clearly have a power and performance edge over regular pedal assist bikes. However, regular pedal assist bikes are easy to operate, and it may take some effort for the rider to adapt to an ebike.
Is It Safe To Ride An Ebike In Wet Conditions?
Few ebike models may adjust to the wet condition but the maximum of the ebike models aren't well adapted to the wet condition.
What Are The Pros And Cons Of Using An Ebike For Exercise?
A motorized electric bike is good for smooth rides but not so good for fitness. Only when the battery runs out, your legs may feel exhausted paddling the heavy bike.
Conclusion 
Self-charging an electric bike and other electronic gadgets have always been a hot topic among riders and enthusiasts. Charging the ebike while paddling, the concept was in the development stages in early 2016 and at present, it achieved remarkable progress.
There have been several test runs, and although the efficiency isn't that noticeable, achieving a 10% efficiency isn't a small feat. The regenerative braking system was in the development phase and has been recently introduced to the riders and getting lots of positive reviews.