How Far Can An E-bike Go On One Charge? [All The Facts]
Considering different factors a typical ebike can go 20 miles to 50 miles or more on one charge. Mostly it depends on how big your battery Voltage and amperage is. If you own an ebike that has 48 Voltage and 12 Amperage then it would go 40+ miles.

There are other factors such as pedaling mode, speed, road condition, rider weight, battery age, and weather also play roles in determining how far an ebike will go on one charge. If you ride your bike in full throttle mode then you will get the least mileage. On the other hand, if you ride on pedal-assist mode then you can achieve the top mileage out of your ebike. 
An Estimated Range Of Different Types Of Bikes
Here is a list of 5 ebikes containing their range capacity in one full charge. 
An Estimated Range Of Different Types Of Bikes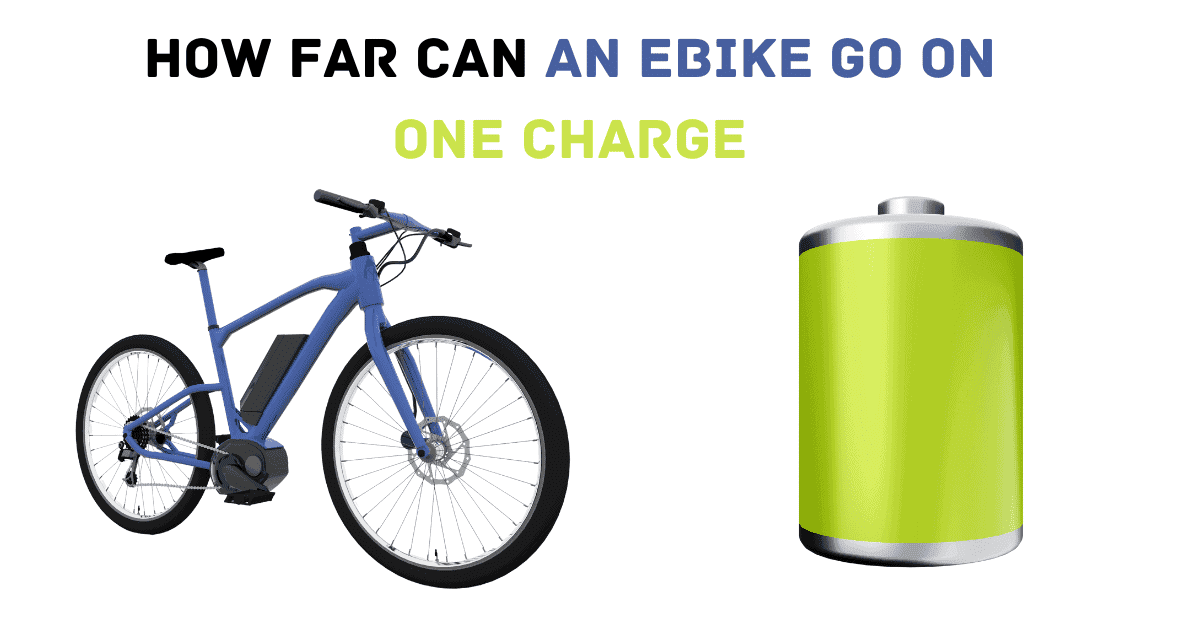 How to Estimate E-bike Range
What should you do if you discover an e-bike for which no range test has been conducted yet? Here are some basic math formulas that you should first learn so that you can roughly estimate how far you can go.
E-bike mileage at a High Pedal-Assist Mode:
 xWh / 30 = Mileage
E-bike mileage at a Medium Pedal-Assist Mode: 
xWh / 20 = Mileage
E-bike mileage at a Lower Pedal-Assist Mode:
 xWh / 10 = Mileage
To estimate your travel range, you have to divide the total Watt Hour (battery capacity) by a specific number. For maximum range, low pedal-assist mode drains the battery slowly, while the high pedal-assist mode drains it fastly. 
Be warned that these calculations only give a general idea of how far an electric bike can go on its integrated battery.
What Are the Factors in E-bike Range?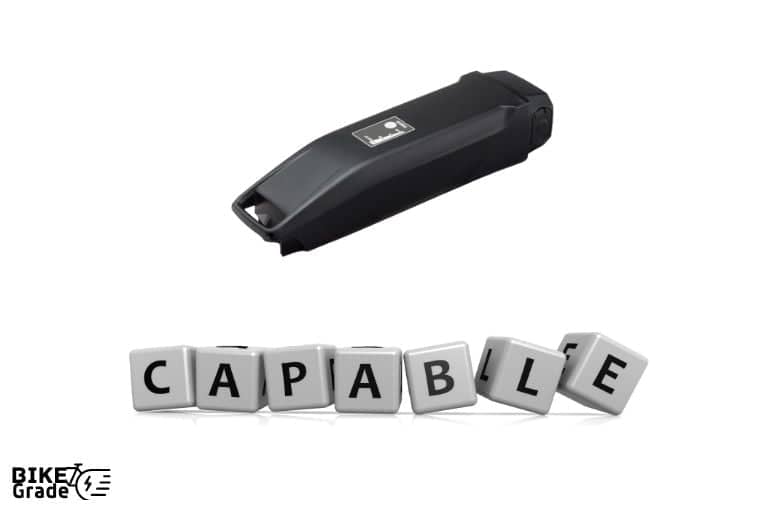 Despite the fact that all electric bikes are advertised as having a specific range, these ranges are frequently inflated. Advertised ranges may, in certain situations, even be four times higher than the actual range.  Due to the fact that so many factors are dependent on the rider and the riding environment, it is almost impossible for electric bike range claims to be completely accurate.
Consider the following factors when estimating range:
Battery Size
The maximum travel distance will depend on the overall size and mAh rating of your electric bike's integrated battery. For example, a battery with a 2000 mAh rating can charge 2000 milliamps in one hour. In general, the higher the mAh, the better, though this could add to the overall weight of the battery.
Pedal Capability
You can combine your own power with the power coming from the battery if you have a model that allows you to pedal, such with a pedal-assist bike, to conserve energy while you're out and about. The battery may deplete more quickly if you're using it exclusively.
Weight Resistance
It is a good idea to adhere to the bike's recommended maximum weight limits, which can range from about 200 pounds to 350 pounds. You will travel farther on a single charge if the motor is carrying less weight.
Weather
A gale will lengthen the range an e-bike can cover when being used. The battery's capacity and how far it can travel on a single charge, however, might be impacted by extreme weather conditions like wind, rain, snow, and sleet. 
Battery Age
Batteries lose some of their capacity as they age and won't keep a charge as effectively. In light of this, you might need to replace the battery in your electric bike if you see that it isn't getting as much use as it formerly did.
Riding Speed
You should reduce your e-bike speed even when you are traveling a long distance because the higher the speed, the smaller the battery's range capacity. 
Tire Pressure
The friction between the tire and the ground will increase if your tires do not have enough pressure or are not fully inflated, making it harder to pedal or move. The ideal tire pressure is determined by the surface.
Stop & Starts
A lot of energy is used during frequent stops and starts. Unfortunately, it's unavoidable while commuting through a congested city with frequently changing traffic signals.
How to Take Advantage of My Electric Bike's Range?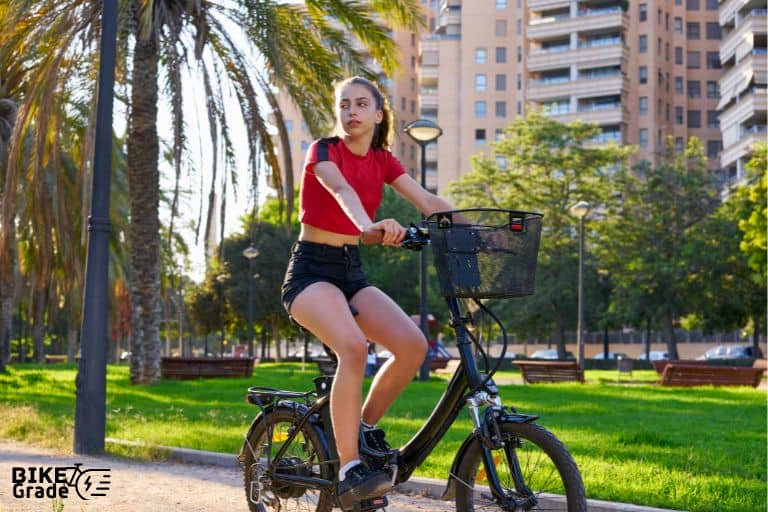 Whether you're a complete beginner or a seasoned biker, there are many ways you can take advantage of  your e-bike range, from health and fitness to financial and environmental benefits. You may use your e-bike to energize your commute or propel yourself up the best mountain biking slopes and down them among other things.
Here are a few additional ways you can take advantage of your e-bike range:
Boost Your Stamina and Fitness
It is scientifically shown that riding an electric bike increases aerobic fitness levels, just like normal cycling does. Even while it takes less energy to keep you moving than it would on a regular bike, you will still need to expend a lot of energy to move forward. 
Roll Down The Toughest Hills
Even if you enjoy the challenge of a decent incline, hill climbs are the misery of all bikers, and it's almost certain that your pace will fall below 15 mph. When you reach the peak of a climb, you'll feel more refreshed, which will make you less inclined to want to rest and more likely to keep going.
Riding Faster
With the added power provided by the e-bike's motor you can accelerate faster and with less effort from a standstill, making it much easier and less stressful to keep up with traffic.
Is More Power Better for the Range?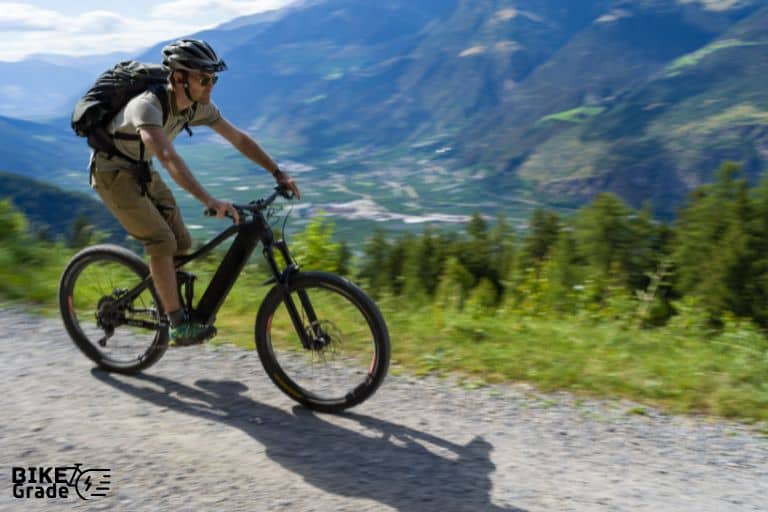 Greater power might be a useful option to offer additional support in steep areas and for people whose health conditions make it difficult to cycle. The same holds true if all you desire is the fastest speed.
In addition to being more likely to be larger, stronger motors typically need a bigger battery to offer an adequate range. A 250-watt electric bicycle may aid far more than its power rating would imply, often several times more. The wattage is a fairly poor predictor of how the e-bike will actually perform in use.
Tips To Increase Your Ebike Range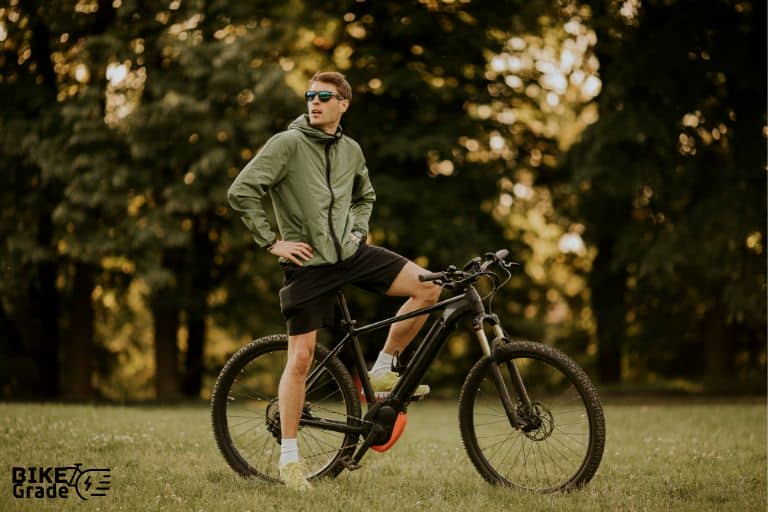 There are a few obvious and not-so-obvious tips to increase range on an e-bike. Starting with the obvious;
Make sure your battery is charged completely before you begin your ride.
Continue pedaling.
Reduce the throttle and/or lower the pedal assist settings.
Less obvious;
Use the proper gear-  if you're in an extremely high gear and having to press hard on the pedals to get the crank to rotate, it's time to downshift.
Pressure up your tires – When your tire pressure is low, more of the surface area of your tire is in touch with the ground, resulting in a sluggish ride.
Lubricate your chain, this will increase its performance and, as a result, your pedaling efficiency.
Make sure your wheels are true (aligned) and your brake pads are in good shape. 
FAQ
How far can a 750 watt e-bike go?
A 750w electric bike can reach speeds of up to 28 mph, on a level terrain.
How far will an e-bike go without pedaling?
It goes around half the distance covered in miles with pedaling on a nearly flat terrain.
How long can the typical e-bike go on a single charge?
Depending on the power and capacity of the battery, an e-bike can ride 15 to 100 miles on a single charge.
How good are e-bikes for daily commuting?
Commuting via e-bike is far superior to driving a car! The average e-bike generates only 2.5g of CO2 every mile, compared to 411g from a typical automobile.
How often do you charge your e-bike?
It is advised to recharge your batteries when they have between 30% and 60% of their charge left.
Which e-bike has the longest range?
The Guinness World Record-holding Delfast Prime e-bike has the longest range and can travel 228 miles on a single charge.
Conclusion
In conclusion, achieving the ideal riding range is more difficult than it seems because numerous, exacting requirements must be satisfied at once. Of course you'd agree it's fine to purchase an extra battery. However, given how expensive batteries are, I think it is sufficient to pay attention to your electric bike's routine maintenance.