Where To Charge Ebike Battery: Ultimate Guide
Depending on your circumstances, you may either charge the ebike battery inside your house or workplace, or you can travel to the nearest ebike charging station while on the road. Besides, there are several excellent outdoor charging methods for your ebike, such as using a car battery inverter, solar panel setup, portable generator, and others. 
Here's a brief breakdown of where you should charge your ebike battery. 
Charging the ebike battery indoor 
It's safe and most convenient to charge your e-bike battery indoors. If you have a removable battery, you can simply carry it inside your home, office, or restaurant, and charge it. 
Charging the ebike battery outdoor 
There are more than several effective way to charge your e-bike battery when you are outdoor, here is a quick rundown on the charging options:
EV Charging station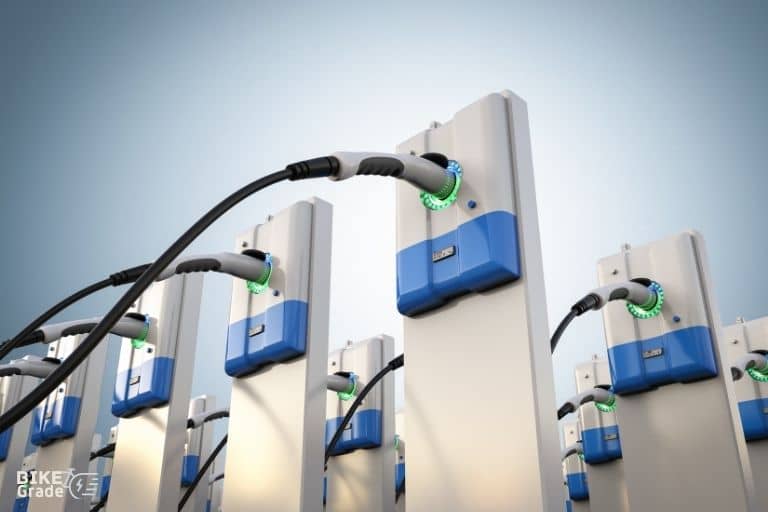 When traveling in urban areas, you may find a dedicated charging station for your ebike. Even if you don't find any specific ebike charging station, you can go for any electrical vehicle charging station. Most electric vehicle charging stations may have a 220v outlet so carrying a step up or step down voltage adapter with you is sure to come in handy.
Car battery inverter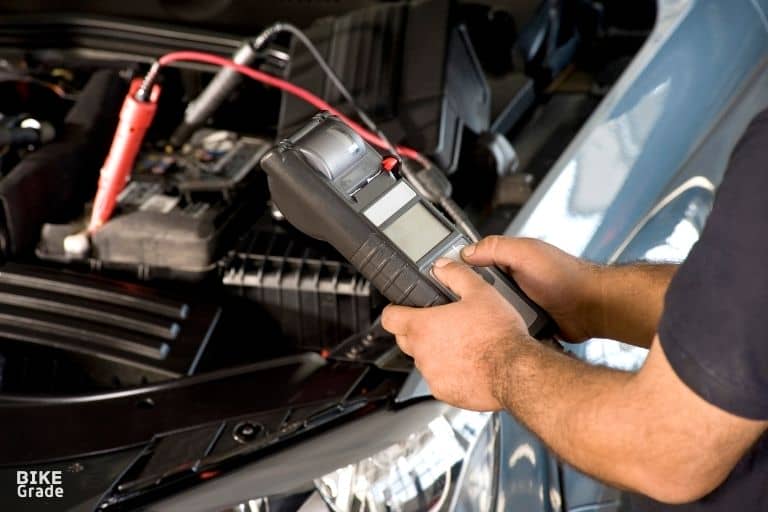 Even if you are stuck in a bizarre situation, you can always rely on your car battery to be the charging station. You will just need an inverter and it will be easy as pie to charge your e-bike battery. 
Portable generator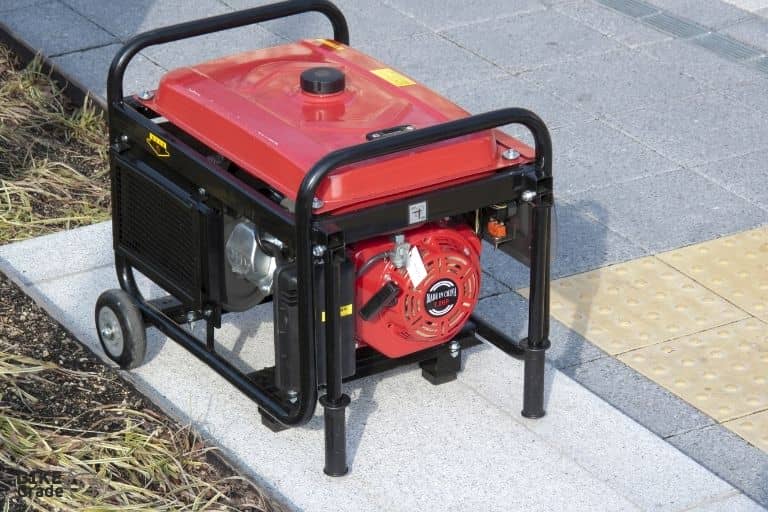 If you are planning a camping trip then carrying a portable generator with you is highly recommended. You would be able to charge multiple devices along with your ebike battery at the same time. 
Solar panel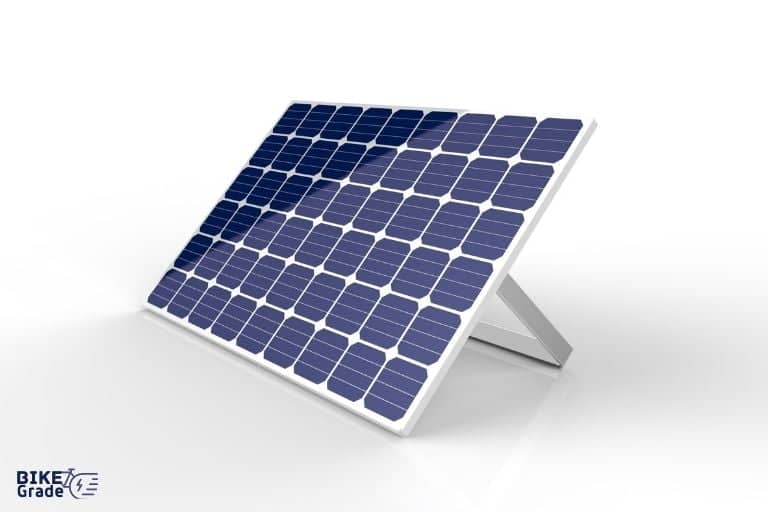 You could also rely on a solar panel charging setup, it's efficient, and eco friendly. Look for a flexible lightweight and easy to set up solar panel or blanket. 
Carry an extra battery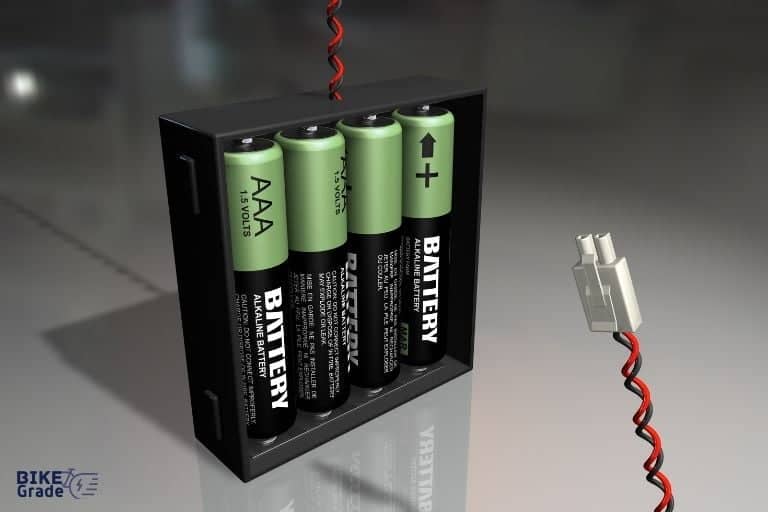 For extra convenience, you should carry an extra fully charged battery with you, you could simply keep one battery plugged to recharge and use the other one.
Steps To Charge An Electric Battery At Home
Charging the ebike battery at home is the most convenient, simple, and risk-free option. Easiest because you won't have to worry and walk for hours looking for an outlet, effortless since you'll just plug in the charger and job done, and safest because your battery won't be exposed to extreme heat or chilling cold, nor will it be vulnerable to sudden rainfall.
For removal battery 
Step 1 – Remove the battery
The battery may be kept in place with a safety lock. Use a key to unlock and remove the battery.
Step 2 – plug in the charger
Before plugging in the charger there is a crucial thing you should keep in mind: to get the most efficiency out of your charger, always look for a PFC(power factor control) enabled charger. PFC-enabled chargers are able to deal with electric overflow and it will also ensure that all the electricity drawn from the home outlet is efficiently charging the battery without wasting a single bit.
Step 3 – Connect the battery
The final step is to connect the charger to the battery.
Before turning on the switch, make sure your home outlet voltage matches the charger requirements. Most households may have a 110v outlet where the battery charger may be suited for 220v. You can easily solve that problem by using a step-up voltage adapter.
For non-removable battery 
Step 1 – Park the bike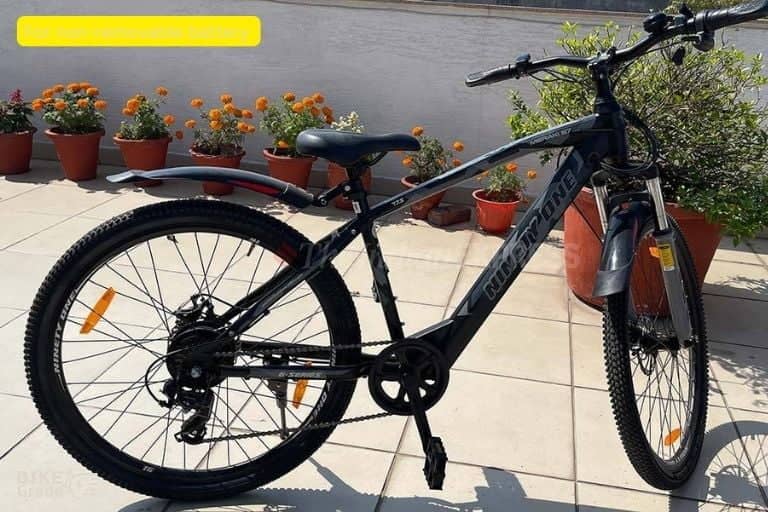 If you have an ebike with a non-removable battery then you just need to find a suitable place to park your ebike inside your home. Make sure the bike is parked away from receiving direct sunlight or doesn't get affected by rain. 
Step 2 – Connect the charger to the battery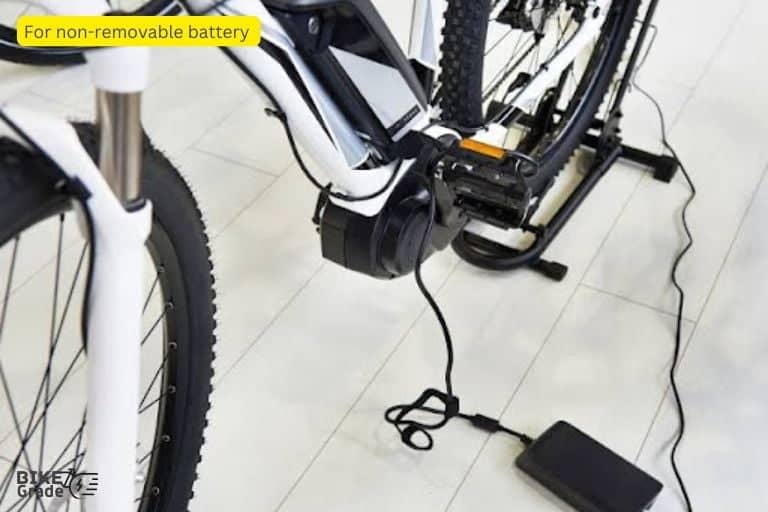 It's easy and simple, just connect the charger to the battery.
Step 3 – Plug in the charger
Now it's the final step, plug in the charger and turn on the switch.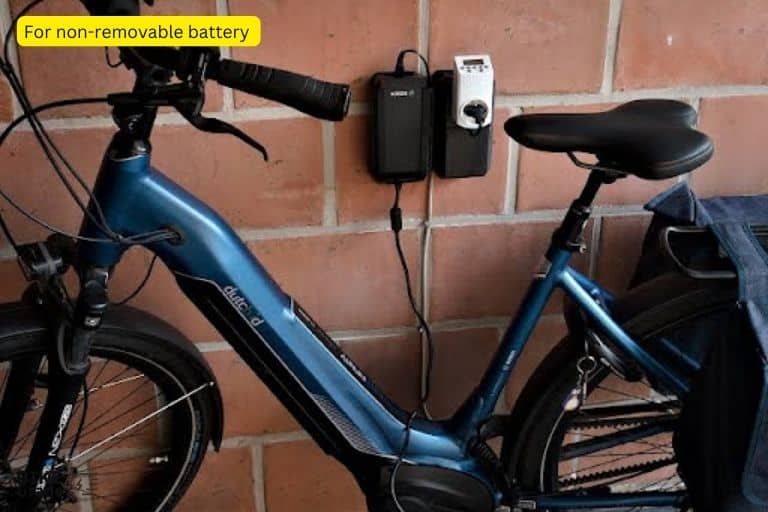 As non-removable batteries are hard to replace, make sure to check if the charger has PFC, the outlet voltage matches the charger and one more thing you could do is attach a kill-a-watt device to the outlet.
The kill-a-Watt device will help you with showing the exact data on PFC, voltage, and amperage your ebike battery is draining from the outlet, it also helps to control any overflow. 
---
How To Charge Your Lithium-ion Ebike Battery
Lithium-ion batteries are known for being efficient, energy-dense, and longevity. The charging process is nothing out of the ordinary, just plug it in any suitable electrical outlet and you are done. 
While charging a lithium-ion battery you can follow some simple guidelines to enhance the battery range and lifespan 
After buying a new lithium-ion battery, at least charge it for more than 10 hours.
When on regular use, never let the lithium-ion battery charge drop down to 0%. Always charge the battery whenever the charge is below 40%.
Charging up to 100% is only necessary while planning for a long trip. After your daily casual ride, charging the battery no more than 80% is highly recommended. 
How Long Will You Need To Charge
On average, an ebike battery may take 3 to 6 hours to fully charge. Depending on your battery size, capacity, chemical composition, and manufacturing design the charging time may vary. 
For a newly bought battery, you should at least charge it for 10 to 12 hours straight. 
Charging Your Bike While Pedaling Or Braking
Charging your ebike while braking, it's quite a convenient feature to have on an ebike. Nowadays, most ebike is equipped with regenerative braking. 
You need to have a bike with a direct drive motor hub to properly utilize the regenerative braking function. Regenerative braking works on the principle of turning kinetic energy into electrical energy.
Whenever you are paddling the bike, you are sure to produce kinetic energy; when you hold the brake, the kinetic energy will transfer into heat or any other form of energy. With regenerative braking, you won't lose that kinetic energy, it will be used to recharge your ebike battery. 
Regenerative braking still needs to be developed to a certain extent. It can only recover a very small portion of the lost kinetic energy, your bike battery will only receive (6% to 10%) of the charge from the total kinetic energy lost while braking. 
Even recovering 10% of the kinetic energy from paddling and braking won't be able to charge the battery up to 2%, so having high hopes may disappoint you. 
Using A Car To Charge An Ebike Battery
Even if you are stuck in the middle of nowhere and have your car with you, you would be able to successfully charge your e-bike battery.
Simply using a battery inverter will turn your car battery into a perfect charging station. Find an inverter with at least 500 Watt capacity, attach a kill-a-watt device to the inverter, connect the negative and positive end of the inverter to the car battery and you can now plug in the ebike battery charger. 
If you keep the car engine on, you are sure to get more charge out of the battery, and charging pace may slightly increase. Even if you keep the car engine off and let the ebike battery charge, you won't face any problems. 
FAQ
How To Optimize Battery Range And Lifespan?
Proper maintenance, keeping the ebike battery away from extreme heat and cold, and also following the manufacturer guidelines while charging may help to optimize battery range and lifespan.
Can I Charge The Battery Up To 100%?
If you are planning a long-distance trip, charging up to 100% is advisable. However, you should keep the battery charge to 80 to 85 percent on regular days.
What Is The Lifespan Of An E-bike's Battery?
If maintained properly, an ebike battery can last up to almost 7 years. On average, you are sure to get 3 to 5 years of service from the ebike battery.
Should You Charge Your Ebike Battery After Every Ride?
It's not mandatory to charge your e-bike after every ride, however, you should always charge it if the battery power drops down to 40 percent or below.
Can I Charge My Ebike From My Car?
With the help of a battery inverter, you can easily charge your e-bike from your car.
Conclusion 
For an Ebike rider, not being able to enjoy a peaceful ride because the battery is down is astonishingly painful. So how and where to charge the ebike battery has always been a top priority. Whether you are indoors or outdoors uou always have different options to charge your ebike.
Resources