When To Charge Ebike Battery? : A Comprehensive Guide
In order to efficiently optimize the battery life of your newly bought ebike, you need to have proper knowledge about when to charge ebike battery and know some of the most important information about how to charge it safely.
Having a good overview about charging your ebike is important.
The thing is, if it is your first time owning an ebike we would recommend you to do some research about it, get answers to some of your questions, and know if you should charge the battery each time you take it out for a ride.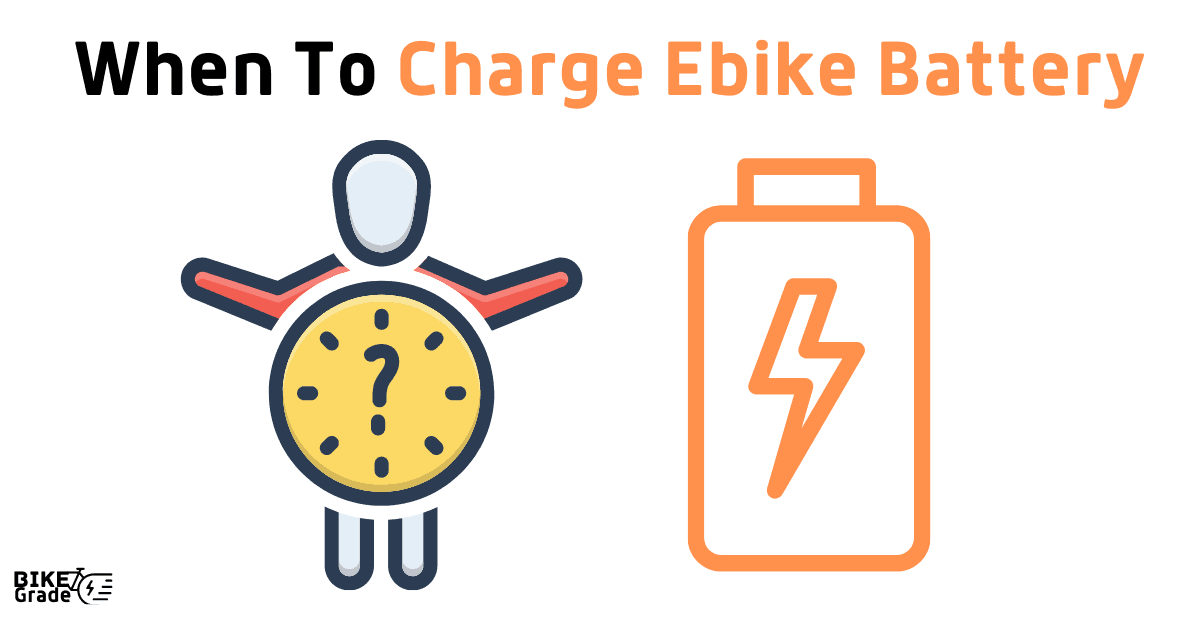 When To Charge Your Ebike Battery?
If your ebike has a lead-acid battery, then you should charge it up right away considering that its lifespan gets affected if you allow it to stay discharged for a significant amount of time. 
When it comes to lithium batteries, you have to charge them when the battery's level is between 30 percent and 60 percent. It's not necessary to charge after every ride if you own a lithium-ion battery. 
Factors To Consider BeforeYou Charge Your Ebike Battery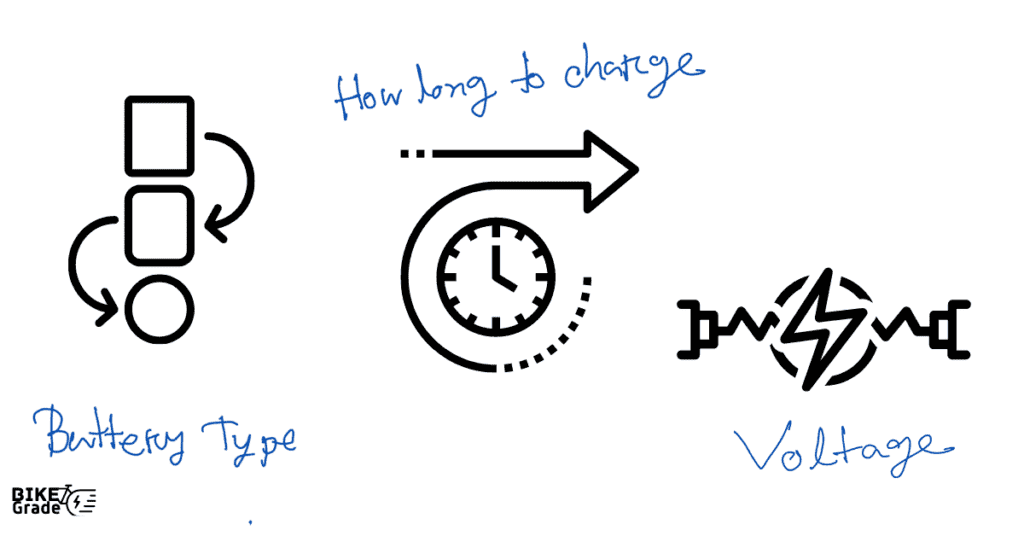 There are a number of factors that you need to consider or look at before you charge your battery. 
Know The Type Of Battery
Try to know the type of the battery your ebike has. Your bike's battery could be either lithium or lead acid based. With lithium batteries, you can leave it charging overnight as the battery itself stops getting charged when it's full.
And when it comes to lead acid based batteries, overcharging or undercharging it can harm the battery itself. If you end up leaving the battery in a continuously charging state, there is a big possibility that corrosion of the positive battery plates can happen. 
How Long It Takes To Charge It
Know how long it takes the battery to charge in order to avoid undercharging and overcharging.
Monitor The Voltage 
Try to monitor the voltage while charging your batteries in order to avoid corrosion of the positive battery plates, avoid increased pressure and prevent thermal runaway. 
How To Optimize The Battery Range And Lifespan?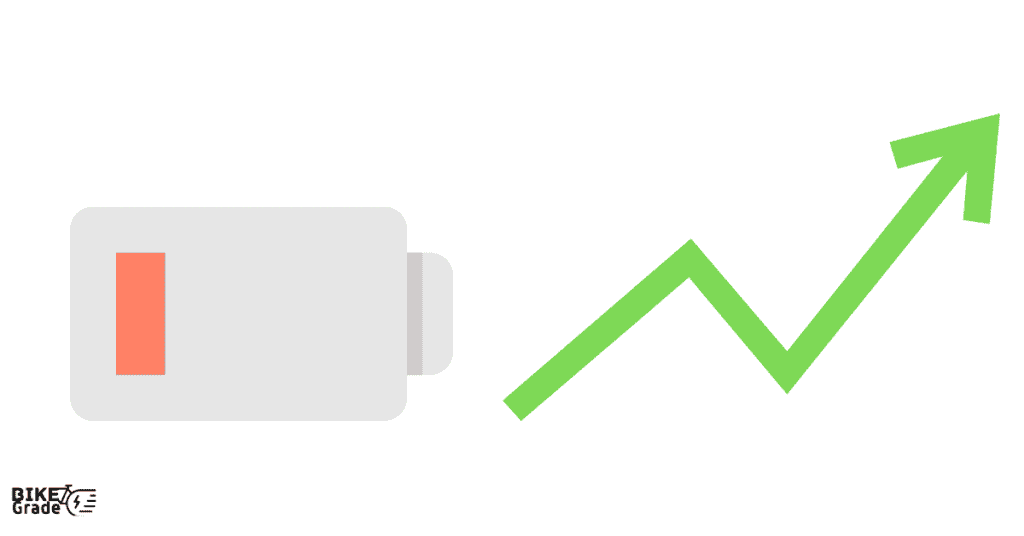 In order to optimize the battery range and lifespan of your ebike, you want to do the following things: 
Use the charger that is provided by the company for your ebike
Full charge the battery before you go out for a drive on your ebike
Create a safe charging station in your house
Charge your ebike at a known charging station in your city
Do not regularly drain your battery
Try to cool down your ebike 
Keep the battery dry
Do some research about long-term bike battery storages
What Are The Benefits Of Charging Ebike Battery At Home?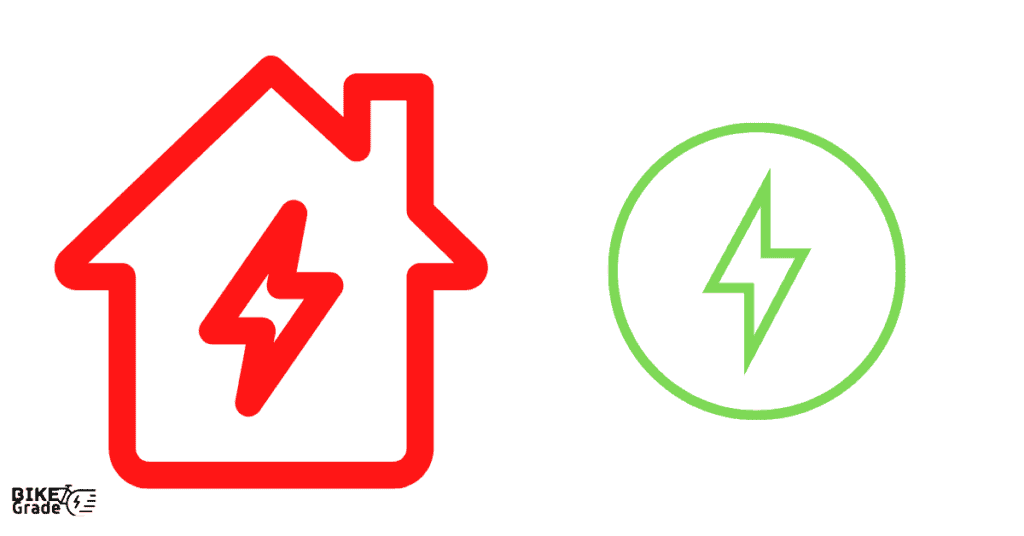 There are numerous benefits of charging an ebike battery at home, and here are some of the best ones: 
You get to monitor the charging
Would not have to travel to a charging station
No need to leave your ebike unattended
Can keep the battery fully charged and ready for use at all times
Would not have to worry about damaging or losing an expensive battery pack if you were away from home
How Do I Know When It's Time To Charge My eBike? 
In almost every modern ebike that can be purchased, there is a display that shows the charging level. However, there are also some physical indications that would suggest it is time to charge your ebike. 
Here are some: 
The ebike gets slow
The ebike notifies that your battery is low
The ebike starts to shut down
How Do I Know When My Ebike Battery Is Charged?
Most of the time the battery, the ebike itself or the charger that came with your bike has an indicator that would notify or suggest that it has been fully charged and it is time for you to unplug it. After your battery is fully charged, you can plug it right back into your ebike so you can take it out for a ride!
Why Do Ebike Batteries Spark When Plugged In? 
A lot of people get scared when their ebike batteries spark when plugged in, and if you are wondering why that happens, allow me to explain.
When you connect a battery and an ebike DC controller, it is likely that you will see a spark on the wire. That happens because there is a potential difference between the two contact points. 
Also Read: Why Is My Ebike Battery Not Charging? [ Solved]
Can I Charge My E-Bike Battery Overnight? 
Yes, you can leave your e-bike battery to charge overnight and there is nothing that you should worry about if the battery is of lithium ion, however if the battery is lead acid based, it can be harmful.
Remember, most of the chargers and ebikes that come these days automatically disable themselves when the battery is fully charged, which means you do not have to worry about overcharging or over-draining the battery of your ebike. 
FAQ – Ebike Batteries 
How Much Electricity Does it Take To Charge A Battery?
Depending on the battery voltage, most of the time, it can cost around 500-800 watt-hours, which is equivalent to 0.5-0.8 kilowatt-hours, electricity to charge an ebike battery.
What Happens When An E-Bike Battery Dies?
If all the power in the e-bike's battery is drained and the battery dies, you will not be able to turn on the vehicle. In case that happens, you will have to pedal your way to a nearby charging station to get it working again.
Should I Use A High-Quality Charger For My Ebike Battery Or Should I Use A Cheap One?
The only charger that you should use for your ebike battery is the one that came with the vehicle that you purchased.
How Long Does A Battery Last On An e-Bike?
Is It Safe To Charge Ebike Battery At Home?
Yes, it is safe to charge your ebike battery at home as long as you have a safe charging station or outlet.
Conclusion
You can charge your ebike battery anytime you want, but you have to keep in mind that there are a lot of things that you would have to do in order to increase its lifespan or to just maintain it properly. If you read our article above, it is certain that you must have gained proper knowledge about how to keep your battery safe, know when to charge your battery, and how to properly maintain it in order to increase its lifespan! 
Also Read