Can I Leave My E-bike on Charge Overnight?: Weird Facts
It is not a smart move to leave your e-bike on charge overnight, largely because overcharging the battery would shorten its lifespan over time and could possibly pose a fire risk.
Generally speaking, I am fully aware that some chargers, especially newer models, turn off automatically once the battery is fully charged, which is a great safety feature. However, I always advise not charging it overnight to avoid any accidental burning. 
It is advised that you unplug the charger as soon as the battery is fully charged, unless your charger includes an auto shut off that occurs when the charge reaches 100%.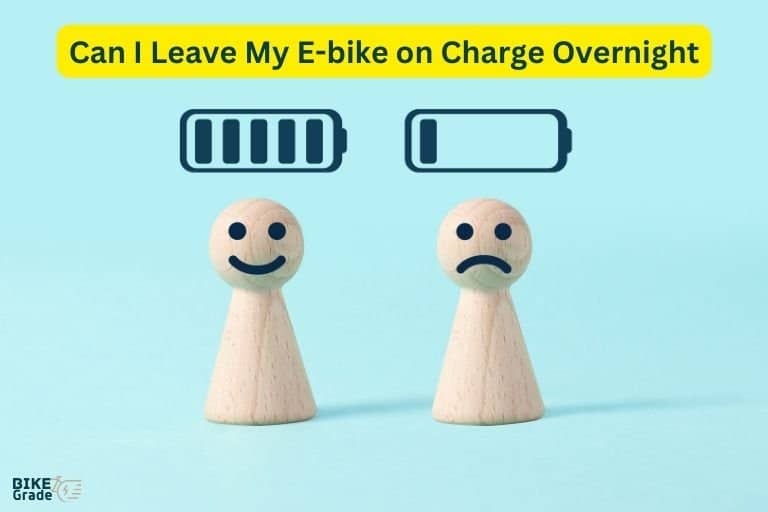 Is it Bad to Charge Your E-Bike Battery Overnight?
It is typically ideal to keep the state-of-charge between 30% and 80% to improve the health of your e-bike battery. Overnight charging to 100% and then leaving it there for several hours is fairly harsh to lifetime longevity. This may mean the difference between the battery lasting 3–4 years and 5–6 years or longer.
However, if you use the battery a few times each week, you may probably leave it charging overnight without any problems. But ;
Ensure that you are using an authorized charger – Trying to charge an e-bike battery with the incorrect charger might result in an uncontrollable fire – don't even think about splashing a bucket of water on it!!
Disconnect the entire system if any component becomes overheated and call a specialist.
What If I Overcharge My E-bike Battery?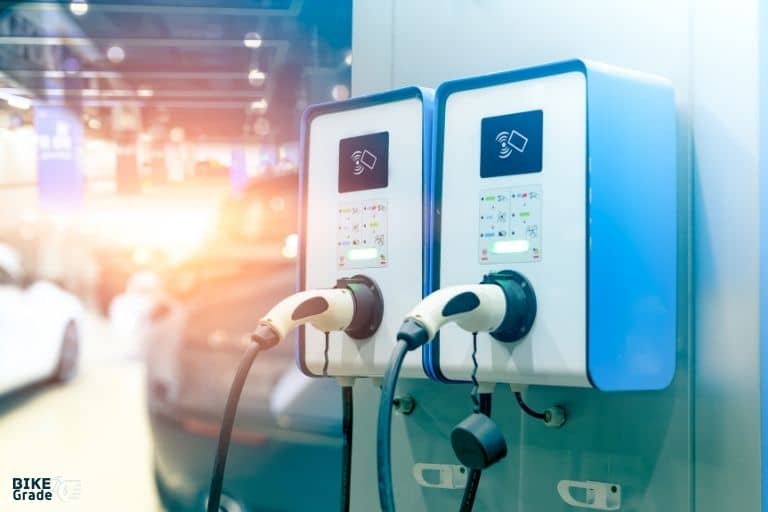 After the battery has attained full charge, excessive current will flow into the battery as a result of a too-high charge voltage. Premature aging and the decomposition of the water in the electrolyte will result from this.
A battery will become increasingly hotter when being overcharged at high rates. It will accept more current as it grows hotter, increasing the temperature even greater. A battery can be destroyed by this phenomenon, known as thermal runaway, in as little as a few hours. 
Do's and Don'ts for Battery Charging
Like any cutting-edge technology, if you manage your battery carefully, it will last a long time. There are several things you don't wanna do:
Never charge an e-bike battery with an incompatible charger. For instance, only use a 48V charger on a 48V battery. Using a higher voltage charger is risky and may result in a fire.
Don't overcharge your batteries.While the charger will reduce to a trickle charge once charging is finished and the signal turns green, there is still a risk of overcharging and overheating the battery. An electrical timer is the best approach to ensure that your charger always turns off after the predetermined time period if necessary.
Avoid charging your bike right away, after a lengthy ride. When you ride for an extended period of time, your batteries heat up, especially if they are nearly entirely depleted. Plugging the charger into your hot, discharged batteries will overheat them and harm them.
Never keep a battery totally discharged for more than 24 hours.
To get the most out of your e-bike battery, make sure to do:
Do connect your charger to the outlet before connecting it to the battery. The charger's light will glow green when you insert it into the outlet, indicating that it is turned on. The LED on the charger will then turn red to show that it is charging once you plug it into your bike or battery. Your bike is fully charged when the charger's indicator turns green once more.
Do give your e-bike a full charge before each ride. Likewise to smart phones, starting with a full charge will improve your riding experience. Additionally, a fully charged battery will allow you to travel farther than one that is only halfway full.

To keep your batteries maintained during the winter, make sure to charge them every three weeks. It is essential to maintain batteries charged throughout the winter because they lose power over time regardless of use. It won't take long to top off batteries that are not in use, so keep an eye on your charger as you do this.

Do retain your charger completely dry. Moisture will wreak havoc on the charger.
What Effect Does Overcharging Have on Ebike Batteries?.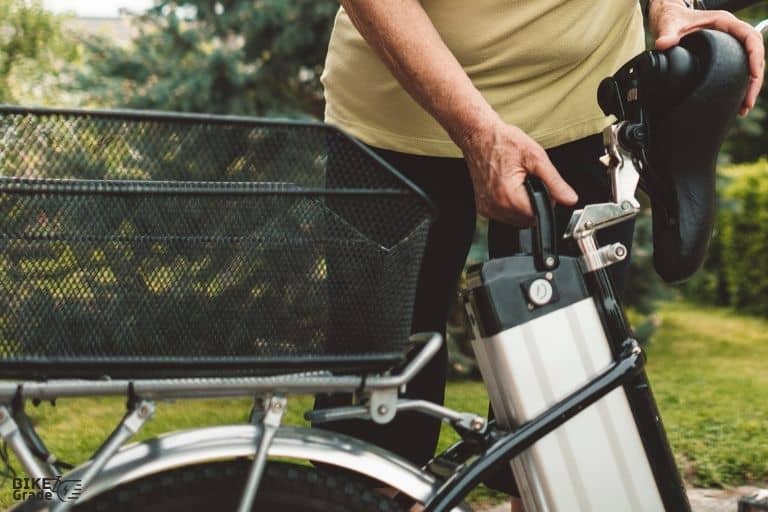 Frequently overcharging batteries might result in a number of problems. Some of these issues consist of:
1. An increase in battery temperature
Overcharging could result in the battery heating up. An overcharged battery generates more heat than it can dissipate, which causes the temperature to rise quickly.
Fires have occasionally been started by overheated e-bike batteries, but they are uncommon. As you might have guessed, your battery is not the only thing that is harmed. Damage to the bike itself is a possibility.
2. Lower battery capacity
Overcharging could reduce your battery's capacity and the amount of energy it can hold.
What brings about this? Chemical reactions may take place inside an overcharged battery, resulting in the breakdown of some components and a reduction in the battery's capacity.
3. Reduce battery lifespan
E-bike batteries shouldn't be overcharged. This may eventually render the battery useless by reducing its lifespan and causing it to overheat.
4. Sulfation
Sulfation, a condition caused by overcharging lead-acid batteries, causes lead sulfate to build up on the battery plates. As a result, the battery's capacity decreases.
How to Prevent Damage to Your Electric Bike Battery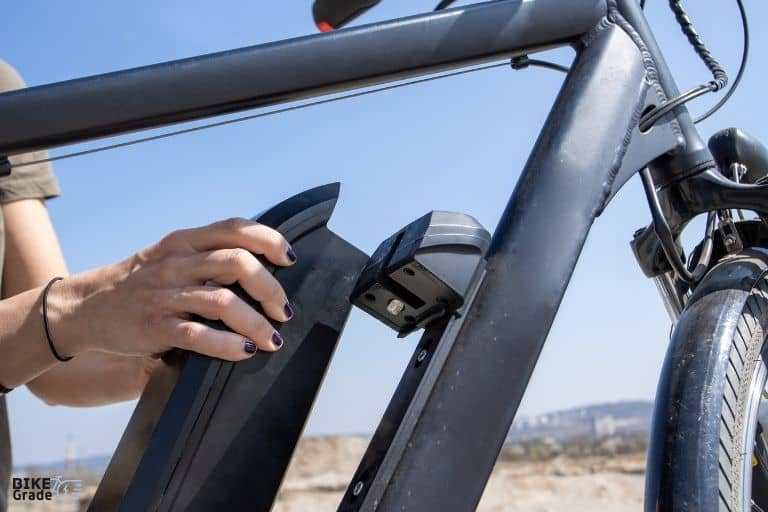 Given that an electric bike's battery accounts for roughly one-third of the bike's overall value, it is wise to take extra care of the battery to protect your investment. The following suggestions can assist you in preventing damage to your e-bike battery.
1. Keep it at room temperatures
Electric bike batteries prefer to be kept at a comfortable temperature that is neither too hot nor too cold. Ideally, you should maintain your batteries at roughly 20 degrees Celsius. The battery's life will be greatly reduced if it is stored in temperatures that are excessively hot or cold.
Storing your battery in high or frigid conditions will accelerate self-discharge. This is something to consider if you leave your bike outside in the summer or winter.
2. Avoid keeping it fully charged
Don't store your electric bike fully charged if you know you won't be using it for a few days. Charge it to 60% because the cells are well-balanced and won't experience prolonged stress at this level. Your battery lasts a lot longer as a result of this reduced stress.
3. Clean your battery
Maintaining a spotless battery for your electric bike is a smart idea. You might be shocked to learn that one of your electric bike's most waterproof parts is its battery. However, we still advise against immersing your battery or dousing it with water under high pressure. 
Remove your battery from the bike and wipe the outside with a moist cloth to clean it. Make sure the contacts are clean by paying close attention to them. To get rid of any moisture that may have seeped in, you might wish to spritz some contact cleanser on them.
4. Avoid letting your battery run down
It has been established that letting your battery fully discharge on a regular basis will shorten its lifespan. Allowing it to do so could result in the battery lasting only 300–500 recharges, however making sure to charge the battery after 10% of its capacity has been depleted will provide between 3,750 and 4,700 recharges.
FAQ
Can I leave my e-bike plugged in overnight?
No, don't keep your battery plugged in overnight too frequently. This may shorten the life of your e-bike battery in the long run.
Should e-bike battery be on or off when charging?
If in doubt, it's always best to turn it off while charging.
How often should I charge my e-bike battery?
It is recommended to recharge as soon as it is practical to do so once the battery runs out.
Can I have two different batteries capacity in one bike?
No, you can only replace a battery with one that is made by the same company and has the exact same specifications.
What is the lifespan of an electric bike battery?
Electric bike batteries typically last between two and five years, depending on the brand and kind.
Conclusion
You shouldn't charge your e-bike overnight because doing so could shorten its lifespan. Understanding how to properly charge and maintain your battery is essential. By following these recommendations, you may extend the life of your electric bike battery and keep it in healthy condition.
Resources