How Much Does it Cost to Charge an E-bike Battery? [Approximate]
Charging an electric bike with a 600-watt-hour battery costs roughly 6 cents every charge, 19 cents weekly, and less than $10 annually. Pricing varies depending on battery watt-hours, state electricity costs, and how frequently you charge your bike.
Estimating the cost of charging an electric bike just requires a few numbers. To calculate, consider the following:
Calculate electricity energy in KWh.
Obtain energy in Wh ( Voltage(V) * Amp-hours(h))
48V * 20.5Ah = 984Wh
Using this example the energy in watt-hours is 984
Energy in KWh
984Wh / 1000 = 0.894KWh
Just divide the value in Wh by 1000
Finally, get the cost. According to the U.S. Energy Information Administration, the national average electricity price is 10.59 cents per kWh. Let's take that figure.
10.59 * 0.894KWh = 10.42 cents.
A 48V, 20.5Ah battery will cost 10.42 cents to charge using an average electricity rate of 10.59 cents per kWh.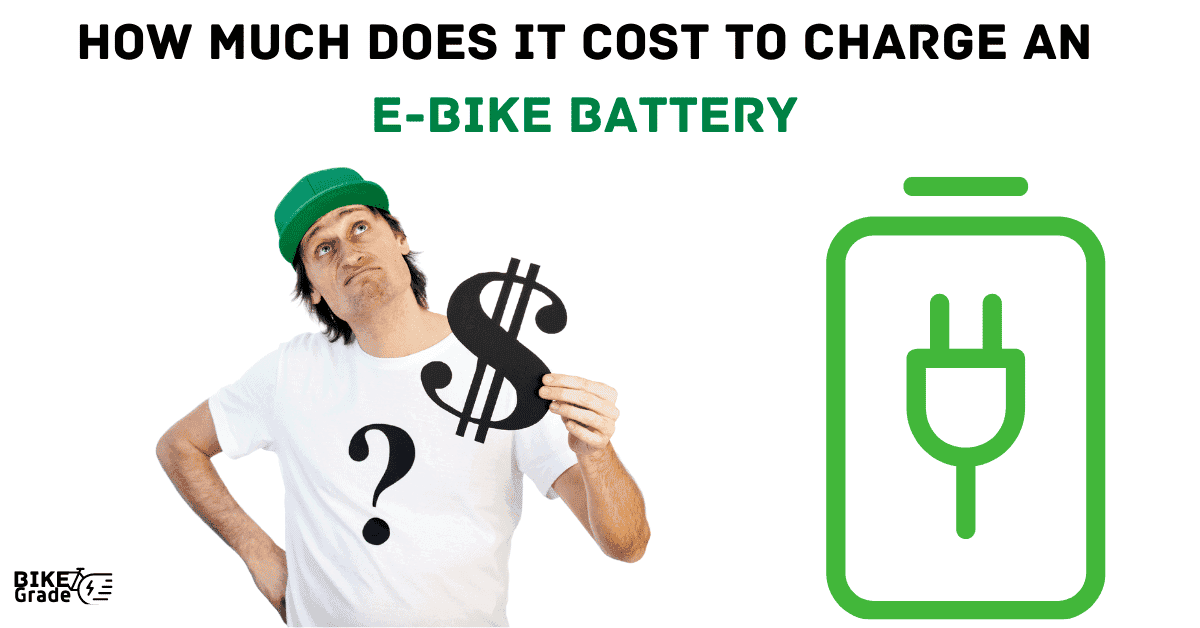 Different Country Cost to Charge an Electric Bike
Let's look at how much it may cost to charge an electric bike each year in five different nations using the most prominent electric bikes sold on Amazon, the average cost per kWh per country, and the average yearly miles driven by US drivers as the distance.
| | | |
| --- | --- | --- |
| Country | Approximate Cost per charge(USD) | Approximate Cost per Year(USD) |
| United States | $0.05 | $21.17 |
| United Kingdom | $0.08 | $35.83 |
| China | $0.03 | $13.03 |
| Canada | $0.04 | $17.92 |
| Italy | $0.10 | $43.97 |
Different Country Cost to Charge an Electric Bike
This means that you could theoretically charge your electric bike enough to ride the same distance as a car for two to three years for the price of only one tank of gas!
Average Cost to Charge an Electric Bike For a Year
As previously indicated, the typical cost to charge an electric bike is 7 cents or $29.38 annually. The average cost to charge an e-bike in the US is 5 cents ($21.17 per year), significantly less than the average cost in the other three nations.
In our previous table chart of 5 countries, the US ranks third in the cost of charging an electric bicycle. Electric bicycle charging in the UK costs 8 cents every cycle, or $35.83 (£27.69) annually. As a result, the UK is ranked fourth in our table of costs.
How Many Watts Does an E-bike Charger Use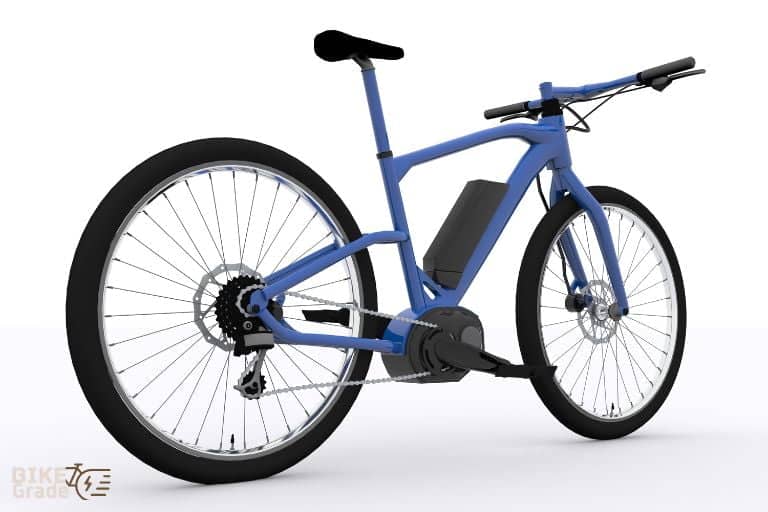 An e-bike can often travel up to 50 miles on a full charge, but it's crucial to know how much time and electricity are required to charge it wherever you are. 
According to Hovsco, your e-bike battery requires 500 to 800 watts to fully charge; therefore, your bike would use 0.4 to 0.8 watts per hour and easily travel up to 50 miles on a single 5-cent charge. An e-bike would cost 0.10 dollars per hour, making it convenient and inexpensive for people of all ages.
Factors of Charging Cost
Almost always, recharging an e-bike is less expensive than refueling a car. The following factors, however, will determine the price difference.
1. Electricity Source
Your electrical source will have the most significant impact on the cost of charging. For instance, you might pay for the regular electricity plan provided by your utility or select an alternative, such as community solar, a community choice aggregation (CCA), or a green power plan (GPP).
Solar is the ideal choice for charging your e-bike because, once you pay off your solar system, you may do it almost for free!
2. Battery Size
It should be no surprise that a larger battery on your bike will increase the cost per charge. With a large battery, you may still pay less per mile and charge your e-bike less frequently, depending on the range of your bike.
3. Type of Charger You Use
Level 1 charging (120-volt chargers) and Level 2 charging (208- or 240-volt standard home e-bike chargers) necessitate the conversion of alternating current (AC) electricity from your home into direct current (DC) electricity that your e-bike's battery can store and use. With Level 3 chargers, efficiency is typically greater than 90%.
4. Where You Live
Unless you're charging your e-bike at home using solar energy, where you reside will significantly impact how much you pay for electricity.
How to Reduce the Cost of Charging Electric Bikes
Even if the costs associated with charging electric bikes are already relatively low, it's always a good idea to cut back on our energy usage and power expenditures. Here are some ideas and suggestions for potential electricity cost reduction.
Invest in a more effective battery, if necessary. If this is pertinent, think about switching from lead acid to a lithium-ion battery.
Charge during the off times. Electricity companies typically provide reduced per-kWh rates during off-peak hours to entice customers to use less electricity during peak times.
Use renewable energy. As renewable energy technologies become more affordable, more and more homes are utilizing the long-term environmental benefits and electrical cost reductions.
Implement regenerative braking. Several sources claim that regenerative braking can extend the range of your e-bike by 5–10%. There is a chance to save money on electricity here.
Look around for cheaper offers. Switching suppliers is one of the simplest methods to cut your electricity prices.
How Long do E-bikes Last On a Charge?
Well, this depends on your battery capacity. An electric bike can typically travel between 25 and 70 kilometers on a single charge. Expect less if you ride hard on full power; if you manage your battery life correctly, you might get more.
Can You Charge an Electric Bike At a Charging Station?
It's fantastic if you live somewhere with lots of electric car charging stations, but you might not even need them to keep your electric bike charged. 
The majority of electric bikes in the US are charged by plugging them into a regular 110V socket. A 220V outlet—which most EV charging stations use—can safely charge your electric bike somewhat faster than a standard outlet, but always check to make sure your bike's battery is compatible with a higher voltage outlet before plugging in.
FAQ
How much does it cost to charge an electric bike per month?
Charging an electric bike costs between 4 and 12 cents per month. This cost is determined by your battery's voltage, capacity, and local electric rates.
How much does it cost to charge an e-bike in the UK?
An electric bike charges for around 8 pence in the UK.
How much electricity does an e-bike consume?
An e-bike typically consumes 10 to 25 Wh every mile.
How long does an electric bike last?
E-bikes often last ten years or so. Depending on the bike's type and method of use, that figure may be greater or lower.
Can you ride an electric bike when the battery dies?
Yes, when the engine is turned off, all electric bikes perform like regular bicycles.
How long does it take to charge an e-bike battery?
Fully discharged lithium-ion e-bike batteries require 3.5 to 6 hours to recharge.
In Conclusion,
The cost of charging an electric bike for an entire year still astounds me. Whether you live in an expensive nation or not, the cost of charging an electric bike is extremely low compared to alternative-powered travel methods. Your e-bike may be charged and operational for years for the price of a single tank of gas. So it's nothing to worry about the charging cost!
Resources