How To Charge Ebike While Camping: 7 Ways
There are several effective ways to charge an e-bike while camping. You can always rely on renewable resources like solar panels, at least you won't run out of fuel. Also, it would add on a bit more convenience if you could carry a fully charged extra battery for your ebike. Even in a desperate situation, you can efficiently use the car battery inverter to charge the ebike battery. 
Here is a detailed overview of different charging methods while camping. 
Solar Panels
Battery Bank
Car Battery Inverter
Generator
Use A Power Outlet
E-bike Charging Stations
Wind Turbine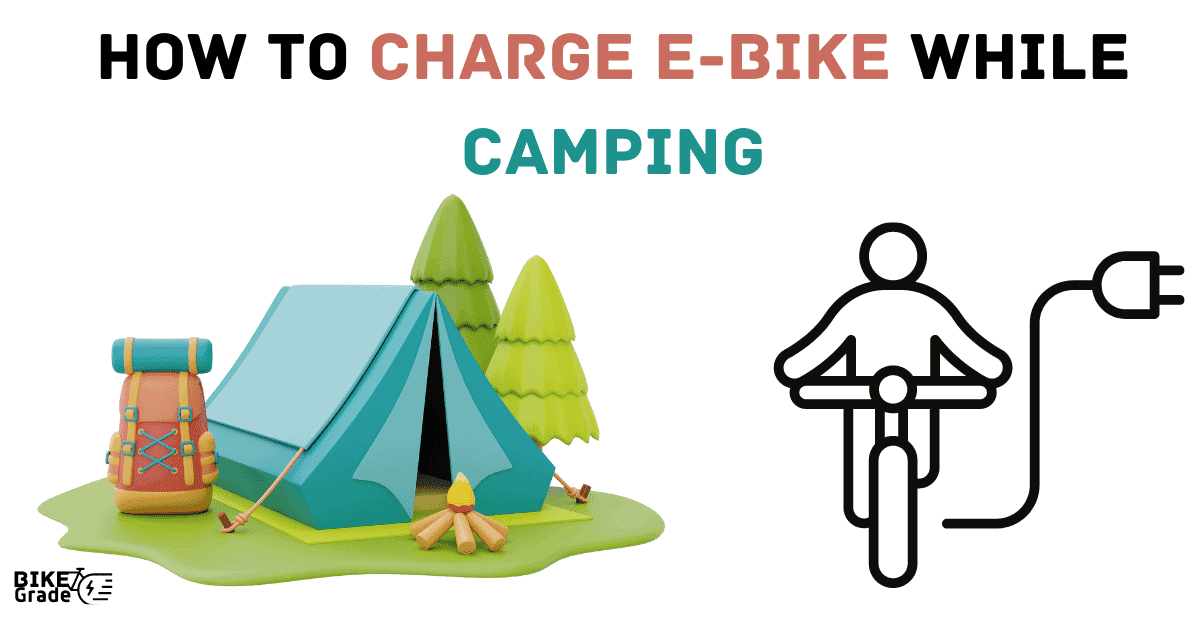 Solar Panels
The best renewable resource we all have is sunlight. Relying on solar power to charge your e-bike and other gadgets will be the most eco-friendly, cost-effective method.
There won't be any risk of running out of fuel so just carrying a solar panel or solar blanket is all you need.
Although solar panels are pretty remarkable, there are still a few drawbacks such as the high cost of solar panels, taking a long time to charge the ebike battery, you may not be able to use it in gloomy weather, and more. 
Just set up your solar panels to make sure it's getting the optimal amount of sun exposure. Connect to the ebike charging port and done. 
For your convenience here is a step-by-step guide on how to connect your ebike to a solar panel 
Step 1 – Find lightweight solar panel
While camping, it's inefficient to carry heavy loads. Go for a lightweight flexible solar panel so that you can carry it and set it up without losing too much energy.
Step 2 – Connect the solar panel with the charge controller 
You would need to connect a solar charge controller to the solar panel. After connecting the controller you could use a multimeter to check the output. Adjust the output to match your ebike battery requirements.
Step 3 – Use an adapter to connect the whole set with an ebike battery charger 
Now the final and easiest step. Connect one end of the adapter to the solar charge controller and the other end to the ebike battery charger. You are all set to charge your e-bike with a solar panel. 
Battery Bank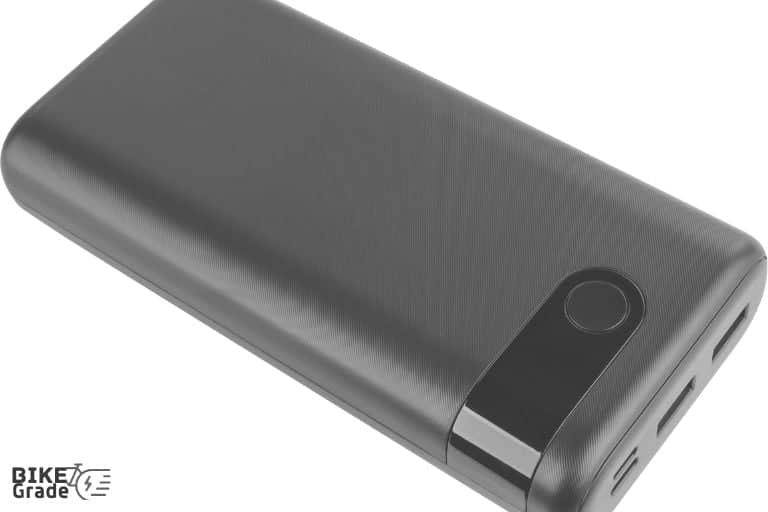 If you have an RV battery bank or just brought extra deep cell batteries then you are all set to charge the ebike. 
Step 1 – Know about the output
You can easily get the battery bank output information by reading the manufacturer handbook. You can also use a multimeter to test the output and find out if it fits your needs. 
Step 2 – Connect the battery charger 
The simplest thing to do, just connect the battery charger plug to the battery bank outlet, and the job is done. 
Car Battery Inverter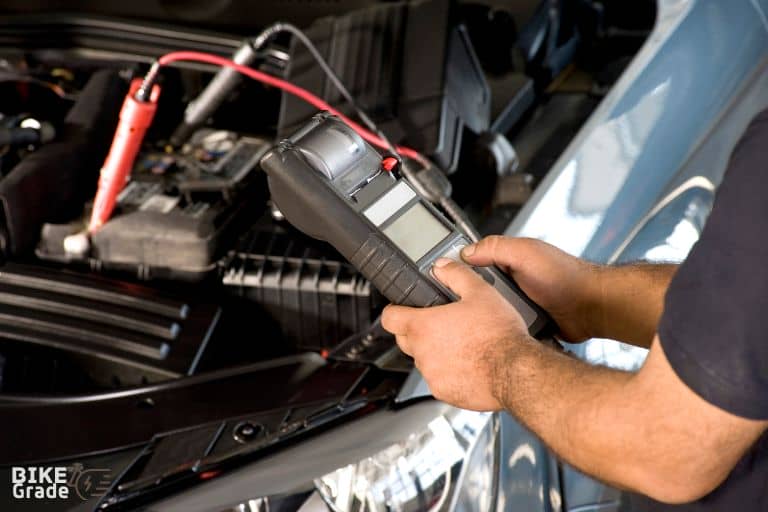 It's quite convenient and easy to use a car battery as an electrical power source to charge your e-bike while camping.
Here is a step-by-step guide for you.
Step 1 – Get a pure sine wave inverter
You would need a pure sine wave inverter. Make sure it's a well-renowned brand and the efficiency of turning DC into AC is top-notch.
Step 2 – Connect it with your car battery
You need to connect the negative end of the inverter to the negative end of the car battery and the same goes for the positive end. 
It's best to check with a multimeter to ensure the inverter is providing satisfactory output for your ebike battery.
Step 3 – Connect the ebike battery charger with the inverter 
Now the only thing that needs to be done is plugging in the ebike battery charger to the inverter and letting the battery charge. 
(YouTube video link: https://youtu.be/BYp_mJFhERk )
Generator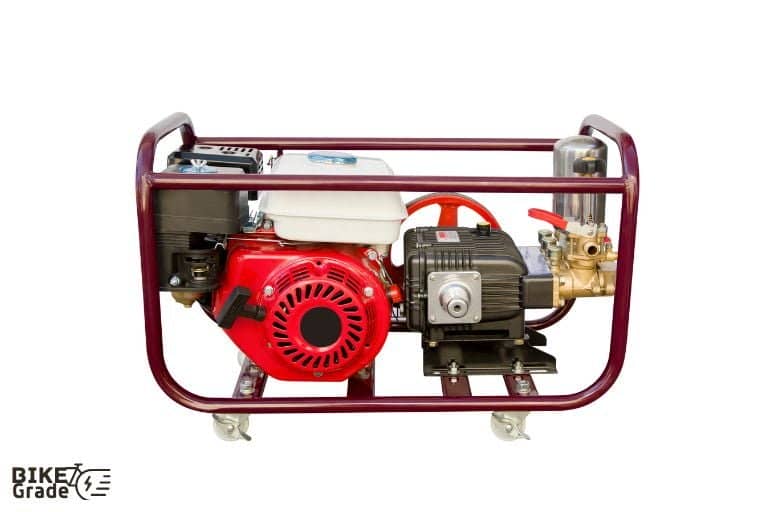 Having a generator with you will be the simplest and most effortless way to charge your ebike battery and other electronic gadgets while camping. 
Step 1 -Find a powerful generator
You should have at least a 500-watt generator to charge the ebike battery and if it's in your budget go for a 1000-watt generator. 
Step 2 -plugging in the charger
Keep the generator setting DC to AC. Plug in the ebike battery charger. That's all you need to do. 
Use A Power Outlet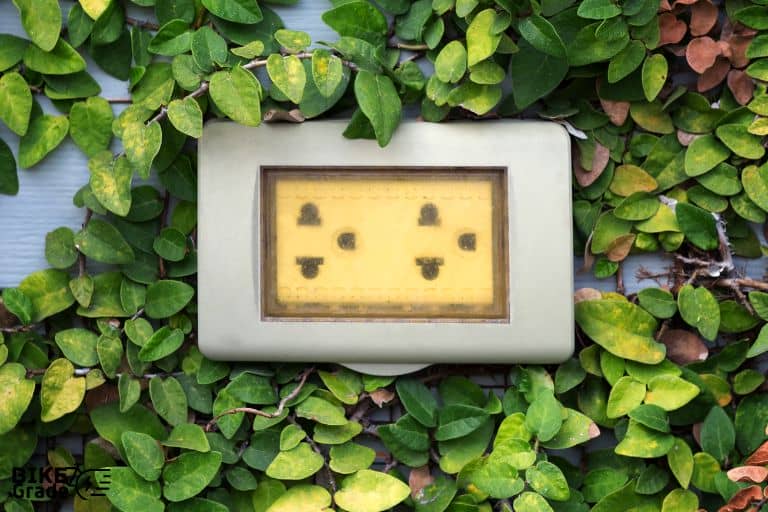 Finding a public free-to-use power outlet might be tough when you are camping. So you can simply follow this trick. 
Go to the nearest restaurant or bar and order a meal or a drink. Have a heartwarming conversation with the manager or owner. Don't forget to tip generously. 
Ask politely if you can charge your e-bike battery in their restaurant. You should never rush such things. Even if you had a meal and tipped generously, you are not entitled to use their electricity. So be gentle and patient, people will surely help you. 
E-bike Charging Stations
As the popularity of ebike rises so does the commercial aspect related to it. At present, you might not find ebike charging station within your hand reach but it won't take that long.
Before taking an ebike for camping, make sure to get an overall idea about the surrounding medical center, gas station, and charging station.
You can use Google Maps to find the nearest EV charging station, if you are lucky you might find a dedicated E-bike charging station. You could easily charge your e-bike in the Electric Vehicle charging station. 
Wind Turbine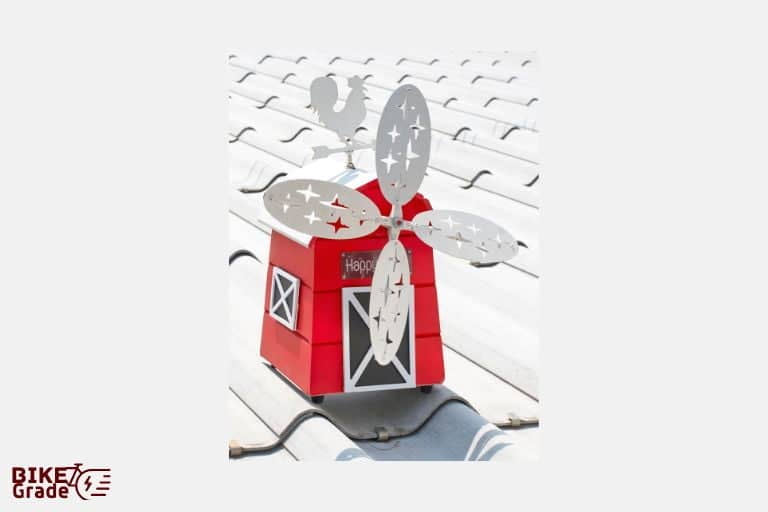 Although it's still in the development stages it won't take long to be available for the masses. 
The idea is to use wind power to rotate a turbine and produce electricity. They are also gonna combine solar power to generate electricity to be more efficient and eco-friendly. 
---
How Much Power Do You Need To Charge Your E-bike?
Usually, it takes as little as 400 Watt hours to almost up to 800 Watt-hour power to charge your e-bike.
The power consumption to fully recharge an ebike might vary from bike to bike. There are several key factors that may increase or decrease the power consumption during charging such as
The battery size 
manufacturing design 
Battery capacity and voltage 
Can I Charge My E-bike While Camping?
You definitely can charge your e-bike while camping. There are more than several effective ways to do it. 
You can carry a portable power station or battery bank while camping. 
Just by using a battery inverter, you can connect your ebike with your car, RV, or motorhome and get it fully charged. 
Is It A Good Idea To Take E-bike Camping?
It's an excellent idea to take an ebike for camping. When you are trying to get in touch with nature by camping you should also think about your Carbon footprint. 
Ebike being the most effective way to go green and reduce your carbon emission and is quite convenient to take it out while camping. 
It might be difficult if you ride your regular bike on the mountain terrain but with your ebike, you can effortlessly climb up slopes and preserve energy.
All your camping teammates, despite their age, height, and physical condition, would be easily able to keep up with the whole team by just riding an ebike. 
Where Can I Camp With An Ebike?
You can take your e-bike to almost anywhere suitable for camping. Federal law generally considers ebikes as regular two-wheeler non-motorized vehicles. So your ebike will have access to the beach, mountain, Park, etc. 
However, different states might have some restrictions on entering certain areas like certain state parks.
What To Look For In An Ebike For Camping?
Tire: The first thing you should concentrate on is the tire type. If you are riding on mountain terrain to reach or roam around your camping spot, you should install heavy-duty mountain bike tires on your ebike. 
Battery range: the battery range undoubtedly will be an essential element in your campaign planning. How much you can ride on your ebike while camping should be determined by how much is your battery range.

It would be suitable to carry a battery with at least a 30-mile range and if possible go for a battery with a 60-mile range for more riding time. 
Operating system noise: Make sure your e-bike doesn't produce any loud noise while operating. With a silent e-bike, you won't be disturbing the wildlife and will be able to enjoy the calmness of nature. 
Shock absorber (suspension): Your camping site might have rough terrain and nobody enjoys a bumpy ride so look for an efficient shock absorber. A heavy-duty suspension might increase the weight of your ebike but you are sure to enjoy a smooth ride. 
Bike type: Having a foldable bike certainly is beneficial while camping. You could fold and carry your ebike in your car or van and enjoy riding your bike wherever and whenever you want. 
Benefits Of An Ebike While Camping
Speed advantage: You will get a huge speed advantage thanks to your eBike while camping. If you are camping and traveling in a group including children and old people, an e-bike can effortlessly help them keep up with the team without getting tired. 
Carry more: you can definitely carry more camping equipment on your ebike compared to any other regular bike. The weight limit on some ebikes is 400lbs or more and you can use them to your advantage. 
Comfortable: the comfortability of an e-bike is second to none.on an e-bike, you have a motor to push you forward, a suspension to deal with rough surfaces, and lightweight, easy handling will add a different level of satisfaction. 
Reduce Carbon footprint: Riding an ebike will reduce a remarkable amount of your carbon footprint. When you are camping to enjoy nature, it's best to think about reducing your carbon footprint to preserve nature. 
Best Ebikes For Camping
Here is a list of the best ebike for camping, hope you can find your perfect match:
How To Carry Your Camping Gear On An Ebike
There are usually two ways to carry Camping gear on an ebike.
Bike packing: it's actually carrying all your necessary camping equipment and other stuff in your backpack. Carrying the bag on your shoulder and riding the bike, it could be pretty hard to keep balance if you do so.
Attach a trailer: attaching a decent size trailer with your Ebike will help you carry more weight. You would be able to enjoy a more comfortable ride with easy maneuverability. 
FAQ
Can I Charge My E-bike Battery With A Usb Cable?
Not all e-bikes support USB cables. Also, keep in mind that your typical 5v USB charger won't be able to charge a 36v or 48v ebike battery.
Can I Charge My Ebike Battery Using A Portable Power Station?
You can charge your ebike using the portable power station; however, it should provide a constant flow current and meet the battery charging standard voltage and amperage.
Can I Charge My Ebike Battery Using A Solar Panel Or Car Battery Inverter?
You definitely can charge your ebike battery using a solar panel or car battery inverter.
Can You Charge An E-bike In Your Motorhome Or Rv?
With the help of a battery inverter, you can charge an e-bike in your motorhome or RV.
How Far Can An E Bike Go On A Charge?
With your Ebike, you can definitely go up to 25 to 30-mile distances on a single charge.
Can You Charge An E Bike With A Solar Panel?
Yes, you will be able to charge an ebike with a solar panel.
Conclusion 
While camping, it's better to have a reliable power source to charge your gadgets.  For a sunny day carry a solar panel and you won't have to worry about charging your ebike. You should always carry an inverter, an adapter cable and if possible a second replacement battery. 
With an inverter, you can connect with any regular car battery and charge your e-bike. You can also rely on Google maps and find the nearest EV charging station for your ebike. 
Resources