Ebike Battery 36V Vs 48V: Which One To Choose?
The word of mouth about the 36V and 48V battery performance and efficiency are on par with each other. Choosing between those two e-bike batteries may be a difficult decision that puts you in a bind. 
You may be concerned because of the price range. You may be feeling overwhelmed by the efficiency of 36V and 48V and considering purchasing both or simply the cheaper one. The only way to satisfy your curiosity and concerns about this issue is to obtain insight.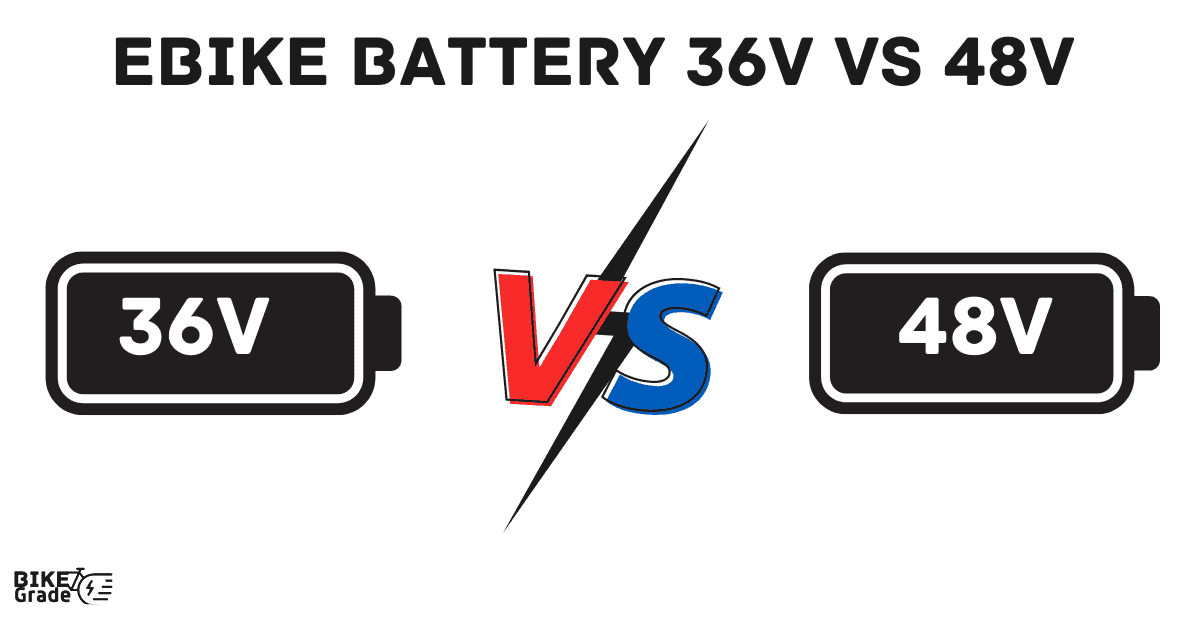 Ebike Battery 36V Vs 48V: Which One Is Better?
If you want to get a little more performance out of your bike, a higher voltage battery like 48V is your best choice. A 48V battery outperforms a 36V battery in terms of performance, efficiency, adaptability, weather resistance, and other factors. With a 48V battery you will get better top speed, range, efficiency compared to the 36V ones. 
A 36V battery permits 10 to 14 amps to flow through the system, whereas a 48V battery allows 10 to 40 amps. In other words, while climbing a hilly road, a 48V battery will give a smooth ride, and using a 36V will make you sweat a little. 
A Comparison Of 36V Vs 48V Ebike Battery
| | | |
| --- | --- | --- |
| | 36V Battery  | 48V Battery  |
| Performance  | Allowing 10 to 14 amps to flow, and achieving 18 to 20 miles per hour.  | Providing better results, draws around 10 to 40 amps and achieves 20 to 30 miles per hour.  |
| Moving on rough terrain  | It works well on smooth flat surfaces, but it lacks the power to deliver a smooth ride across rugged terrain. While cycling across the terrain, riders may encounter resistance or lose power fast.  | The 48V battery has a higher amp draw and can easily climb or pass through any tough terrain. |
| Adaptability  | As it's built for casual use, the overall performance might show a significant drop in harsh weather conditions.  | The weather conditions may affect its performance as well but the performance reduction is relatively lower.  |
| Charge lasting Time  | While riding through different surfaces, and terrains the power consumption might be higher and lose charge pretty quickly.  | Its power consumption is relatively lower also you won't have to compromise on performance.  |
A Comparison Of 36V Vs 48V Ebike Battery
The Differences Between 36V And 48 Volt Batteries
In a literal sense, you can just subtract (48-36=12v) so it's 12v. It may not seem to be a significant number but it surely shows a remarkable amount of difference in performance. 
A 48V battery may go longer and may offer sufficient performance; a 36V battery can also provide an effortless ride. However, when climbing or biking through tough terrain, the 12v gap between 48V and 36V will come into play. 48V will offer greater power to overcome gravitational resistance, making it appear effortless.
When it comes to speed, the 36V vs 48V, 12v difference is also crucial. A 48V battery can draw around the  range of 10 to 40 amps and attain a peak speed of 30 miles per hour, but a 36V battery can only reach 20 miles per hour at best.
Which One Should I Buy?
The 36V battery is ideal for casual usage and may be more than enough for short-distance travel, but it lacks the strength to deal with tough terrain. If you go across rough terrain on a daily basis, 48 volts is strongly suggested.
If you plan on using your ebike to deliver goods, you'll need a battery that can provide both power and speed. Because you're carrying a significant load, your ebike will need more power to complete its task; a 48-volt battery is recommended. On the other hand, if you only want to go for a bike ride, it is a less demanding or power-consuming job. A 36V battery is more than suitable for the purpose.
Is It Worth Buying Both?
If you are considering purchasing both, it is not worth it. 36V is intended for casual use and is well suited to various sorts of terrain. whereas  a 48V battery can supply greater power and most of the time outperforms the 36V battery in several aspects.
If you only use your ebike for day-to-day transportation, owning one is plenty. If money isn't a problem, investing in a 48V battery is advised; otherwise, a 36V battery would do.
The Pros And Cons Of Each Type Of Battery
The Pros Of 48V Battery
Can provide more electricity to the system.
Can draw from 10 to 40 amps while still providing efficient performance.
Can easily reach a peak speed of 30 miles per hour.
climb over rough terrain with ease.
The cons of 48V battery
The price is a little high.
If connected to a lower voltage motor, it might cause catastrophic damage.
The pros of 36V battery
Affordable price range 
Can showcase efficient performance on flat surface 
Takes less time to get fully charged 
Can reach top speed of 20 miles per hour at ease 
The cons of 36V battery
Going through tough terrain puts more strain on the system, resulting in higher power consumption.
On a flat ground, carrying more weight on the bike while maintaining peak speed is tough. 
What Happens When I Use A 48V Battery With A 36V Motor?
To begin with, using a 48V battery on a 36V motor is quite dangerous. Even if you can override or alter a 48V battery to make it compatible with a 36V motor, which is irrational and a waste of a good battery, you should not do it.
In the worst-case scenario, over-voltage might cause your motor to overheat and catch fire. Some motors include a fail-safe feature that will cut off a fuse or shut down to reduce the distraction to a minimum. Regardless of the outcome, using a 48V battery on a 36V motor is not recommended.
Can You Charge A 48V Battery With A 36V Charger?
Many riders believe that their 36-volt charger can simply charge a 48-volt battery, however, they are misinformed. A 36V charger can only be used with a 36V battery. 
When you connect a 36V charger to a 48V battery, the battery may appear to be charging and may take a long time to display any variation in number, but during that time, all hell may break loose. The metallic components, semiconductors, and connectors will all heat up, perhaps resulting in a short-circuit. 
If you've been using a 36-volt charger for your 48-volt battery without incident for a long time, be prepared for the worst-case situation. Your actions will more than certainly cause cell damage to the 48V battery, and the battery might blow up at any time.
FAQ
How Fast Does A 24-volt Electric Bike Go?
On a flat surface, a 24-volt ebike may reach up to 20 to 25 miles per hour. Its average speed is around 15 miles per hour.
How Fast Does A 36V Electric Bike Go?
A 36V electric bike may reach a top speed of 18 to 20 miles per hour.
How Can I Make My 36V eBike Faster?
Using a higher voltage battery, adding a higher RPM motor, and, if all else fails, attempting to override the system's speed restriction may help.
Can A 36V Controller Handle 48V?
A 36V controller cannot handle a 48V battery. It will very certainly sustained significant damage.
How long does a 36 volt ebike battery last?
If properly maintained, the lifespan can be prolonged to four years. Also, a fully charged battery will provide from 30 minutes to 2 hours of service.
How far will a 36V electric bike go?
On average, you can drive 20 to 30 miles on a fully charged 36V battery. The topography, battery capacity, rider's weight, and other factors may be the determining factor.
Conclusion 
36V and 48V batteries both are well suited for traveling on urban roads. The 36V battery  is developed for casual use and is well suited to a shorter range. And the 48V battery can produce greater power and possess a greater performance.
Simply stating that a 48V battery is superior may not be a sensible conclusion because only you know what best meets your demands. If your daily tasks can be met with a 36V battery, spending more money on a 48V battery will be a financial strain.
Also Read