How to Care for your Ebike battery? Ultimate Guide
Titanic or electronic, everything requires care! When you care for something, you will need to know the right process for caring to get a long-lasting outcome. That's where I am going to discuss today.
Maintaining an electric bike battery is very important and crucial at a time. The battery replacement cost is so high that you might not like to change it frequently. So, the better way to get a long-lasting journey, you have to know every dos and don'ts of Ebike batteries.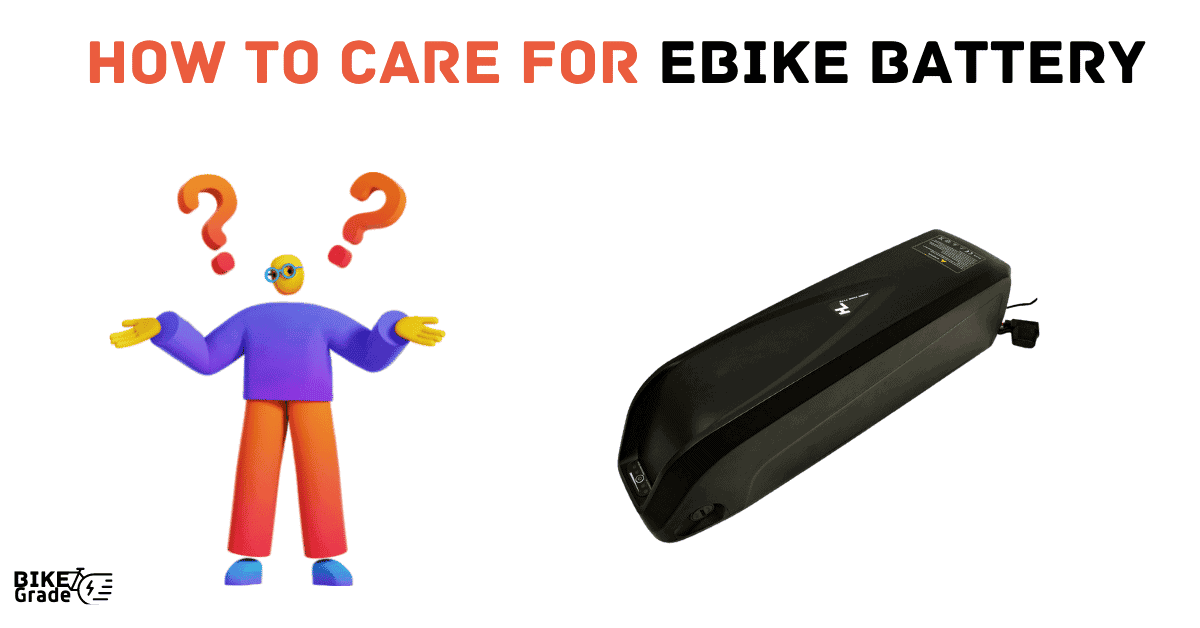 5 Tips on How to care for Ebike battery?
Battery is the heart of the Ebike. To protect your Ebike battery you should be more concerned about its charging process, storing process and riding process. Ebike batteries have many kinds but the process of maintenance is almost the same for all. To protect this type of battery from any harm, you have to abide by some steps.
1. Charging Tips
Make sure that you are not overcharging the battery or drain it fully. While going to ride, make the battery fully charged to get a better experience and healthy lifespan of the battery.
You should charge it regularly to keep it in a great state. You should also keep in mind that it's unhealthy to charge Ebike batteries at a low temperature (32 degree fahrenheit).
2. Cleaning Tips
Cleaning is the vital thing to make your battery life healthy. To rub out your Ebike battery, first, separate the battery from your Ebike and use a can of compressed air and a drop of 90% rubbing alcohol if necessary.
Most importantly, keep your cleaning clothes dry and moist. If there's no option of separation, hold your Ebike in a cool and dry place and clean it slowly with patience.
3. Troubleshooting Tips
While resetting your Ebike battery, make sure that you are connecting them in the right place with a proper and strong connection.
If your Ebike battery starts to make trouble, firstly, check every connection. Secondly, charge the battery and notice if there's any difficulty or not. Thirdly, make it neat and clean again and check out the battery performance. If the battery performance doesn't give the expected result, you should contact a specialist.
4. Storing Tips
In case of storing your Ebike for a month or long, charge the battery so that it can remain in between 40 to 70 percent and keep it in a cool place. Never ever ground it in sunlight. Try to maintain the temperature between 45- and 85-degrees Fahrenheit which is a fair condition for your Ebike battery.
Sometimes the battery gets used internally though you did not even use it. So, you have to check the battery percentage if possible. If manufacturers advise to entirely discharge the battery while you're storing them for more than 1 month, do so.
5. Riding Tips
The way of treating your battery in riding also makes effects on its life. You may feel cool riding your ebike in the speed mood or the boost mood. But, trust me, it's better to keep your Ebike in eco mode to make the battery life healthy and long lasting. Use the different moods according to your riding situation.
How to maintain Ebike battery
Consider your Ebike battery as a soft child who needs care and supervision. Set some points in your mind.
Check your Ebike battery percentage before every ride. Make it 100 if you are going to take a long drive otherwise leave it in 70 to 80 percent of charge.
Clean it at least once in a month with proper maintenance.
Store it in a cool space with a battery percentage of 40 to 80.
Ride smoothly and use the moods according to your needs.
Don't let your Ebike battery fall or get damaged by any inconvenience.
Try your best to protect your battery check out the connections before the ride.
Should I keep my Ebike battery fully charged?
It's suggested that you could unplug the charger while the battery percentage is between 70 to 80 percent. But you can also charge 100 percent as a long ride can require more battery life. It's like eating in a proper way, not more, not less, but proper. And for extra output, take full preparation.
Should you drain the Ebike battery?
No, you should avoid draining the battery to zero. Always try to charge the battery while it's not less than 30% charge. It's very harmful for your battery life to drain it regularly to zero.
How to drain an Ebike battery?
Sometimes you might need to drain the battery a little bit. For example, it's not ideal to store a 100% fully charged battery and therefore you need to drain a little.
The easiest way to drain your Ebike battery is to ride it at top speed for a while. It will consume some voltage and thus help to reduce some of the battery percentage.
How long should an e-bike battery last?
There are several types of ebike batteries such as- lead acid batteries, Nickel Cadmium batteries and lithium-ion batteries. All of these batteries have different life expectancy. Lithium-ion batteries are top of all of these types and can last around 3-5 years depending on the proper use and maintenance of the battery.
When to replace an e-bike battery?
As long as your battery works you won't need to replace it. Your battery won't die all of a sudden, it will start to show different symptoms.
You will notice that your battery is not working properly, consuming more battery life than usual, disturbing while charging, not giving enough power in the hilly terrains and so on. If you are experiencing these types of problems, you should prepare yourself to replace the battery.
What Effect Does Overcharging Have on Ebike Batteries?
Overcharging a battery can cause instant harm to your battery. Besides, if you regularly overcharge the battery, the life expectancy and the performance of the battery will get reduced.
Although lithium-ion batteries have special protection for batteries to stop overcharging automatically, you shouldn't overcharge it. Remember, other types of battery don't provide such a facility.
FAQ
Is It Easy to Put a Second Battery on an E-Bike?
No, it's not easy to install a second battery.
Can I Recover the Battery Life of a Battery?
No, if your Ebike battery stops working once, you wouldn't be able to recover it.
Are There Ever Advantages to Overcharging the Battery?
No, there's no advantage in overcharging, rather it might cause harm to your Ebike battery.
What Is the Lifespan of an E-Bike Battery?
If you take proper care of the bike's battery, it should last at least 2 to 5 years.
What Is the Range of an E-Bike Battery?
Depending on different categories you can get the 14 Miles to 48 Miles range from your Ebike.
How Often Should Ebike Batteries Be Charged?
The best practices of charging the ebike battery when it's in between 30 to 70 percent.
Should I Keep My Ebike Battery Fully Charged?
Yes, you should keep your Ebike battery fully charged if you want to get a better lifespan for your battery. Moreover, If you are planning to go for a long ride, you must charge the battery fully.
Conclusion
When we buy something, we want to get a long-lasting outcome which requires extra caution and care. In the case of the Ebike battery, its high pricing reminds us that we should take care of the battery properly to avoid frequent replacement. The solution of this problem was discussed above throughout this article. I tried to introduce you with some tips and tricks to help you to get rid of the problem.