52v vs 48v ebike battery [Tips on Choosing the right one]
It's always confusing for new riders when choosing between the 52V and 48V ebike batteries. It might not seem a big difference in terms of the quantity of voltage. Yet, it has lots of differences in power, range, speed, price and all other factors. And not both the batteries are perfect for all riders. In this article, I will explain which one is for which type of riders.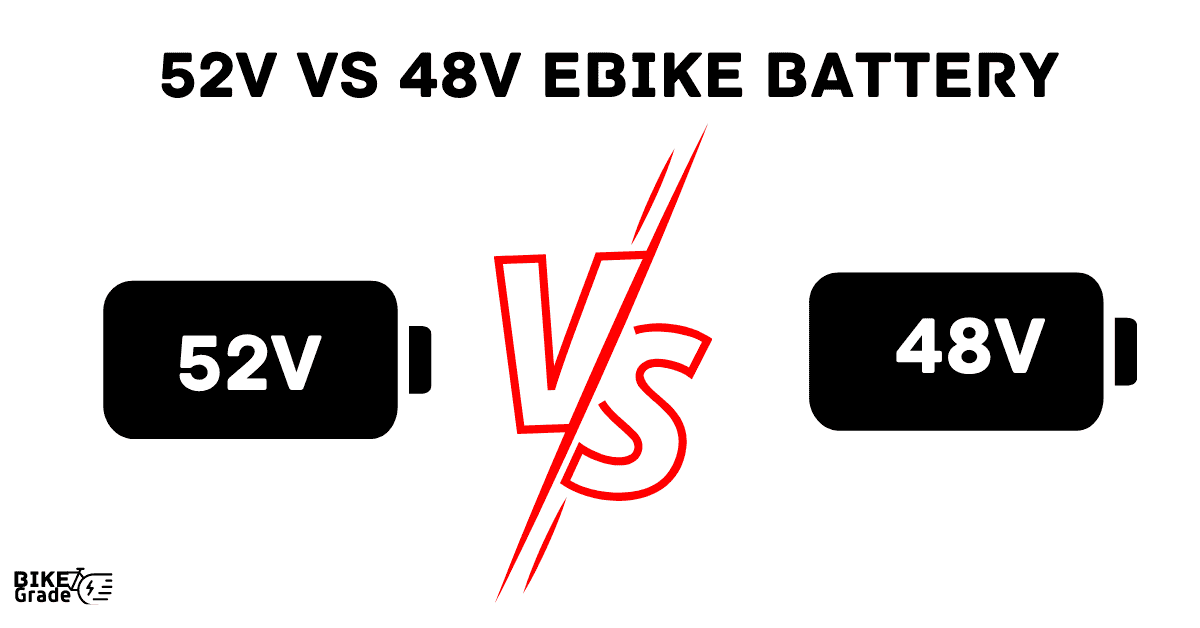 52v Vs 48v Ebike Battery: Which One Is Better?
The 52V would be your best bet in terms of performance, efficiency, longevity, weather resistance, power, speed and mileage. If you have to choose between a 52V and a 48V battery, going with the 52V would be a great choice as it excels above 48V batteries.
A 52-volt battery will consume a minimal amount of electricity while still providing excellent performance. It will also give the top performance, higher speed and better range compared to the 48V batteries. 
52v Vs 48v Ebike Battery: Side By Side
Let's take a quick look at their core differences. 
| | | |
| --- | --- | --- |
| | 52V battery  | 48V battery  |
| Power  | Will provide 7% to 9% extra power to the system.  | Will provide a relatively lower amount of power to the system.  |
| Charging cost | Lasting longer and consuming a very little amount of electricity.  | Electricity consumption is higher. |
| Adaptability | Will provide sufficient energy even in harsh snowy weather  | It will work great in the summertime but relatively reduced power in snowy winter. |
| Speed | Higher speed | Comparatively lower speed |
| Range | Higher range | A little lower range |
52v Vs 48v Ebike Battery
Why 52v Is Better Than 48v?
Bigger is always better when it comes to the electric bike battery. Bigger battery produces top power, efficiency, range, and speed. A 52V battery can go at 30 to 35 mph easily whereas the 48V battery hardly ever exceeds 25 mph.
Moreover, 52V produces more power than 48V which helps the bike to efficiently ride in rough terrain such as hilly tracks and snowy roads. Because of its higher voltage value, the 52v is powerful, efficient, and sustainable, making it the first pick for many riders like me.
Which One Should I Buy?
A 52V battery is better than a 48V battery. That doesn't necessarily mean you have to buy a 52V battery. The 52V battery is perfect for those who are in need of greater mileage, ride in comparatively rough terrain and need higher top speed. On the other hand, if you just ride your ebike occasionally or for short distances, a 48V battery will suffice.
A 52V battery is a costly purchase compared to the 48V battery. So buy it if you need the efficiency it gives. Otherwise it will be a waste of money. 
Is It Worth Buying Both?
If you're considering purchasing both then you should drop the idea right away. Buy any one of them according to your needs. If you're a pro rider who needs to commute or go on long joy rides, then one 52V battery will do the job effortlessly.
Contrastingly, if you're a mild rider who needs to cover a comparatively shorter distance in a better terrain then 48V will efficiently work for you. 
The Pros And Cons Of Each Type Of Battery
Like all other batteries, both the 52V and 48V ebike batteries have their own advantages and disadvantages. Take a sharp look at it. 
Pros and Cons of 52V E-bike Battery
Excellent speed

Better Range

Higher power

Less cost on charging

Same effective in snowy weather
Pros and Cons of 48V E-bike Battery
Budget-friendly

Excellent efficiency

Best for mild distances

Take less time to be fully charged
Higher charging cost

Provide comparatively less power, speed and range
What Are The Benefits Of Having A High Voltage Battery In An Ebike?
Having a high voltage battery is always great for enthusiastic riders. Let's see the benefits of the higher voltage. 
Higher voltage means higher range. You will get better range when you have a high voltage battery
Works great in rough terrain
Higher voltage costs less on charging
Super effective in any weather
Can You Use A 52v Battery On A 48v Ebike?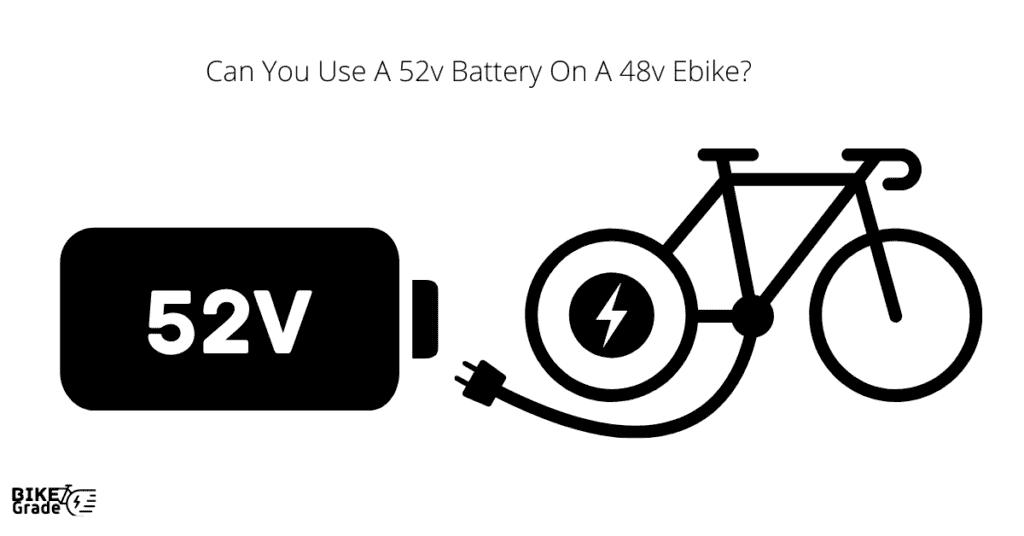 You can and can not! If the controller supports the 52V battery then you can use it. If it doesn't support anything above 48V then sadly you can't use it anyway. But good news for you, most of the ebike controllers that are built for 48V battery, supports up to 52 Volt. So, check the controller before installing a 52V battery on a 48V ebike. 
What Size Battery Should I Use?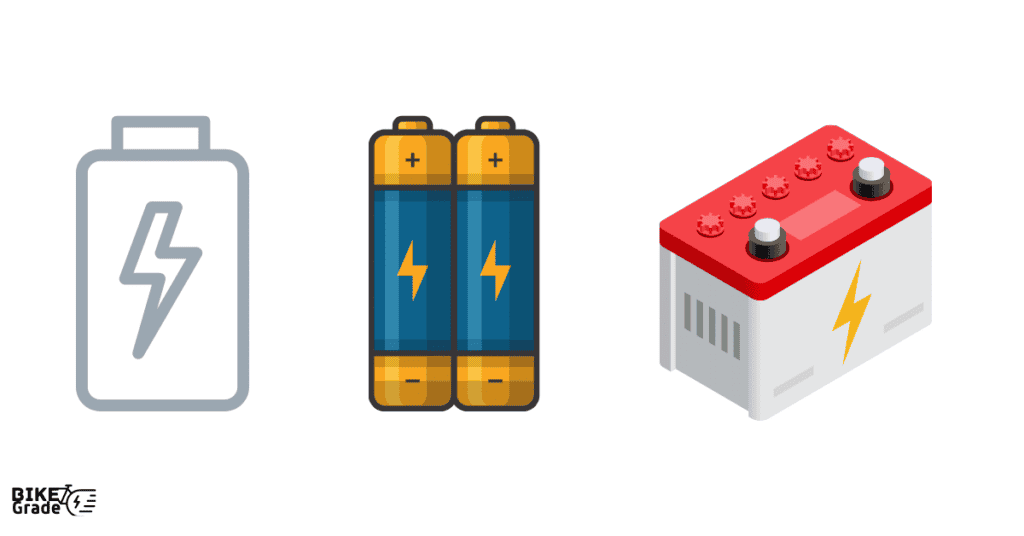 Thoughts of length, width, and height typically come to mind when we hear the word "size," but in the case of an e-bike battery, "size" refers to the battery's capacity. It is essential to know the battery's size (capacity) since you will learn more about its range.
A bigger battery is for those who love riding on the hilly tracks, snowy roads and cruising around on the beaches. Besides, a bigger battery offers better range, top speed and can carry bigger weight. On the other hand, A smaller battery is perfect for daily commuters who ride through good terrain and cover shorter distances.

So what size is bigger and what size is smaller? A battery that has voltage in between 24V to 36V is considered a smaller battery. On the contrary, A battery with 48V or bigger is considered as the bigger size battery.
Top 5 Brand For Ebike Battery 
Here is a list on the top 5 brand for Ebike battery 
FAQ
Do 52v Batteries Give More Range Than 48v?
Yes, a 52V battery will provide more range than a 48-volt battery.
How Fast Can A 52v Ebike Go?
On average, a 52V 1000W or 1500w eBike can go up to 30 to 36 miles per hour (48 to 57 kilometers per hour)
How Long Will A 1000w 48v Battery Last?
A 1000w 48V battery will last for 20 miles to 40 miles considering the rider weight, type of terrain and the speed.
How Fast Can A 48 Volt Electric Bike Go?
You can expect at least 20 miles per hour from a 48 volt and in the ideal condition, it can go up to 30 miles per hour.
How Fast Does A 72v Ebike Go?
A 72v e-bike will give you a minimum of 35 miles per hour and the top speed may exceed 55 to 60 miles per hour.
Conclusion 
Choosing between the 52V and 48V battery isn't tough but a tricky one. A 52-volt battery will use very little energy while yet giving a decent performance. If you need better power, mileage and speed then 52V would be a great choice for you. 
On the other hand a 48V battery would be more than perfect if you're a regular commuter who needs to ride in comparatively shorter distances. Besides, a 48V battery will save you lots of bucks compared to the 52V ones.