Ebike Power Tool Battery To Extend The Mileage
I was skeptical when I got to know that some riders use power tool batteries in their ebike to extend the battery range. So I did my research and tried it myself and found that it doesn't only extend the range but also can be used for DIY ebikes. Therefore, I can't wait to share my experience with you here.
Can You Use Power Tool Battery On Ebike?
You can use power tool batteries as long as they don't cross the BMS voltage. If it exceeds the BMS rated voltage then either the power tool battery won't work or it will get damaged overtime. Besides, you need to precisely set up the battery with the cables.

bikegrade.com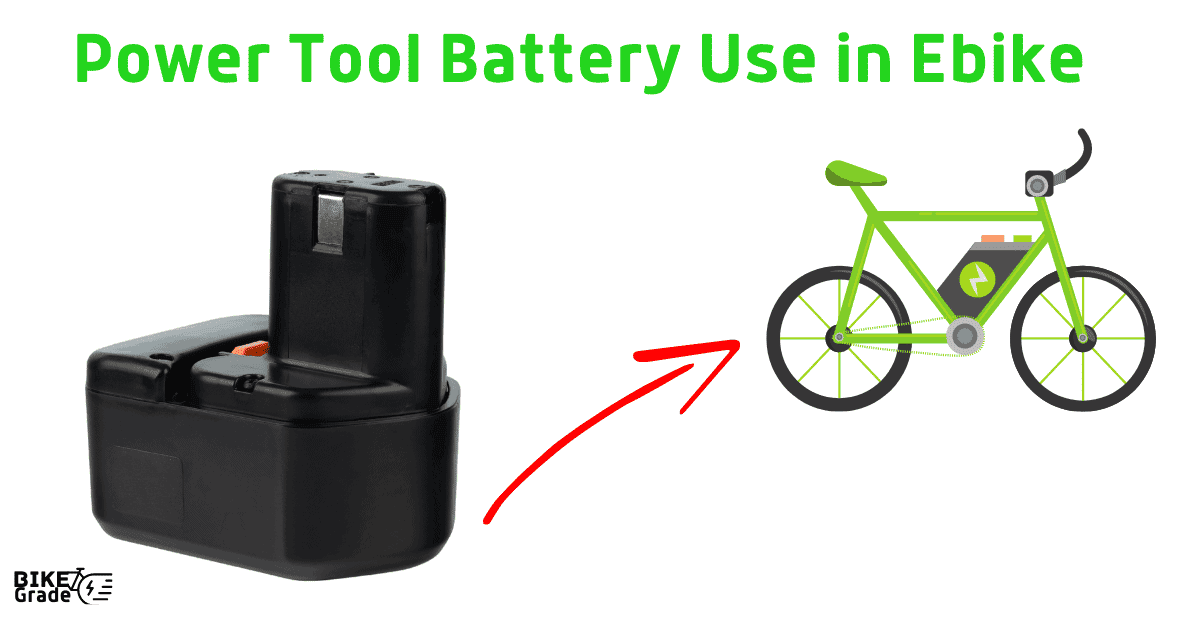 What Is Power Tool Battery
Cordless power tools were a dream before the 60's. But it happened to come true after introducing a power tool battery. A power tool battery is a device that supplies electric current to the portable electric tool. 
There are two main types of power tool batteries: lead-acid and nickel-cadmium (NiCd). Lead-acid power tool batteries are the most common type of battery used in power tools. NiCd batteries are less common, but offer some advantages over lead-acid batteries, such as longer life and higher discharge rates.
How To Use Power Tool Battery On Ebike (DIY project)
You need to sit tight to learn the whole process of using power tool batteries on an ebike. The process is quite tricky. However, if you give an attentive read, you will be able to use the power tool battery on your ebike without any hassle. 
Step 1: Choose the right battery
Choosing the battery is the initial task for you. You need to choose a power tool battery that is supported by your Battery Management System (BMS). For example, if your BMS is set to 48V then you have to select a power tool battery under this voltage.
Step 2: Make a box to hold the power tool battery
Make a box that can slide the battery in and out. The box can be constructed using plywood. Put a couple of brackets in the box and do a couple of holes and screw in the bracket.
Step 3: Install a switch on the box along with a fuse
Now, install a switch and a fuse just like you see in the image
Step 4: Do the wiring
The wires connect between the box's bracket, fuse, switch, controller to the BMS.
Step 5: Slide in the battery on the bracket
Now, pick the power tool battery and slide it on the bracket of the box.
Step 6: Wrap the battery with a bungee cord.
Wrapping the battery will ensure that it won't bounce while you ride.
According to the users of the electric bike review forum,"If your power tool battery exceeds the controller voltage then it won't display accurate gauge reading." So it is essential to keep the power tool battery voltage within the controller limit. 
Why Use Power Tool Drill Batteries On Ebike?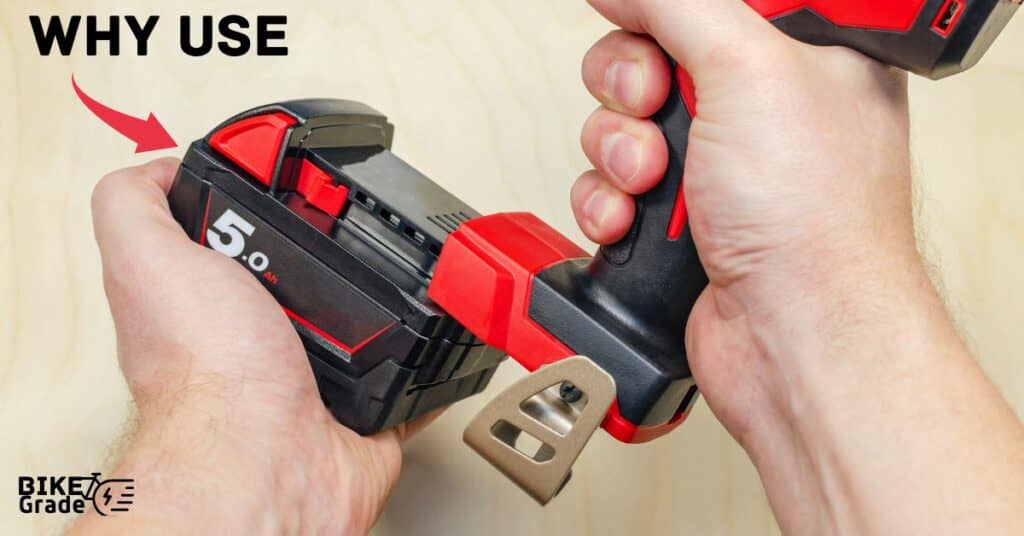 One of the biggest advantages of using power tool batteries on your ebike is the increased range that they can provide. Another benefit of using power tool batteries on your ebike is the increased power that they can provide. 
Extended Range
If you're using a standard ebike battery, you might only be able to travel 20-30 miles with a full charge. However, with a power tool battery, you could easily double your range.
This can be a huge advantage if you're planning on doing some longer rides, or if you simply want to have the peace of mind knowing that you can go further without having to worry about running out of juice.
Boost the power
If you're struggling to get up hills or accelerate as quickly as you'd like, a power tool battery can give you the boost you need.
This can be especially helpful if you're carrying a lot of gear with you on your bike, as the extra power can help offset the weight.
Ebike Normal Battery Vs Power Tool Battery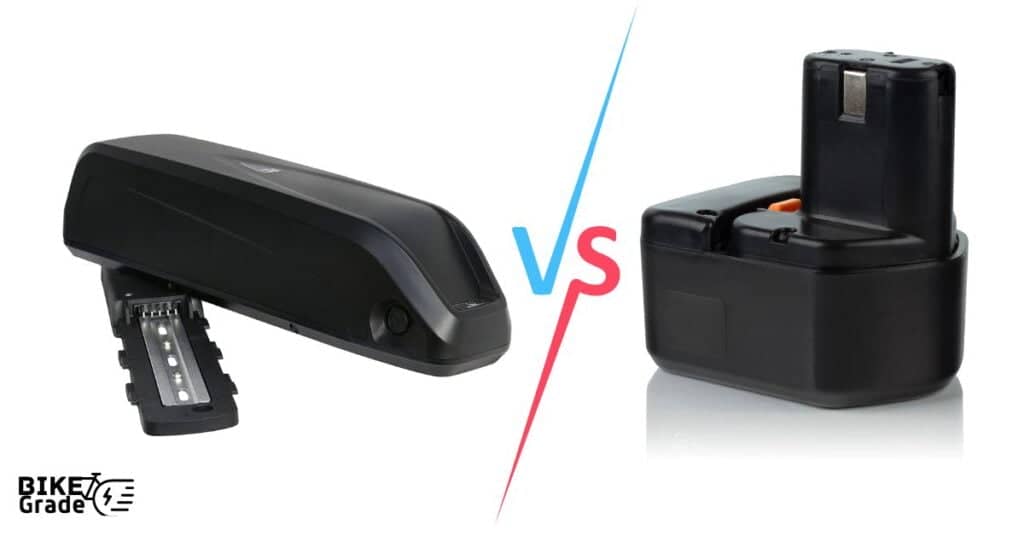 Using power tool's batteries in an e-bike is gaining fame for the advantages it provides. Let's see how it differs from a normal ebike battery.
| | | |
| --- | --- | --- |
| | Ebike Battery | Power Tool Battery |
| Type | Comes in both removable and non-removable options. | They are removable batteries. |
| Specialty | Uses as regular battery. | Uses to extend the mileage. |
| Size | Bigger | Smaller |
| Power | High | Needs 2-3 batteries to achieve the same power as a regular ebike battery. |
| Discharge rate | High | A little bit low. |
| Price | Comparatively pricier | Comparatively cheaper. |
Ebike Normal Battery Vs Power Tool Battery 
How to select the Power Tool Batteries to use on Ebike?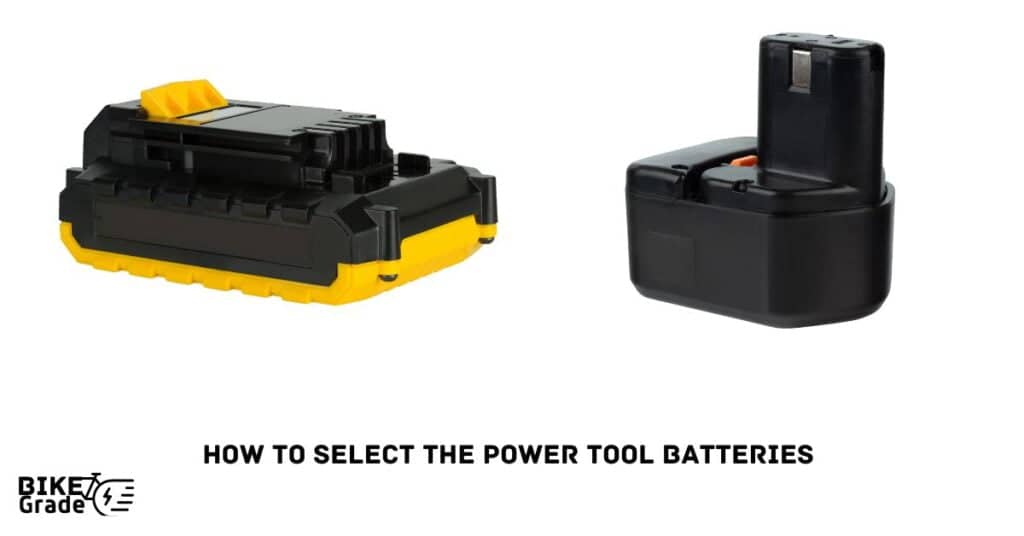 When selecting a power tool battery for use in an ebike, you have to consider a few things to ensure a great journey.
1. Supports by the BMS
First thing to consider when you're choosing a power tool battery to use on your ebike. Don't choose a battery with a higher voltage than your BMS. Otherwise, the battery won't work or get damaged itself. 
2. Power requirements of the motor
A higher voltage battery will provide more power to the motor and allow it to run at a higher speed. However, a higher voltage battery will also require more energy to charge, so it is important to consider the trade-off between power and energy when selecting a battery.
3. Discharge rate of the battery
A higher discharge rate means that more power will be available for use, but the battery will also discharge faster. Choose a battery with a discharge rate that meets your needs.
4. Charging time of the battery
A faster charging battery will be convenient if you plan to use your ebike frequently.
5. Warranty
Some manufacturers offer longer warranties for their batteries than others. Choose a battery from a manufacturer that offers a long warranty to ensure that you are covered in case of any problems.
FAQ
Is It Safe To Use Power Tool Drill Batteries On Ebike?
Yes, it's safe to use power tool drill batteries on ebike.
Can I Use The Power Tool Battery As A Range Extender For My Ebike?
Yes, indeed, you can use the power tool battery as a range extender.
Can you use any battery on an electric bike?
You can't randomly use any battery on an ebike. The battery has to be supported by the motor and the BMS.
Do tool batteries have BMS?
Usually tool batteries don't have BMS.
Is it cheaper to build your own ebike battery?
Are power tool batteries lithium-ion?
Most of the modern power tool batteries are lithium-ion. However, there are still a few power tool brands that are producing batteries of Nickel Cadmium and nickel-metal hydride.
Conclusion
If you're looking to extend your ebike range, you can certainly use powertool batteries. Make sure that you're choosing the right battery with the right voltage that supports your battery management system perfectly.
Also Read