Ebike Battery Storage Temperature -Things To Consider
Storing the ebike battery in the right temperature is super essential to keep its health in good standings. If you keep your electric bike battery in too cold or too hot a place, it will lose efficiency and even it can be permanently damaged. But, what's the ideal temperature to store the battery? Today I will discuss all the aspects of ebike battery storage temperature. Hold on!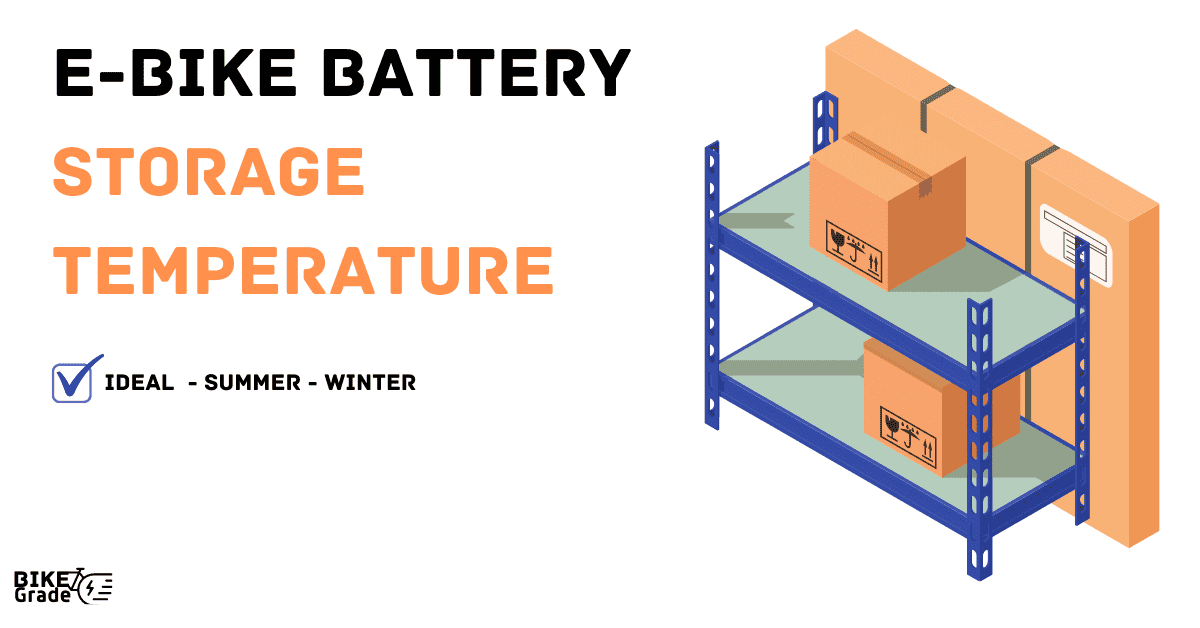 Ebike Battery Storage Temperature
The ideal temperature for storing your ebike battery is 41°F to 68°F. If you want not to lose your battery's efficiency and want to improve its lifespan then you should store it in between these temperatures. Both the extreme hot and extreme cold temperature will kill your battery's health.
Ideal Temperature List For Ebike Battery
Here is an estimated minimum and maximum temperature for storing, charging, and riding.
| | | |
| --- | --- | --- |
| | Minimum Temperature | Maximum Temperature |
| For Storage | 41°F | 68°F |
| For Charging | 41°F | 113°F |
| For Riding | -3°F | 110°F |
Ideal Temperature List For Ebike Battery
Ideal Storage Conditions For E-Bike Battery
Here is a list of ideal storage conditions to keep in your mind. 
Store at 41°F-68°F temperature.
Clean and well-ventilated area.
Keep away from direct sunlight.
Away from heat source and flammable materials.
Store at 70% charge.
Ideal Charging Conditions For An E-Bike Battery
The ideal conditions for charging an e-bike battery consisting of-
A fairly cool, dry place
Out of direct sunlight
Room temperature, ideally between 41°F-113°F.
Out of any heat sources such as stoves.
A safe charging station
The correct charger for your battery
What Are Some Things To Avoid When Storing Your Battery?
When storing your ebike battery, there are a few things you'll want to avoid in order to keep it in good condition.
Don't fully charge the battery when you're storing the battery.
Don't fully discharge the battery to zero. 
Avoid hot temperatures more than 68°F.
Avoid too low temperatures.
How To Store Your Ebike Battery To Extend Its Life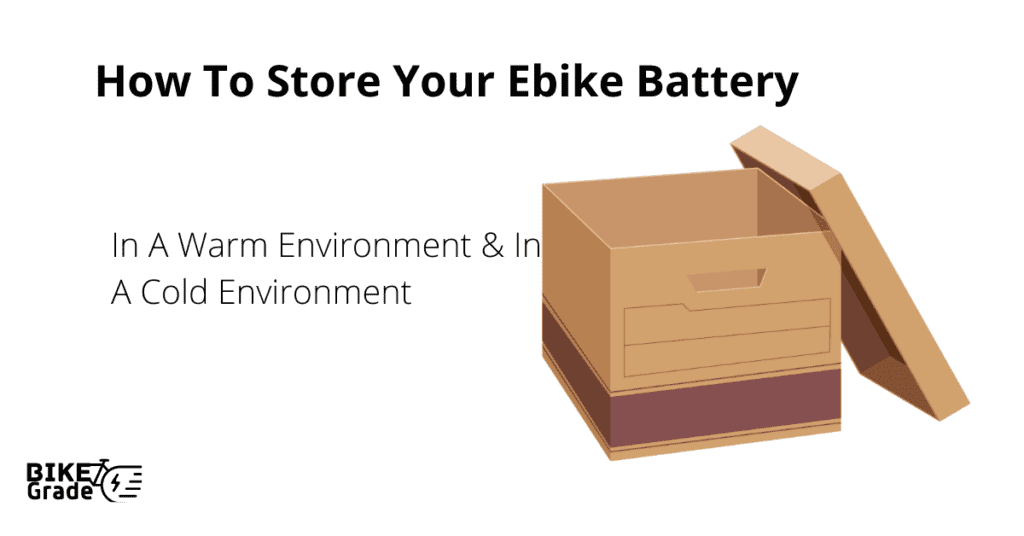 In these global warming days, it is really important to know the techniques of storing the ebike battery in both winter and summer. 
In A Warm Environment
Follow these simple steps to ensure that it stays in good condition.
Make sure that the battery is stored in a dry place. If the battery gets wet, it could short circuit and become unusable.
Keep the battery away from direct sun. Direct heat in hot temperatures will damage the battery instantly.
If possible, store the battery in a cool and dark place. This will help to prolong the battery's life.
If you're storing the battery for a long term, check on the battery regularly to see the battery level. If it gets drained too much, charge it up to 70%. 
In A Cold Environment
If you live in a cold climate, it is important to take measures to ensure that your ebike battery is properly stored. Cold weather can affect the performance of your battery and may even damage it if not stored correctly. Here are a few tips on how to store your ebike battery in a cold environment.
Keep the battery charged between 40-75% while storing. Keeping a fully charged battery or fully discharged battery can harm the lifespan of the battery.
Store your battery in a dry place.
Bring it inside in between riding breaks.
If possible, store your battery in a temperature-controlled environment.
---
Tips For Hot Summer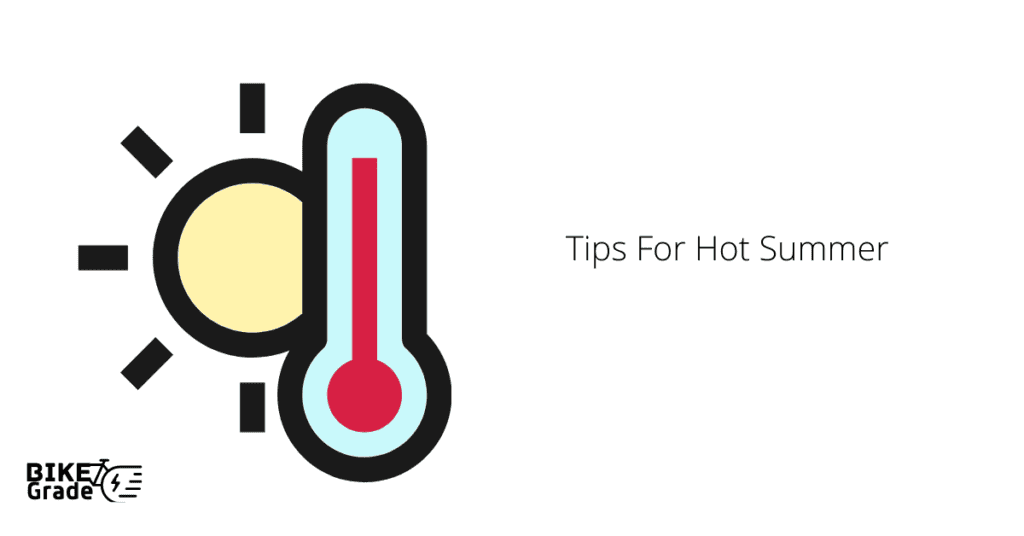 Most of the riders like me enjoy riding electric bikes when the weather is nice and warm. However, if the temperature is too high, you have to be cautious about the battery. Let's find out how you can keep your battery's health in good shape in the hot summer.
Avoid Excessive Heat Exposure
This one may seem obvious, but it's important to avoid leaving your battery in direct sunlight for extended periods of time. If possible, try to keep the ebike battery in a shady spot or take it inside when not in use.
It's important to make sure you don't overcharge your battery, as this can shorten its lifespan. If you're not using your bike for a while, it's best to disconnect the battery altogether.
Keep an eye on how much you're riding your bike and how often you're charging the battery. If you notice that the battery is losing power faster than usual, it's a good idea to cut back on your usage and give it a break.
Store In A Cool And Dry Place
When you're not using your bike, it's best to store the battery in a cool and dry place. This will help extend its lifespan and keep it working efficiently.
Stop Riding If Gets Too Hot
If you're on the way to a long ride, check the battery temperature after a few while. If you see any excessive temperature in the battery, you can take a break until git gets cooled down.
Tips For Cold Winter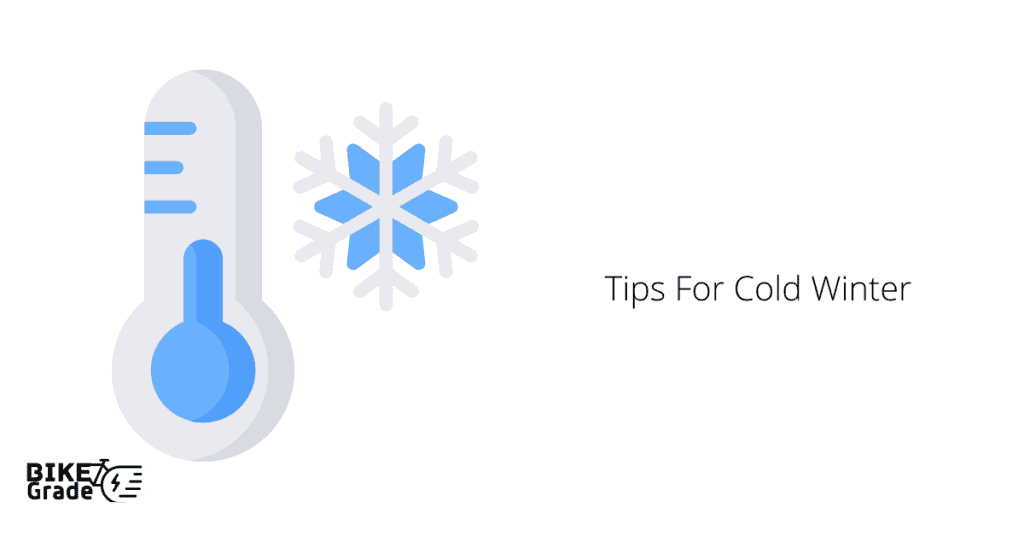 In the winter, it's important to take extra care of your electric bike battery. Here are a few tips to keep in mind in winter according to ebikeescape.
Charge your battery regularly and top it off before each ride. A full charge will help to prevent the battery from freezing.
Keep your battery warm when not in use. It is best to store it indoors and in a warm place.
Avoid riding in extremely cold weather. Most of the manufacturers recommended not to ride the ebike below -4°F. If the battery gets too cold, it may not work as well or may even freeze.
Use a battery cover while you ride it to keep the battery temperature normal.
How To Care For Your Ebike Battery
Ebike batteries are a key component to keeping your bike running smoothly and efficiently. Here are a few tips on how to care for your ebike battery:
Charge in a proper manner
Be sure to charge your battery with the manufacturer-provided charger. Besides, don't don't drain it completely. Try to charge the battery while its percentage is between 30 to 70. 
When you're not using your battery, store it in a cool, dry place. Avoid storing it in direct sunlight or near heat sources, as this could damage the battery.
Don't use direct water to clean your ebike battery. Wipe down it with a clean and dry cloth regularly. This will help to remove any dirt or debris that could potentially cause problems.
FAQ
How Cold Is Too Cold For Ebike Battery?
A temperature lower than -5° F is too cold for an ebike battery.
Can I Store My Ebike In The Cold?
You shouldn't store your e-bike outside while the temperature is below -5° F.
How Hot Is Too Hot For Ebike Battery?
113 °F is too hot for an ebike battery. You shouldn't ride your e-bike in such temperatures.
How Do I Store My E-Bike Battery Over The Winter?
You should store the ebike battery inside your house or in the garage over the winter.
Can Ebike Batteries Freeze?
Yes, if you store your ebike battery is too cold weather, it could be freezed.
Where Should Ebike Batteries Be Stored?
An ebike battery should be stored in a fairly cool and dry place.
What Is The Bosch Ebike Battery Temperature Range?
Ideal storage temperature for Bosch batteries is to keep it at room temperature- 60° F – 68° F.
Conclusion 
To keep your battery's health forever young, you have to store them perfectly. SToring in a bad temperature will cost your battery to lose efficiency and even get damaged permanently. Store your ebike battery at room temperature ideally between 41°F-68°F and keep the battery healthy.