What Size Inverter To Charge E-Bike Battery? [With Size Chart]
If you're an offshore camper and love to bring your ebike with you then surely you need an inverter to gear up the bike battery. With the help of the inverter, you can easily charge your electric bike battery from your camper van or any type of vehicle.
But what if you choose the wrong size of inverter? Well, it won't charge the battery at all! Before you face this horrible issue, stay with me to learn what size is perfect for your ebike battery.
What Size Inverter To Charge E-Bike Battery?
Larger battery needs a larger inverter. For a 36V 14A Battery you would need a maximum of 500W inverter. If your battery is  52V 19.2A then you need a 1000W inverter. 
You can simply calculate the inverter size by multiplying the voltage and ampere. For example, if you have a 48V and 10.4A battery, you need an inverter 48 x 10.4 = 500 Watts.
Remember that, If you grab a bigger inverter, it won't cause a problem rather than a slight heating up the device. But if you choose a smaller inverter than required then it won't charge your battery.
12V DC to 120V AC
For Home, RV, Truck, Off-Grid Solar Power Inverter 12V to 110V
Built-in 5V/2.1A USB Port,
AC Hardwire Port, Remote Controller
Ebike Inverter Size Chart 
You will have to pick an inverter size depending on the volts and amperes of the e-bike battery. In order to determine the size of the inverter, multiply the volt and amps of the battery. Here is a list of common battery sizes and required inverters. 
| | | |
| --- | --- | --- |
| Battery Volts (V) | Battery Amps (A) | Inverter Size (W) |
| 36V | 13A | 468W |
| 36V | 15A | 540W |
| 48V | 10.4A | 500W |
| 48V | 13A | 624W |
| 48V | 17A | 816W |
| 52V | 13A | 676W |
| 52V | 17A | 884W |
| 52V | 19.2A | 1000W |
Ebike Inverter Size Chart
What Is An Inverter?
An inverter is a compact electronic component that converts direct current (DC) into alternating current (AC) at any frequency or voltage. When your targeted device such as an ebike battery has an AC current and you need to charge it from a DC current, you need an inverter to convert the DC current to AC current. These inverters cannot generate or store any electricity but just convert the current
How Does An Inverter Work?
The majority of electric appliances we use on a regular basis require alternating current (AC) to operate. However, the electricity produced by the grid and other renewable sources of energy is in the form of direct current (DC). In order to power these appliances, the inverter transforms the DC current from the power source to the AC current.
How Do I Connect The Inverter To My Battery?
The process of connecting the inverter to your e-bike battery is pretty simple. Just follow these steps.
Step 1: Get a pure sine wave inverter required for your ebike battery.

The inverter you buy should have the correct wattage rating for your battery. Most Consumer Reports recommends that a good inverter has a wattage rating of at least 468 watts. For example, if you are using an ebike battery with a 36-volt system, then you would need an inverter with a wattage of 500 watts or greater

Step 2: Put the wirings accordingly.

When connecting your ebike battery to the inverter, make sure all connections are neat and clean so there is no interference between wires. You will need to connect black ( negative) to black, red (positive) to red.

Step 3: Plug the inverter on your vehicle's battery

Connect the inverter's power cord to an available power outlet on your car or truck. Then, plug the inverter into the wall outlet.

Step 4: Add "kill A Watt" power usage monitor device

Not mandatory but recommended
If you want to be extra vigilant about how much electricity your ebike is using, you can buy a kill-a-watt device like this one from online. This will allow you to see exactly how much electricity is being used by your ebike and help prevent overloading of your battery.

Step 5: Plugin the battery charger

Next, connect the battery charger to the inverter. Make sure the green LED on the charger is lit and that both red and black wires from the battery are connected to corresponding terminals on the inverter. If your ebike has an LCD display, you will also want to plug in your charging cord so that you can see how much power is being used by your ebike while it's being charged.

Step 6: Connect the charger to the battery

Finally, plug the charger into an outlet, and connect the battery to it. The red light on the charger will start blinking slowly to indicate that it is charging your battery.
How Much Does It Cost To Charge An E-Bike Battery?
The cost of fully charging an electric bike battery depends on the cost of electricity, battery voltage, and capacity. Typically, charging a 36V/11A e-bike battery costs about 5 to 10 cents. However, a bigger battery with a longer range and higher voltage will cost more money compared to smaller batteries. 
Can Electric Bikes Be Charged At Electric Car Stations?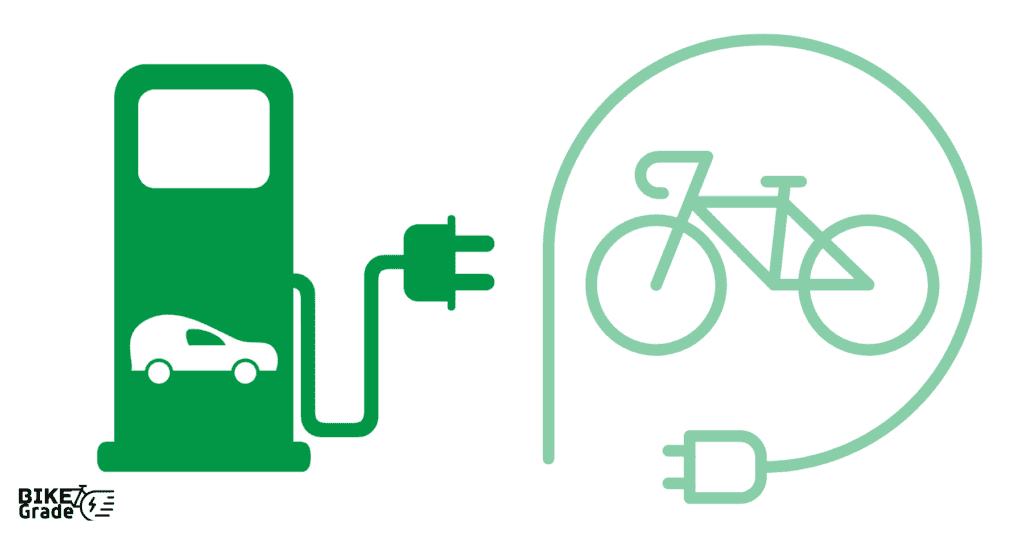 Electric bike batteries can be charged successfully at electric charging stations that are compatible with both cars and bikes. E-bike batteries are typically charged by plugging the charger into power outlets of 110 volts. 
However, you can rely on the 220V chargers in electric car stations to charge the battery at a faster rate. But before you plug the charger in, make sure that the battery of your e-bike is compatible with the high voltage charger. 
Can You Charge An E-Bike Battery With Solar?
Yes, solar panels and power can be used to charge the electric bike battery. However, the panels cannot directly charge the batteries.
To use solar power, you will have to connect the solar panel to an inverter and connect the inverter to the e-bike battery. The reason behind this is to adjust the voltage and transform DC to AC current. 
Can I Charge An E-Bike With A Generator?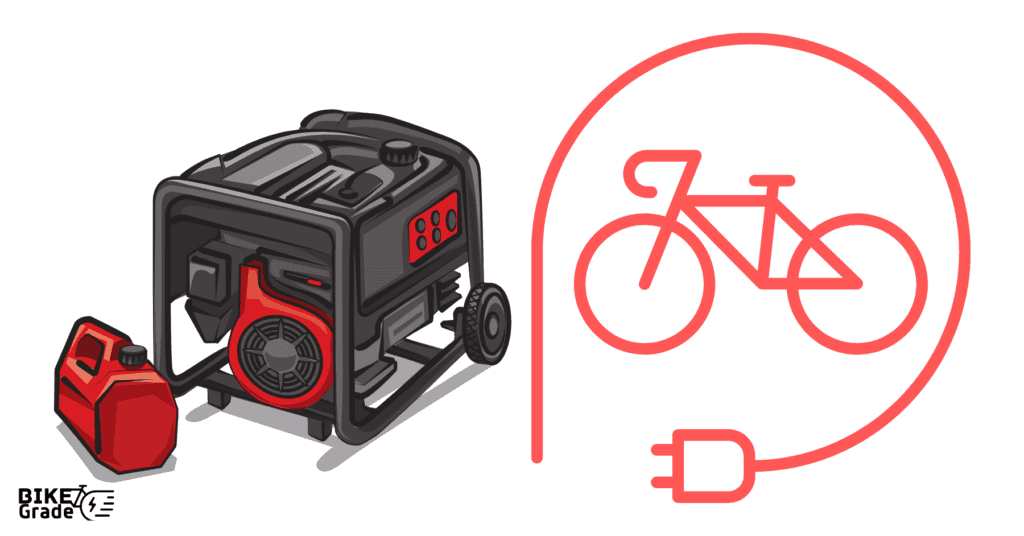 You can easily and safely charge an electric bike with a generator. Connect the battery with the generator with the help of a charging cord.
However, you will have to make sure that the generator has a high power output compared to the e-bike battery. An advantage of charging your e-bike battery with a generator is it ensures fast charging. 
How To Charge An E-Bike With An RV Inverter?
Charging an electric bike with an RV inverter is an absolutely similar process I described earlier. All you have to do is connect the RV inverter to the battery of the e-bike. 
How Do You Charge An Electric Bike Battery Off The Grid?
There are quite a few ways of charging the electric bike battery off the grid. Here is a list of ways for charging e-bike batteries when you are off the grid. 
Charge the battery in a restaurant or pub.
Take power from a generator.
Transfer power from a vehicle battery.
FAQ
Can I Charge The E-Bike Battery With The Switch On?
You can charge the e-bike battery when it is switched on. But, it is not recommended as it may cause big damage to the battery.
What Size Generator Do I Need To Charge An E-Bike Battery?
The size of the generator you need depends on the capacity of the battery. Consider the voltage and amperes of the electric bike battery and choose a generator that has a higher power output than the required power.
What Voltage Are Most Electric Bikes?
The majority of electric bikes come with 36V or 48V batteries.
Can You Charge An Electric Bike From A Car?
Yes, you can charge the electric bike from a car.
Conclusion 
Charging the electric bike battery on the go can prove to be quite difficult. However, finding the right inverter size and a proper way of charging the e-bike battery can help you in times of need. 
So, take help from this guide whenever you find yourself in a dilemma on how to charge your e-bike battery while being away from home. Make sure that you take the required precautions and preparation of charging your e-bike battery before you go away on your trip.