Are Ebike Batteries Removable? [Advantages & Disadvantages]
Modern e-bikes Batteries are built with such excellent precision that it might seem that they aren't removable. You have to give a closer look to understand if it's removable or frame-integrated. Whether it's removal or not removable, it has some advantages and disadvantages at the same time. Today I will share every bit of details that you should know about your ebike battery.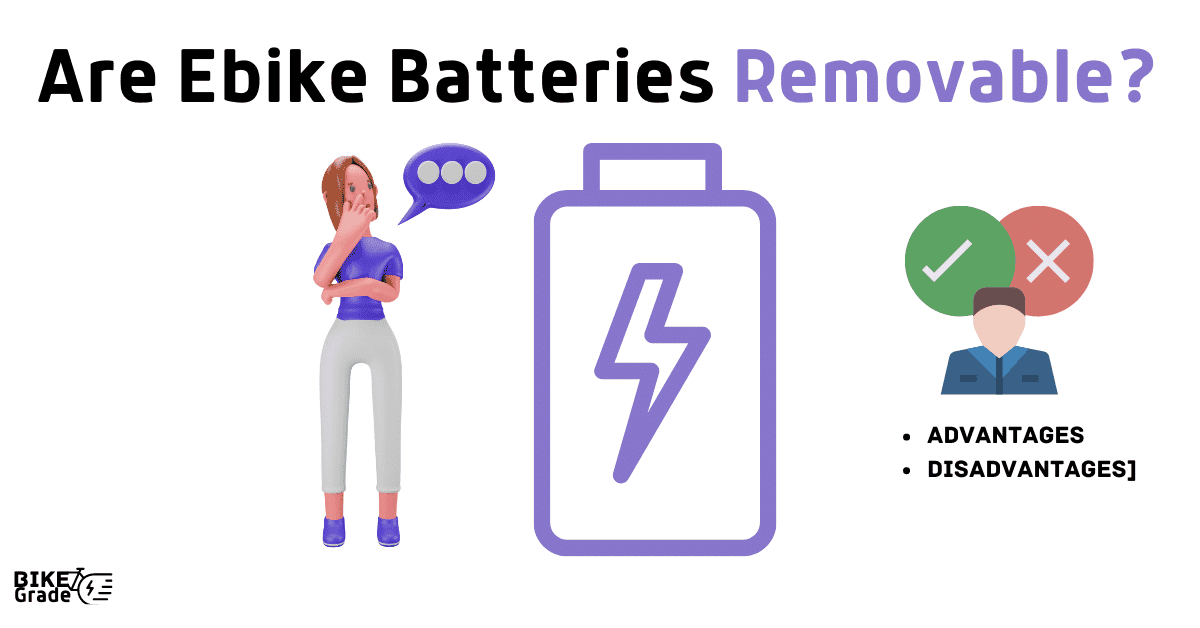 Are Ebike Batteries Removable
The answer to the question is simply, YES!
Technically, all the Ebikes batteries are removable. Still, some of them are introduced as removable and some of them non-removable. 
Removable batteries are easily detachable. With the provided key and few clicks, any rider can detach it anytime they want. On the other hand, non-removable batteries are positioned inside the front frame. Therefore, it needs some time, a few tools, and a little expertise to remove the battery.
What Is A Removable Battery?
In a sense, all the ebikes batteries are removable. Because all types of ebikes can be removed in different ways. Hence, the batteries we can remove from the ebike without the help of additional tools is called a removable battery. You only need the key and a few clicks to detach the removable batteries.
Types Of Ebike Batteries Based On Portability
Based on the portability and mounting position, there are 3 common types of ebike batteries. Let me discuss them with you.
Frame-Integrated Batteries
Removable Front Frame Batteries
Removable Rear Rack Batteries
Frame-Integrated Batteries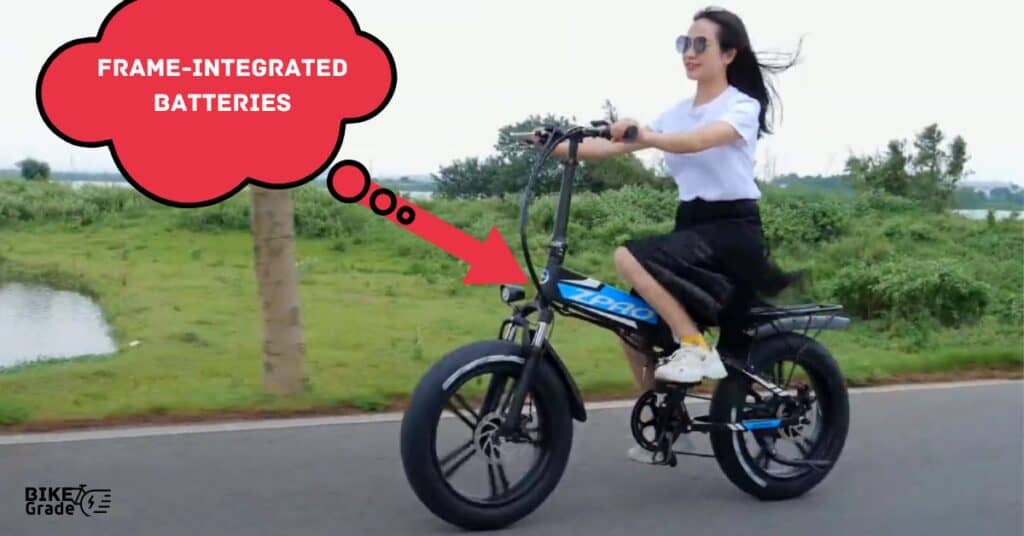 Frame-integrated batteries are also known as non-removable batteries. They are swiftly mounted inside of the frame. They are more protected in the rain compared to the removable ones.
Although they are called non-removable batteries, you can remove them with the help of a few tools. 
Removable Front Frame Batteries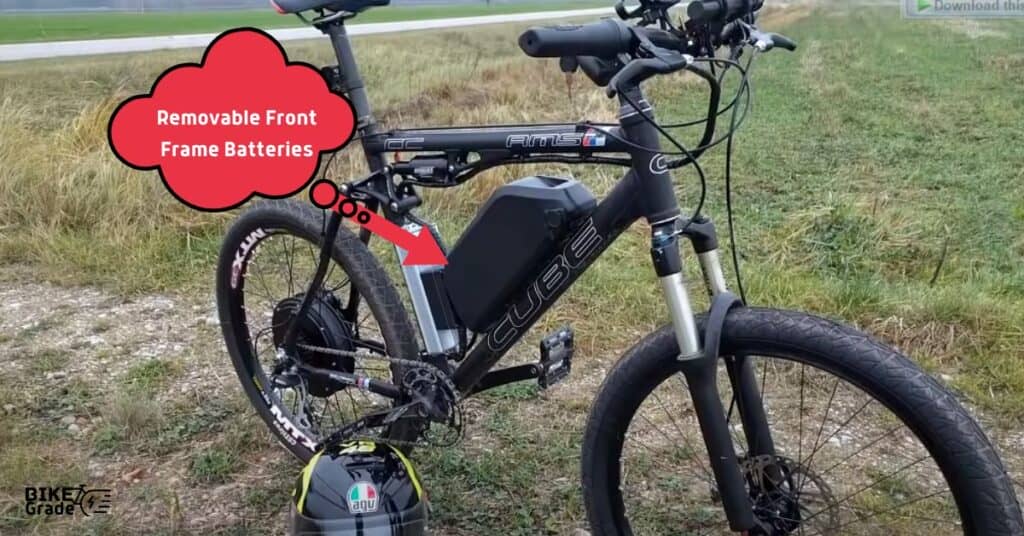 These batteries are more common nowadays. You will find them in the front frame of the ebikes. They are well protected with the lock. In order to detach them, you have to use the provided key to unlock it first.
Because of its removability, you can carry the battery anywhere you want without carrying the whole bike and charge it whenever wherever you want. 
Removable Rear Rack Batteries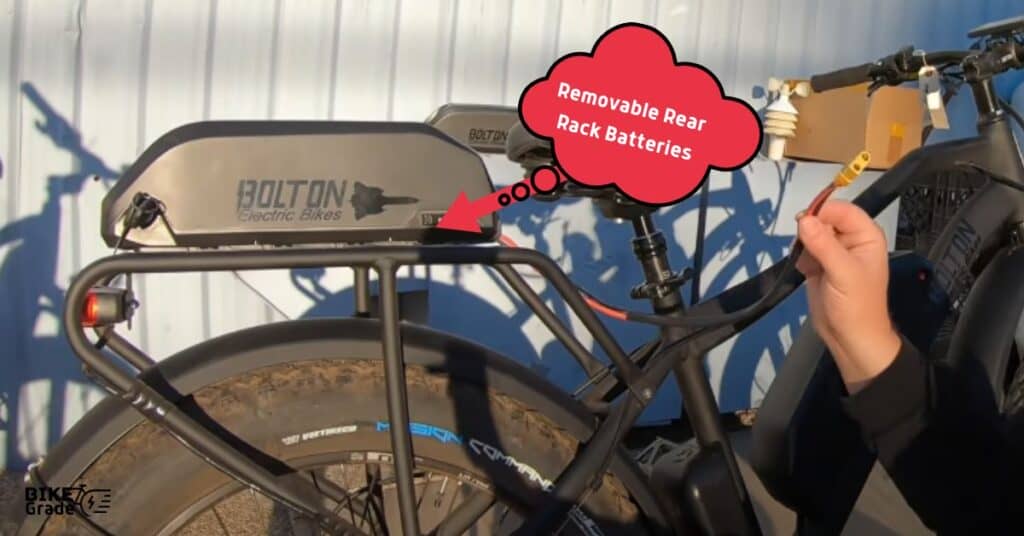 It's quite similar to the second one. The only difference between these batteries is their position. Like the name suggests, they are positioned in the rear rack of the electric bike. 
---
Where Is The Battery Of An Electric Bike Located?
Despite being removable or frame-integrated, most of the electric bike's batteries are located on the front frame. Frame-integrated batteries are kept inside the front frame while removable ones are placed on the front frame. Besides, there are another type of batteries I discussed earlier and that's rear rack batteries. They are placed on the rear rack of the bike. 
What Are The Benefits Of Removable Ebike Batteries?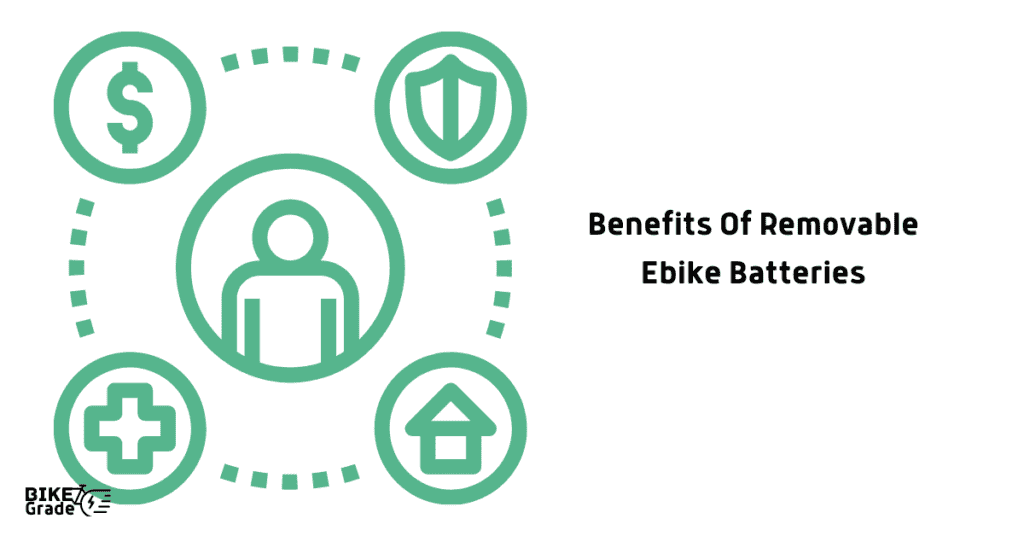 Removable batteries give all the flexibility a rider would want. Let's see what exactly they offer.
Easy to carry
The most convenient thing about removable ebike batteries is that they are easy to carry. You can detach the battery anytime you want and carry it with you 
Easy to charge
With a removable ebike battery, you're never stressed about charging it. You can even charge it in your workplace. Just unlock the battery and plug it in. 
Easily replaceable
You heard it right! Removable batteries are easily replaceable compared to the integrated ones. When your battery reaches the maximum charging cycle, you can swiftly replace it without the help of any professional or additional tools. 
Keep your battery safe from bad weather
Too much heat and too much cold both are harmful to your battery. In such bad weather conditions, you can effortlessly remove the battery from the bike and keep it inside of your house or workplace. 
Charge your phone
It's not so common and not provided by all the manufacturers. Yet, there are some batteries which have a USB outlet that allows you to charge your phone directly from the ebike battery. They work like a powerbank for your mobile phone.
Disadvantages To Removable Ebike Batteries
Less good looking:
Most of the riders think that removable batteries aren't good looking. However, nowadays, brands are keeping the batteries as tiny as possible so that they don't look weird. 
High-priced
Removable batteries are highly priced compared to the frame-integrated batteries. 
Can be theft
There are so many scenarios where riders lost their ebike battery due to lack of security. Nonetheless, brands are now manufacturing anti-theft ebike batteries. So you can select one of them if you're concerned about the security. Besides, you can detach the battery and keep it in your sight!
How Do I Remove The Battery From My Electric Bike?
Removing the ebike batteries is as simple as pie! Almost all the ebike have the same method of detaching. Let's see the simple step by step process.
Total Time: 3 minutes
Step 1: Insert the key
The first step is to insert the key on the lock and turn it upward. This will make the battery lean out slightly.
Step 2: Pressing the button inside
Now, Press the little button inside the battery and turn the key again.You'll know that you've hit it when you hear a "click."
Step 3: Pull out swiftly. 
When you're done, just pull the battery out quickly by giving it a firm tug on either latch side. Be careful not to drop it or damage anything in the process! Hopefully, this simple guide has helped you remove your ebike battery!
---
Top 5 Removable E-Bike Battery Brand
There are hundreds of ebikes brands out there with removable batteries. I have listed the most famous 5 of them and their comparison. 
Top 5 Removable E-Bike Battery Brand
What Does An Integrated Battery Mean On An Electric Bike?
Integrated batteries are positioned inside the frame so that they are not visible from outside. They are also known as frame-integrated batteries and non-removable batteries. Despite being called non-removable batteries, they are also removable with some efforts of a few tools. 
How Can I Charge A Non Removable Battery?
Charging a non-removable battery is slightly difficult compared to the removable ones. These sorts of bikes have charging ports on the frame. 
As they can't usually be removed for charging, make sure that you have a charging outlet in your parking place or storage room. Otherwise you would need to carry the whole bike inside your house for charging.  
How Do I Revive A Dead Non Removable Battery?
Every battery comes with a charging cycle which is similar to the expiration date. Once the battery reaches that cycle, it's impossible to revive or reuse it. In that case, you have only one option left and that's to dispose of the battery and replace it. You can replace the non-removable battery on your own with just one 3mm driver. 
FAQ
Are lithium batteries removable?
Yes, lithium batteries are removable. However, they can come in both removable and non-removable format.
Can inbuilt batteries be changed?
Yes, inbuilt batteries can be changed.
Can you remove a non-removable battery?
Yes, with the help of few tools and little expertise, you can remove a non-removable battery.
Which electric bikes has removable batteries?
Most of the modern ebikes are now produced with removable batteries. Propella, RadRunner, Speedrid etc. are the best examples of removable ebike batteries brands.
Conclusion
All the ebikes batteries are technically removable. But the frame-integrated batteries can't be charged by removing them from the frame. You may need to remove it for troubleshooting any issues or changing them.
On the other hand, removable batteries are chargeable even after removing it from the position. And mainly that's the reason riders like me choose removable batteries over frame-integrated batteries.