How Long Will E-Bike Battery Last [Life Expectancy]
Before spending a fortune for your first ebike, you should know the life expectancy of its battery. Not all the batteries come with the same power and life cycle. You can check the battery's maximum life cycle in the manufacturer's guide. But you will surely be confused after reading it, as it will show you the charge cycles not years of life expectancy. To eliminate your confusion, I structured this article so that you will easily understand what you need to know.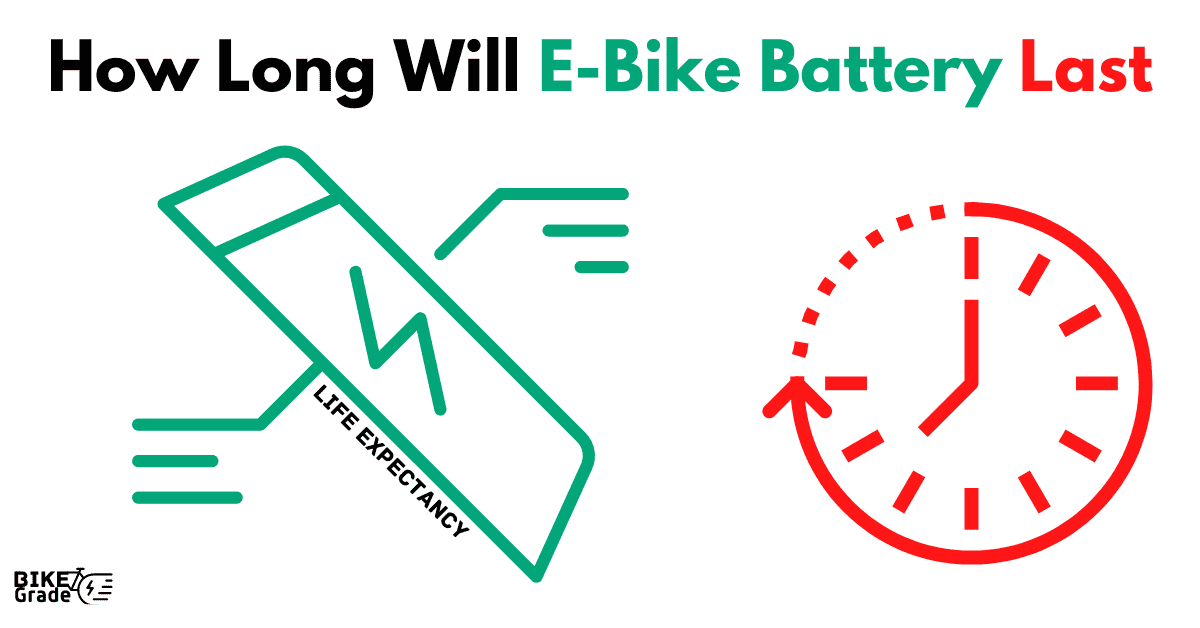 How Long Will E-bike Battery Last?
A standard ebike battery lasts 3-5 years depending on the manufacturer and type of the battery. Every ebike battery comes with a  charge cycle of around 300 to 1000 which is equivalent to 3-5 years.

http://bikegrade.com
The more charge cycle one battery has, the more life expectancy you will get. If you maintain and charge your battery with proper care, then you can longer the lifespan of the battery. 
Types of Electric Bike Batteries & Their Lifespan
As was previously said, the type of battery cells determines how long an e-bike battery lasts. Lead acid batteries, nickel batteries, and lithium-ion batteries are the three most common and diverse classes of batteries on the market.
E-bikers prefer lithium-ion batteries over other types. It lives longer than the other two do. Although nickel batteries self-discharge more quickly than lithium-ion batteries, they provide equivalent power. The earliest and least durable of these three batteries is lead acid.
| | |
| --- | --- |
| Battery Type | Common Lifespan |
| Lithium-Ion | 1000 charge cycles |
| Nickel | 500 charge cycles |
| Lead acid | 300 charge cycles |
Types of Electric Bike Batteries & Their Lifespan
Why Charge Cycles Are Important for E-bikes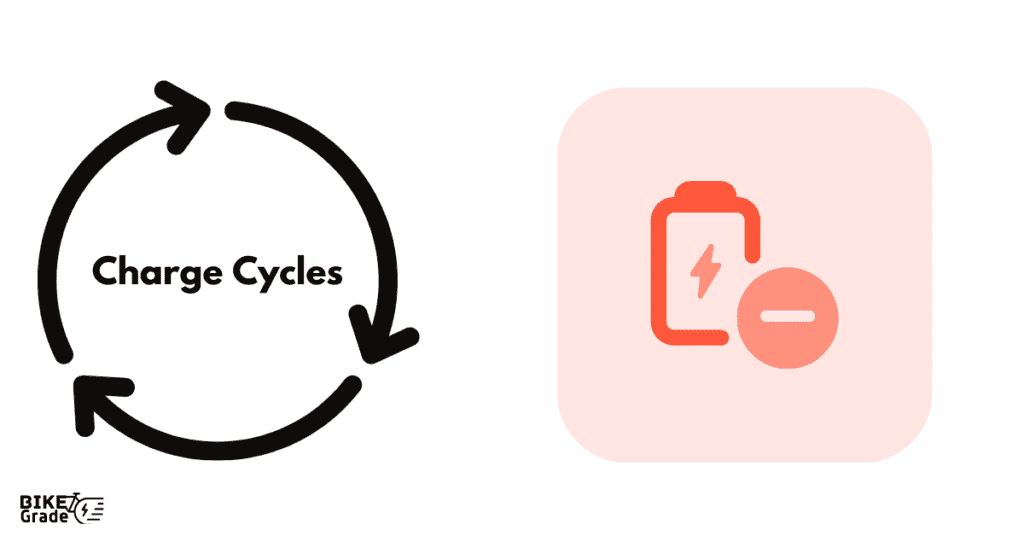 Most people measure an e-bike battery's lifespan in years, but the most accurate metric is charge cycles. Charge cycles mean the number of times an e-bike battery can be fully drained and recharged—before it begins to deteriorate.
Charge cycles are important for e-bikes as battery life depends on this. The e-bike battery slowly loses its efficiency and effectiveness through charge cycles.
What if a Battery Reaches Its Maximum Number of Charge Cycles?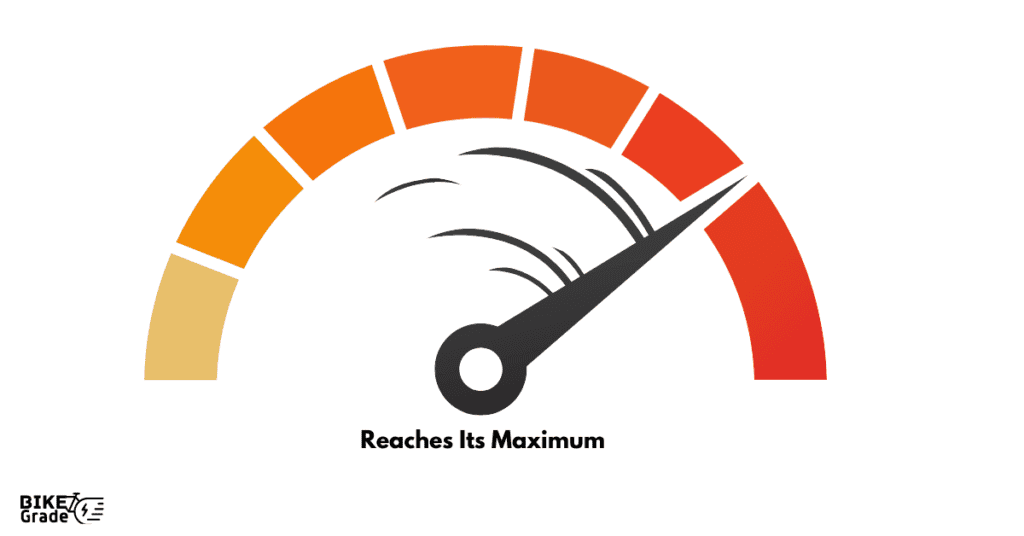 The maximum charge cycle is the manufacturer's theoretical prediction of the battery's maximum number of charges before it loses efficacy.
The performance will eventually decline if your battery reaches its maximum number of charge cycles. Voltage fluctuations and a lack of power are indications that your battery's life is ending.
You must decide whether you keep your e-bike battery as it satisfies your needs, or you should get a replacement when the performance deteriorates, or if you need to charge it frequently.
When Should I Replace My Electric Bike's Battery?
Your battery's life will gradually be coming to an end if you've owned it for three years or longer and notice a lack of power and voltage fluctuations that indicate it's time to replace the battery in your e-bike.
The need for more frequent recharges also indicates that your battery is nearing the end of its useful life. If you're charging it more frequently, it has started to deteriorate, and it's time to replace it.
How to Increase the Lifespan of Your E-bike Battery?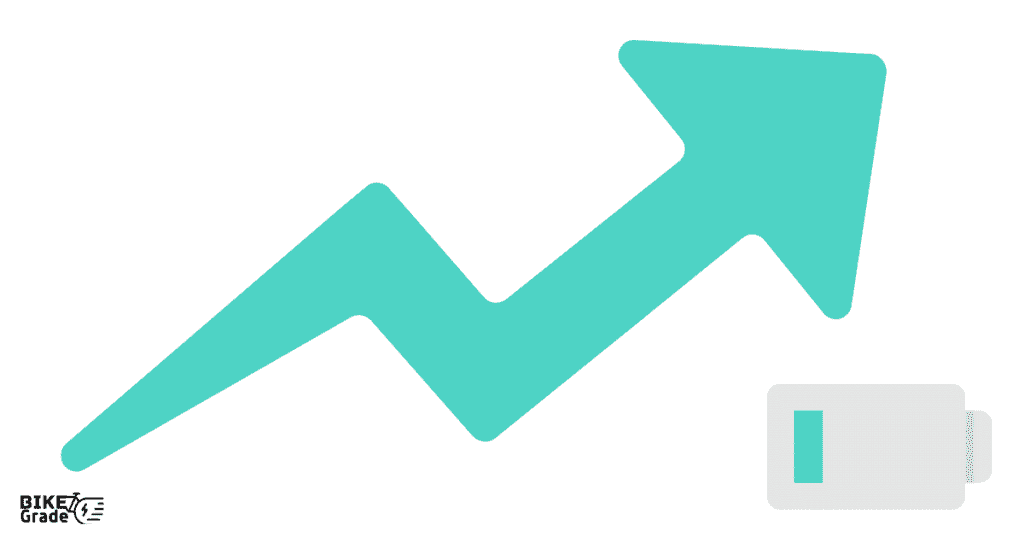 You can take certain actions to increase the lifespan of your electric bicycle's battery, regardless of whether you just purchased one or attempting to maximize the number of charge cycles you have left. Here are some life saving tips to increase the lifespan of your e-bike battery:
Use The Original Charger
:
Make sure that you use the
original charger
and adapter with your e-bike. This will ensure that there will be no short circuits and protect your battery from overcharging.
Never Overcharge
Don't leave your battery on the charger beyond its full charging time. It can create poor charging cycles and detriment to battery health. Make sure you unplug the charger at 100%.
Follow the Manual
Follow the charging manual that comes with your e-bike. It's important as key points can prolong your battery life.
Store at Proper Place
Store your battery in a cool and dry place. A wet atmosphere or heat can hamper your battery quickly.
Store Partially Charged
If you need to store your e-bike for a long period, store your e-bike partially charged, i.e., 40%.
Keep It Cool
After charging your battery, take time before using it. Let your battery cool down.
Don't Fully Drain
Never let your e-bike battery drain down to 0%. Maintain your battery's optimum level, which may be 20%-100%.
Charge your battery
when it's half charged.
Clean Properly
Use a dry towel to clean your battery. Don't use water as it can speed up corrosion. You also do not need to use a steam pressure washer to clean it.
Factors That Can Shorten the Lifespan of Your E-bike Battery
Several factors can shorten the lifespan of your e-bike battery. Here are some of those:
Using unauthentic chargers.
Draining 100% of your battery.
Using it directly after charging without cooling it.
Storing it at a high temperature.
Use water or wet towels while cleaning it.
Avoid these points unless you want to shorten the lifespan of your e-bike battery.
How Long Does an E-bike Battery Hold a Full Charge?
Depending on the power of the battery, the power of the bike, and your way of riding you can go somewhere between 25 to 50 miles of travel on a single charge. If you use only your e-bike motor while riding, expect less; if you're using pedal assist mode, you can go a long way.
Conclusion
How long will the e-bike battery last then? An electric bike's battery can have a lifespan of up to five years, as was already mentioned. The lifespan depends on the kind of battery you have and how you care for it.
Make sure to frequently check your battery's condition so that you can react quickly if a problem is discovered. And try to implement the advice provided in this article to increase your e-bike battery life.
FAQ
How Often Do You Need to Replace an E-bike Battery?
You need to replace your battery every 3 to 5 years once power begins to fade.
Can You Ride an E-bike With a Dead Battery / Without Battery?
Yes, you can ride an e-bike with a dead battery/without a battery. Your e-bike will operate like a standard bicycle when the battery is unavailable.
How Many Miles Do You Get From a Fully Charged E-bike Battery?
Depending on the riding mode, your weight, battery power, road type, you will get 25-50 miles from a fully charged e-bike battery.
Should You Charge Your Electric Bike Battery Often?
To maintain the good health of your battery, you should charge your battery when it's between 30%-60%.