Are Ebike Batteries Waterproof? [Know Before You Ride]
Battery is the most expensive and sensitive part of an e-bike. And when it comes to riding your e-bike in the rainy season, you must wonder if it's cool to ride during rain or if it's harmful to the battery? If you can't ride an e-bike on a rainy day, what's the point of spending a hell of money on an e-bike? Today I will answer all these questions and take you out of the confusion.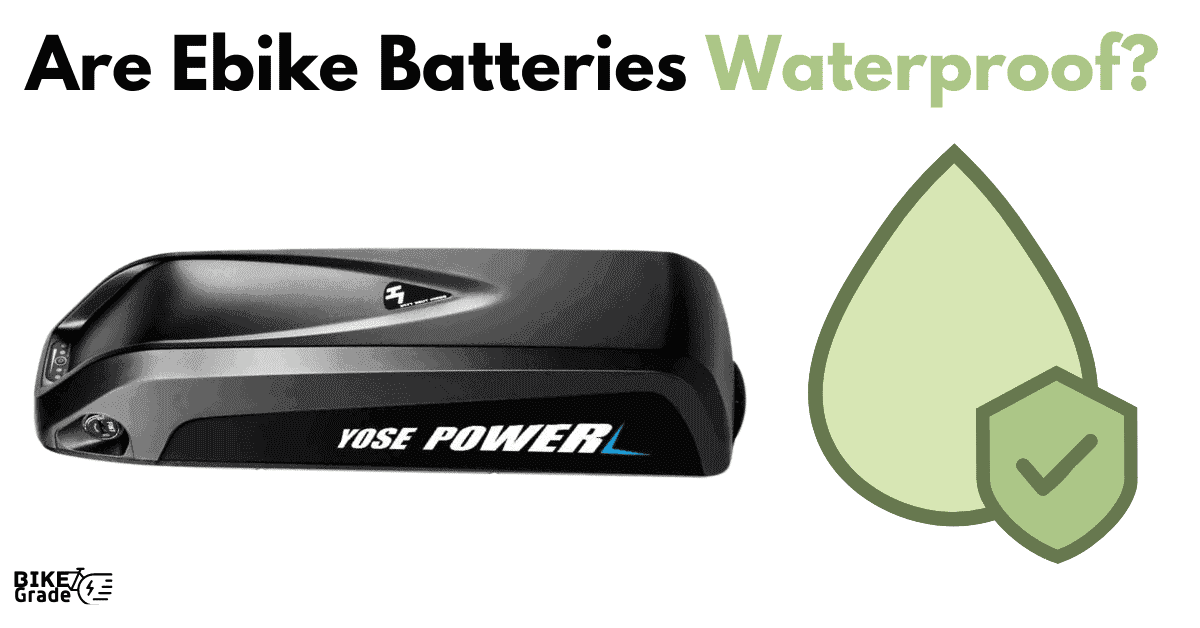 Are ebike batteries waterproof?
E-bike batteries aren't waterproof but they are water-resistant.
Now you have to acknowledge the difference between waterproof and water-resistant to understand it clearly. Waterproof means the product is completely safe from any level of water. On the other hand, water resistance means the product is safe from a certain amount of water. And when that amount is reached, the product will no longer be safe and can get damaged!
How Can I Know If My Electric Bike Can Get Wet?
Every e-bike comes with an IP rating or Ingression protection rating. This rating determines how water and dust resistant your ebike is. It contains two numbers where the first number determines the dust level and the second one determines the water level.
Usually e-bikes come with IP60 to IP 68. IP 60 has no water-resistance ability whereas IP68 shows the highest level of resistance. Let's see the chart below that defines all the IP ratings for both dust and water.
| | | | |
| --- | --- | --- | --- |
| | First Number (Dust resistance) | | Second Number (Water resistance) |
| 0 | No protection | 0 | No protection |
| 1 | Denies entry of 50.0 mm object | 1 | Safe vertical water drops |
| 2 | Denies entry of 12.5 mm object | 2 | Safe against 15° tilt water |
| 3 | Denies entry of mm object | 3 | Spraying water at a 60-degree angle |
| 4 | Denies entry of 1.0 mm object | 4 | Splashing water |
| 5 | Dust-protected | 5 | Jetting water |
| 6 | 100% Dust-tight | 6 | Powerful jetting water |
|   |   | 7 | Temporary immersion for 30 minutes at 1-meter depth |
|   |   | 8 | Continuous immersion greater than 1 meter |
E-bike IP ratings for dust and water
Is it safe to ride an electric bike in the rain?
Safety of riding an electric bike in the rain depends on two things- level of the rain and IP rating of your ebike. If the rain isn't too hard and your ebike's IP rating is between 64 to 66 then it is safe to ride.
If the water dripping level is higher than you need an ebike with a higher level of IP rating between 66 to 68. So before riding your precious ebike in the rain, calculate the dripping level with your bike's IP rating.
Tips to Ride Electric Bicycles in the Rain
We sometimes really need to go to places in the rain. Therefore, there is always a bit of risk involved in such situations. To minimize them you should follow below tips.
Use Bike Fenders or mudguard
Cover Your Battery and Display
Cover Your Battery and Display
Use Headlight and Taillight
Carry the bike where needed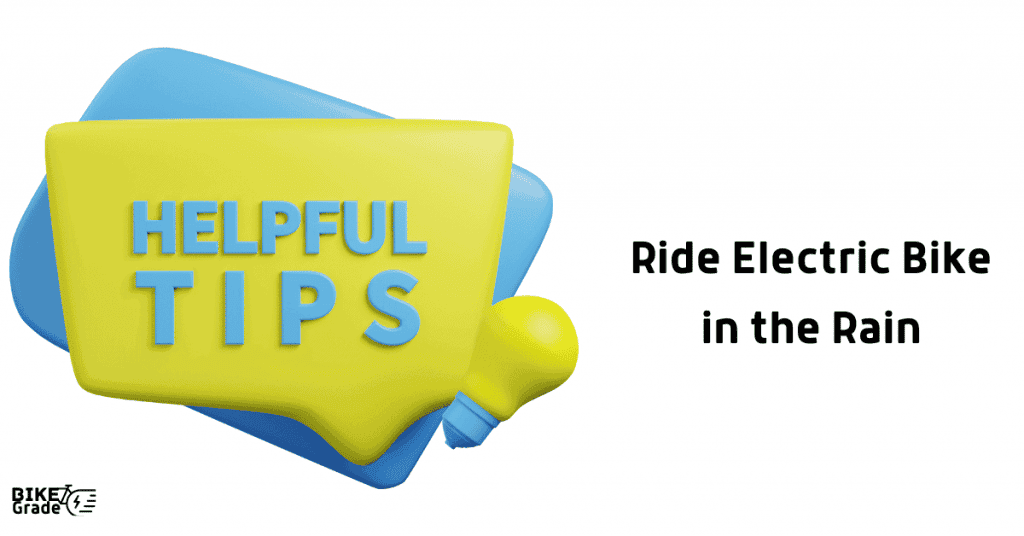 Use Bike Fenders or mudguard
Fenders give better protection than the mudguard. If you can install fenders then it would save you from water splash and muds from tyres.If you can't have a fender in your e-bike then at least install mudguards to get the protection.
Cover Your Battery and Display
As you already know, ebike batteries aren't 100% waterproof. Therefore you need to wrap them with waterproof covers. You can easily find one at your nearest shop or online. Also don't forget to cover the display. 
Weatherproof Clothings
If you don't want to catch a cold, you must wear weatherproof clothing. It will keep you safe from the cold. 
Protect your belongings
Do you need to bring something with you? Then, like yourself, you should also protect your belongings from water. Hence, you need to carry a waterproof bag with you. 
Lower the Tire Pressure
It's wise to put off some air pressure from your tires in the rain. It will help you to ride safely on the slippery roads.
Use Headlight and Taillight
In the heavy rain, vehicles don't get longer vision. To keep yourself out of collision with other sorts of vehicle, it's necessary to power up the headlight and taillight.
Ride slowly
That's the most important thing you should always keep in your mind while riding your e-bike in the rain. Never ride too fast! Riding at a high speed in the rain could engage you in accidents.
Brake Early
On rainy days, the roads get slippery. Hence, you should brake slowly and early to make sure your tires don't slip. 
Carry the bike where needed
Ow! Don't get intimidated! You surely don't need to carry your bike except if there is a flooded road where water could submerge the motor and battery. If that's the case, you shouldn't take the risk of riding through.
What should I do after I ride in the rain
First thing first, change your wet clothes. Then inspect the bike for any issues. Then follow these tips.
Detach the battery: Detach the battery and dry it with a cotton towel. 
Clean the bike: After riding in the rain, there would be mud all over your bike. Clean it using water.
Dry the motor: There is a high chance of spilling some water into the motor. Clean it up using a hair dryer. 
Dry the ebike: Now dry the rest of the bike parts using a cotton towel. Put some extra effort into the chain. You need to perfectly wipe the water otherwise it might get rusty. 
What about washing an electric bike?
Washing an electric bike isn't similar to washing a regular bike. You can easily wash a regular bike with a pressure washer. But you can't do this to an ebike. It needs extra care start to finish. 
It is wise to detach the battery before washing. You can wipe down the battery with a rag. Besides, you need to dry the whole ebike after washing it. 
How to waterproof ebike battery
Like I said, electric bike's batteries aren't waterproof but water-resistance. Yet, is there any other way to make them 100% waterproof? Well, I won't guarantee you the 100% waterproofing but I can give you a tip that will add an extra layer of protection to the battery.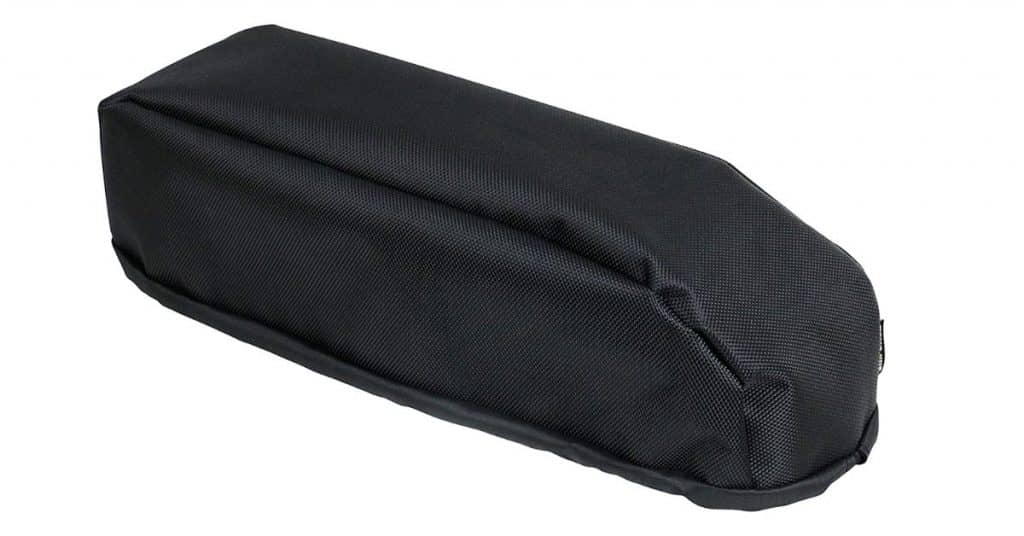 You may buy a waterproof cover for your ebike battery such as Yasco Ebike Battery Protective Cover. There are different designs, colors and shapes available on Amazon. Buy one that fits your battery. 
FAQ
How can I tell if my ebike battery is waterproof?
No e-bike batteries are waterproof but water-resistance. You can understand the water resistance level by checking the IP rating. An ebike with 68 IP rating has the highest level of water-resistance capacity.
How much does it cost to have an ebike battery tested for water resistance?
There is no such recognized test. You can only check the Ingression protection (IP) rating to determine the resistance level.
What if I leave my electric bike out in the rain?
Leaving an electric bike in the rain is very risky. It can damage your electric bike battery.
Are there any safety concerns with ebike batteries that are not waterproof?
Yes, ebike batteries with lesser water resistance levels may get damaged if
ride in the rain.
Are Electric Bikes Safe in the Rain?
An ebike with 67-68 IP rating is safe to ride in the rain.
Conclusion 
Ebike batteries aren't completely waterproof. Yet they have different water resistance levels depending on the brands. If you plan to ride your e-bike on rainy days, make sure you buy one with the highest resistance level. And don't forget to follow my tips for riding on rainy days.