Can You Take An E-bike Battery On A Plane? Yes!
Yes, you can take an e-bike battery on planes as long as the battery capacity is lower than 100 watts. The batteries generally used on E-bikes are lithium-ion with more than 240-watt capacity, so your typical low-capacity battery won't be allowed in planes, you need to go for an even lower capacity.
If you have a 24-volt, 36 Volt, or 48 volts and 10 Ah or 12ah battery on your e-bike, these might be considered low to mid-capacity among riders while on the roads. However, on an airplane, you may need to take permission before even taking an 11-volt 10 Ah lithium-ion battery.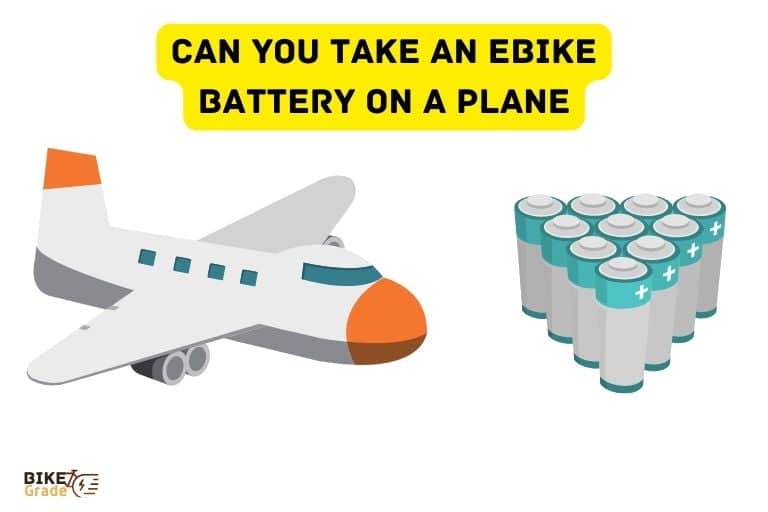 You can easily take 2 separate 100-watt capacity batteries on the plane, it won't be an issue but if you are thinking about carrying 5 to 7 pieces then the paperwork and permission will be a hurdle for you. Carrying a large amount of battery will make you look suspicious of unauthorized selling. 
Also, make sure to put the e-bike battery in a carry-on bag. Putting the batteries inside checked-in bags and not informing the authority might get you in trouble. 
There is also confusion among most riders that you could take a higher capacity battery than 100 watts with the right paperwork but it's not true. Only medical devices are allowed to carry 160-watt batteries with them so please don't argue with the authorities. They are doing all these to prioritize your safety while flying their airplane. 
What Size Lithium Battery Can I Take On A Plane?
The rules and restrictions on carrying lithium batteries on planes might not be well known to many. The voltage, amp, and capacity of batteries are important factors that may give you access to travel in planes.
So here is a chart on what size lithium battery you can take on planes. Hope you will find it useful. 
Battery voltage 
Battery amperage 
Battery capacity 
5 volt 
10 amp
50 watt
15 amp
75 watt
20 amp
100 watt
8 volt 
10 amp
80 watt
12 amp
96 watt
10 volt 
10 amp
100 watt
size lithium battery you can take on planes
What Batteries Are Not Allowed On Airplanes?
Mostly lithium Metal and ion batteries with high capacity won't be allowed on airplanes. Lithium-ion and metal batteries are energy dense and highly efficient for e-bikes and other devices but it's not that much of a good thing while traveling by plane.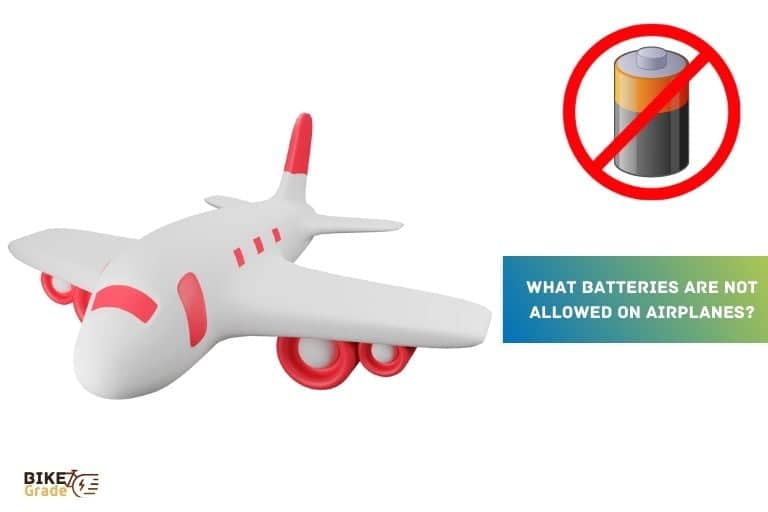 The risk of catching on fire and creating an uncontrollable situation. A fire extinguisher or any normal method for fire control being totally ineffective against lithium-ion batteries makes it kept on the highly sensitive list. 
Watch Video: Can You Fly With An E-Bike Battery In A Carry On?
How To Calculate The Battery Size?
The battery size for an e-bike battery refers to the overall capacity of the battery. It's quite simple to calculate, you would just need the voltage and amperage data. 
Voltage multiplied by amperage value will give you the capacity or size of the battery. 
For example, a 24-volt and 10-ah battery will have a 240-watt capacity or it's a 240 (watt) size battery. The voltage value might stay the same but changes in amperage value might increase the capacity of the battery. Usually, you may find 10ah,13ah,15ah,17ah, and 20ah batteries on the market.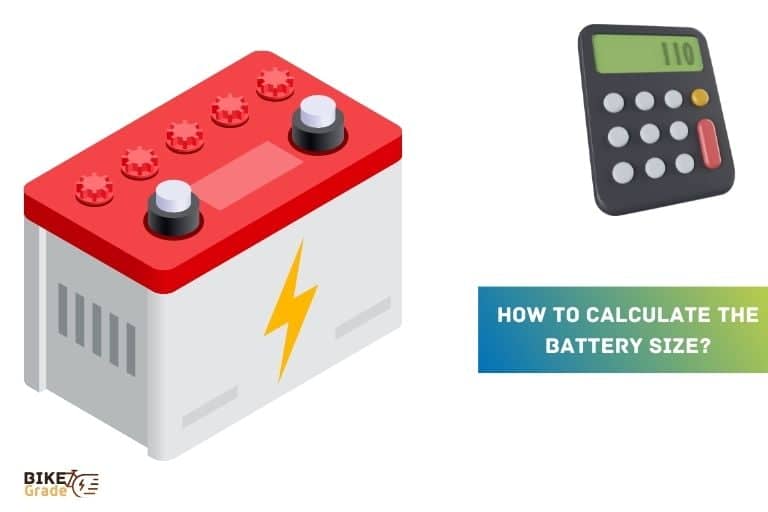 If you only memorize the battery voltage, like 8 volts is low and allowed on planes but bring a 20 Ah battery, you are sure to be stopped. Both amperage and voltage values are necessary for determining the capacity or size of the battery. 
Why Are Lithium Batteries A Problem On Aircraft?
Lithium-ion and lithium-metal batteries are quite unpredictable. Being energy dense may be a good thing for performance but it will be hard to handle if it catches on fire.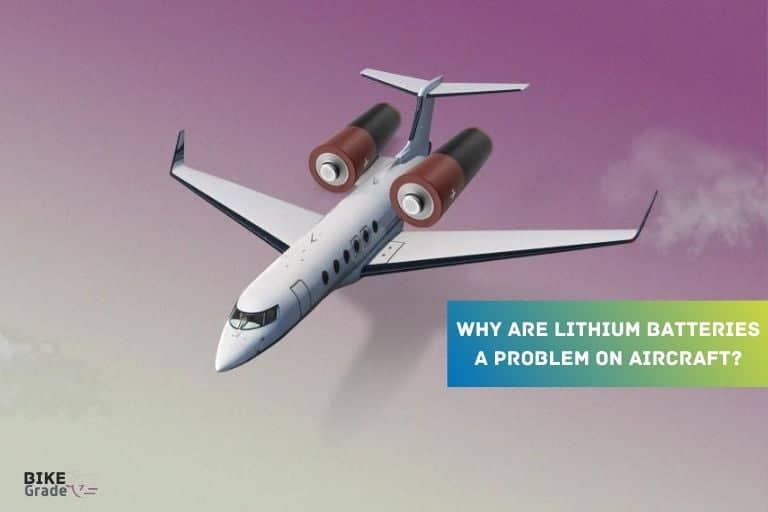 When you are hundreds of miles up in the sky, you really won't have any control over if a fire broke out in the plane. Due to turbulence, misplacement, or any other reason, if your lithium battery gets damaged and catches on fire then a normal CO2 extinguisher won't be enough.
 A damaged high-capacity battery will be more difficult to handle than any low-capacity one. So only batteries below 100-watt capacity are allowed on airplanes, for carrying multiple batteries you may need the permission of the airport authorities. 
Alternatives To Flying With Batteries
If taking 100-watt batteries for e-bikes won't be enough for you then here are some alternatives.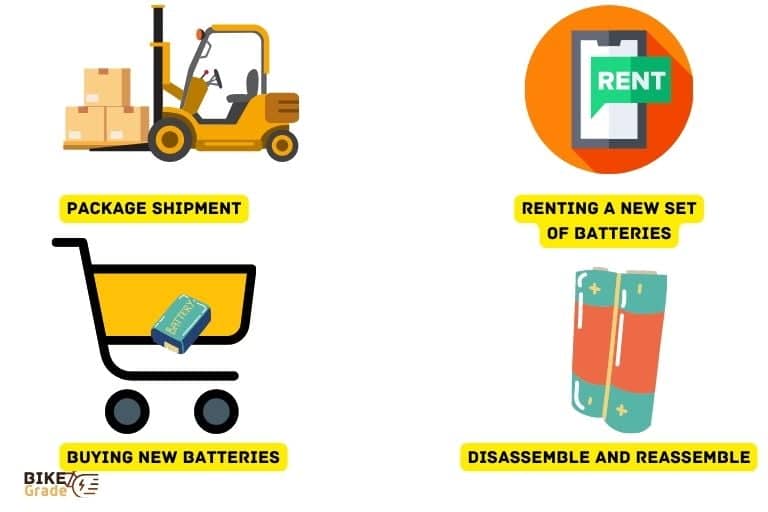 Package shipment: if you already know where you would be staying then sending the battery beforehand to the address is the best thing to do. Make sure to fill out all the documentation and let shipment authorities know that these are lithium-ion batteries. 
Renting a new set of batteries: after getting off the plane, searching for shops and riders that give their batteries for rent would be great. You could find any suitable fit and enjoy riding your e-bike.
Buying new batteries: after reaching your destination, buying new batteries for the e-bike or getting an already used battery at a lower price might be an ideal option. You could always resale the battery and get at least 75 to 80% of your money back. 
Disassemble and reassemble: it's a little bit dangerous but disassembling the battery and dividing it into a smaller size cell not higher than 100 watts and carrying them on planes is also a viable option. However, you would need sufficient knowledge about properly reassembling them which is quite difficult. 
What Do Airlines Say About E-bikes?
Most airlines allow e-bike on planes if the battery is removed but there are some rare cases where they didn't let the e-bike on board.  Most e-bikes nowadays have internal batteries for better aesthetic and theft protection.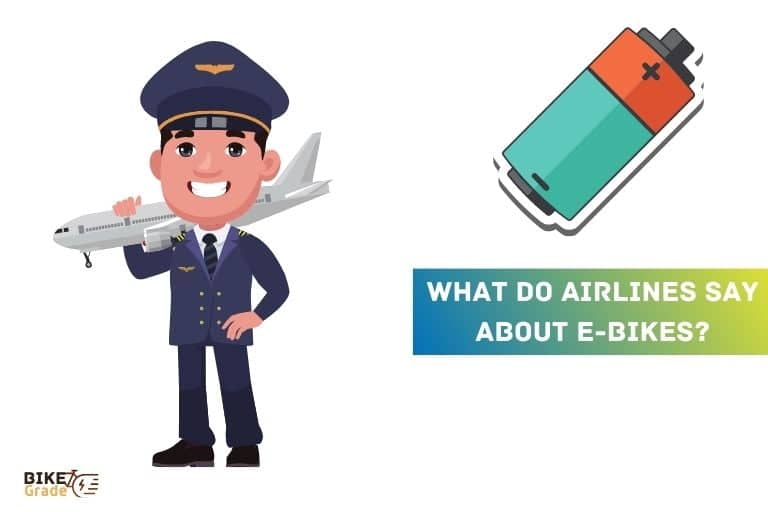 Airlines authorities aren't experts on e-bikes, if they get confused with your bike design or they find your behavior problematic then you might not be able to take your e-bike no matter what you do. 
What Are The Rules For Shipping Your E-bike By Air?
Airlines have a positive outlook and there aren't any restrictions on shipping your E-bike. Make sure to remove the battery and box it separately for shipping.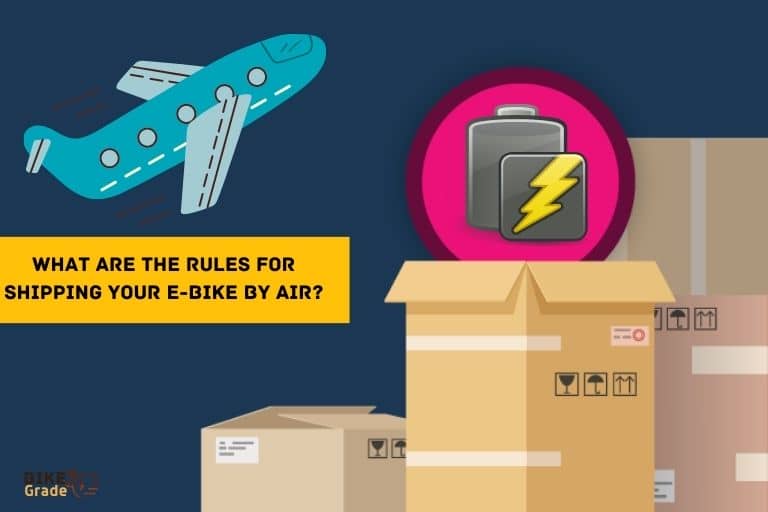 You may need to go through a long documentation process, getting permission from multiple authorities. But it's getting better and shorter at present. 
What Happens If You Have A Lithium Battery In Checked Luggage?
If the lithium battery is inside any electrical gadget like a smartphone or laptop then you don't need to worry but for an e-bike battery, it's prohibited.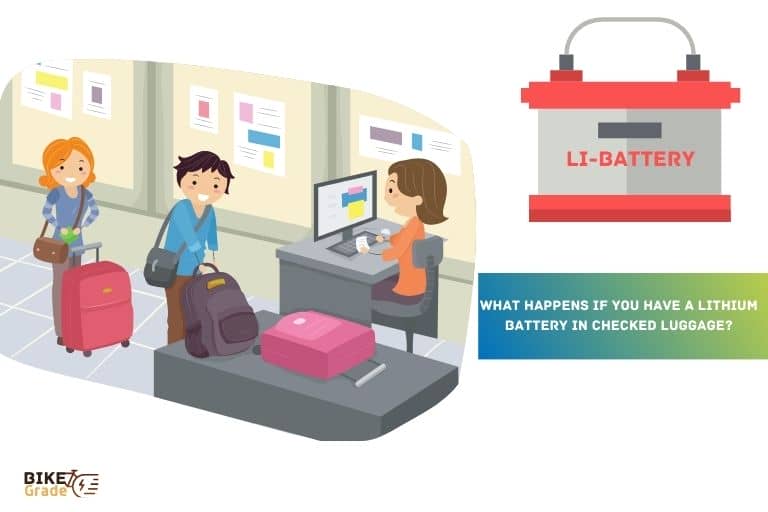 You must put your e-bike battery on carry-on bags and you should inform the airport authority about it. Federal aviation administration allows 100-watt capacity batteries and they should be properly packed up & shouldn't have any visible damage. 
FAQ
Can I Take An E-bike On A Plane?
Yes, if you are thinking about just taking the e-bike without the battery on a plane, you won't be facing any trouble. But you may have to buy a new battery when you get off the plane.
How Can You Tell If A Battery Is Lithium?
You can look for the battery code, it will start with 'CR' for lithium batteries. As lithium-ion batteries have a little bit of restrictions on planes, most manufacturers put stickers and engraved the lithium-ion mark on the battery.
Conclusion 
For safety reasons, airport authorities and airlines set some rules regarding carrying e-bike batteries. Any lithium battery should not have a capacity higher than 100 watts and should be removed & packed properly in carry-on bags. It's gonna be a long hustle for you if you are thinking about shipping your E-bike in the airplane. It's better to look for rental e-bike services after you reach your destination.