How Much Do Ebike Batteries Weigh: With Chart
Depending on the types and capacity ebike batteries weigh from 5 pounds to 40 pounds or more. A typical lithium-ion ebike battery might weigh as little as 5 pounds and as much as 20 pounds. On the other hand, the lead-acid ebike batteries are twice the size and possess greater weight starting from 30 lbs.
The weight of an ebike battery is not determined at random; the voltage, amperage capacity, anode and cathode, and other metal components will be the determining factors of the weight.
In simpler words, greater voltage larger capacity batteries are heavier, whereas low voltage low capacity batteries are lighter.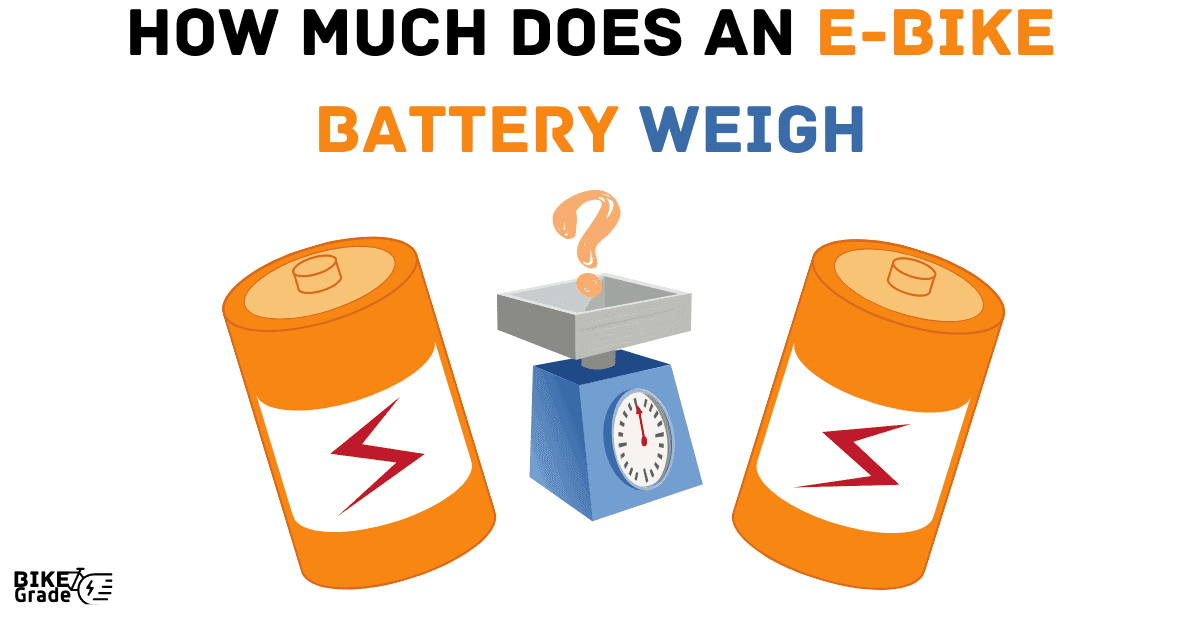 Most riders like a bike that is light and easy to handle. Since you can not reduce the weight of the e-bike's frame, as well as the weight of the motor and other critical components, the only reasonable way to make your bike lighter is to adjust the weight of the battery.
Whether it's a frame-integrated internal battery or a simple detachable external battery, understanding the weight of the ebike battery and, if possible, replacing it with a lighter battery can help your ebike be lighter.
Different Bike Weight Chart 
Here is a side by side comparison on the best lightweight eBikes. Hope it will help you find your ideal bike. 
| | | | |
| --- | --- | --- | --- |
| Bike (Brand name) | Bike weight  | Battery weight  | Capacity |
| ROADSTER V2 | 33lbs | 7.2 lbs  | 36v/7ah |
| CORE-5 | 49 lbs | 8 lbs  | 48v/12ah |
| ANCHEER 350w Electric Bike | 55 lbs | 7.5 lbs | 48v/10ah |
| TheRadExpand 5 Electric Folding Bike | 62.5 lbs | 10 lbs  | 48v/15ah |
| RadRunner Plus | 74.3 lbs | 10 lbs  | 48v/15ah |
Different Bike Weight Chart 
Types Of Ebike Batteries And Their Weight
There are several types of batteries for ebikes and each of them has different weight values.
We can certainly talk about the weight of internal or external detachable batteries or fixed batteries. But it would be easier to understand if we include the type of batteries according to their chemical and material components. 
Lithium-ion batteries:
Decent quality detachable both internal and external lithium-ion batteries weigh around 8 lbs to 17lbs.
Lead acid batteries:
Lead acid batteries are cheaper but heavier than lithium-ion batteries. You will usually find lead acid batteries weight starting from 30 lbs to 40lbs.
What Factors Affect The Weight Of An Ebike Battery?
Battery Voltage and Capacity: 
 The ebike battery is a combination of cells parallelly connected with each other. The higher number of cells means greater amperage capacity and voltage flow. The cells have a metal body along with a metal anode and cathode, so the self-weight is certainly gonna be noticeable. 
Material components:
Graphite, nickel, copper, lead or lithium ion, metal oxide, and zinc, all of these building components of the battery, and most of them being metal made it kinda obvious about being the main factors behind the heavyweight. 
Do Electric Bikes Have A Weight Limit?
Yes, there is a weight limit for electric bikes. It's usually around 200 lbs to 300 lbs for casual use bikes and 450 lbs to 550 lbs for cargo/ weight carrying bikes.
Keep in mind the weight limit is the ability of the bike to withstand a certain amount of weight. So, the weight limit of 200 means, your 50 lbs or 60 lbs weight ebike will be able to effortlessly carry around 200 lbs without compromising on the performance.
Does The Weight Of Your Ebike Matter?
The weight of the bike matters quite a bit. A heavy-weight ebike might be reliable and comfortable to use but storing it or carrying it is gonna be quite troublesome. You certainly won't be happy if you have to carry around 70 lbs to 80 lbs (weight including the battery) bike to your office or home. 
If you are a racer or looking for extra speed out of your ebike, having a heavy ebike is not gonna give you satisfactory performance. Yes, the motor can certainly provide sufficient power to reach a certain speed but the weight of the bike will be the biggest drawback when it comes to speed.
If you are a racer or a rider who wants to enjoy a decent speed out of your ebike, you can certainly go for a carbon fiber bike frame and rims, removing shock absorbers, and adding tubeless tires can also reduce a few pounds. Although, you may have to compromise on comfortability. 
Does The Weight Of An Electric Bike Battery Affect The Speed?
The weight of an electric bike battery can certainly affect the speed.
Let's look at a practical scenario, you have participated in a race, you have done everything to make your bike lighter, with tubeless tires, carbon fiber rims, frame, and even removing the shock absorber; you are satisfied with your bike weight. 
But when you are gonna add a 20 lbs battery on the bike, first of all, the weight distribution is gonna get messed up. The motor may provide enough torque for speed but the weight of the battery will make it hard for you to handle the ebike. 
Despite having a lightweight bike, your ebikes weight distribution, maneuverability, and eventually the speed are compromised; all blame goes to the battery. 
How Heavy Is A Lithium Battery?
A decent-grade lithium battery may weigh around 17lbs. You may also find an 8 lbs battery but the performance might not be upto the mark. 
The lithium battery containing lithium ion, graphite, nickel, and metal oxide in general may weigh relatively higher than the average battery.  However, to maintain ebike standards they are kept getting lighter. 
Why Are Ebike Batteries So Heavy?
Ebike batteries are heavy because of their building materials and setup layout. If you want greater capacity and voltage out of your battery you need to have a sufficient amount of cells attached to inside your battery.
 The cells have an anode and cathode structure which are made of metal, also presence of copper, graphite, Metal oxide, and other essential components. The weight of the external plastic cover of the battery is almost negligible, only the self-weight of those materials makes the battery heavier. 
It's a simple deal, if you want capacity out of your ebike battery you will have to compromise and carry the heavy weight. 
FAQ
How Much Does A Sur Ron Battery Weigh?
A sur Ron (lithium) battery may weigh 17 pounds or almost 8 kilograms.
How Much Does A Stock Sur Ron X Battery Weigh?
A stock sur Ron X battery will weigh 20 pounds ( 9 kilograms)
How Much Does A Lithium Battery Weigh?
You may find a lithium battery weighing between 8 lbs to 17lbs. The weight of a lithium battery varies a lot, the higher the capacity, the heavier it becomes.
How Much Does A 48v Battery Weigh?
Conclusion 
For a rider who prefers speed, having a lightweight ebike is a must. The best way to reduce your ebike overall weight is going for a lightweight battery.
The self-weight of the bike frame, and motor can not be altered but going for a carbon fiber frame may help. Tubeless tire, carbon fiber rims may also reduce a decent amount of weight.
Lead acid batteries might be cheaper but it's gonna be a heavy load to carry. For casual use, 8 lbs Lithium ion batteries will be the best bet.
Resources