Why Are E-bike Batteries So Expensive? Explanation
Battery is the prime ebike part that distincts it from a regular bike. And the batteries come with a hefty price tag and make the ebike pricier. There are a number of reasons these batteries are super expensive. Let's find out about them today.
Why Are E-bike Batteries So Expensive
The materials used to make e-bike batteries are the leading cause of e-bike batteries being so expensive. Lithium-ion batteries are the most widely used ebike battery around the world and it is made of super expensive cathode, an electrode found in each cell. Cathodes require pricey components like cobalt, lithium, and manganese to store more energy.
Besides, as supplies of raw materials fail to keep up with high demand, the price is also rising. There are other reasons behind the higher cost of e-bike batteries, let me discuss them all.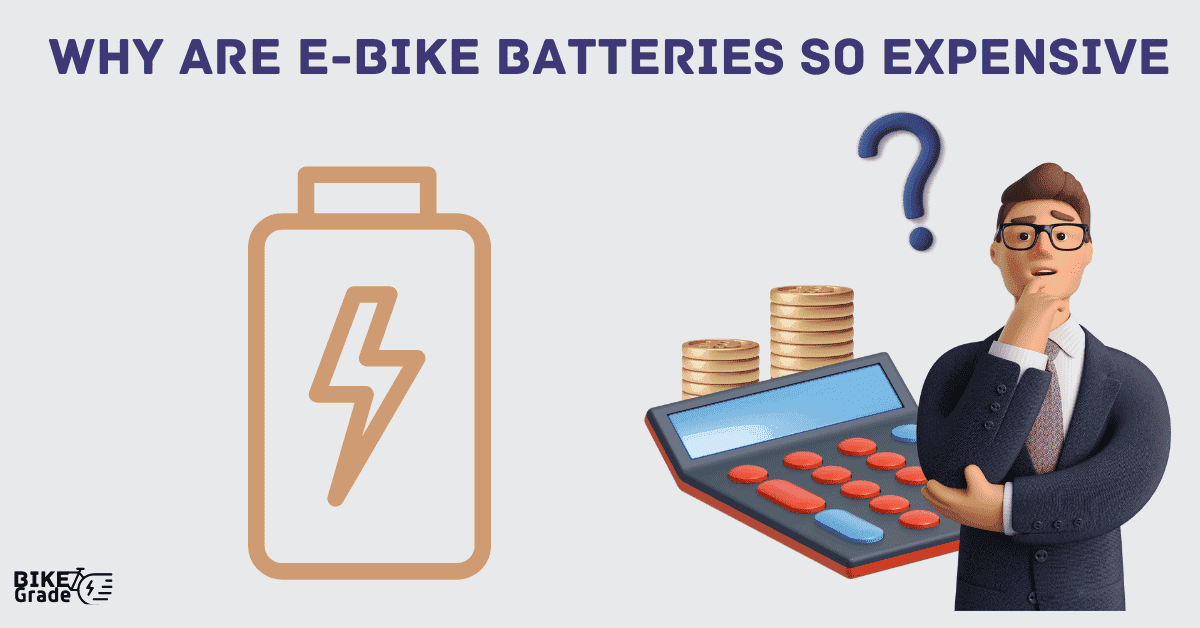 1. Quality of Materials
E-bike batteries are expensive mostly because of what goes inside them. Materials used in batteries have to be high quality to last long which makes them expensive.
2. Manufacturing Process
In the e-bike battery manufacturing process, the technology is reasonably high. Battery pack design and production involve a lot of engineering and technology.
Although significant advancements and costs are falling quickly, the manufacturing process still has to be improved and modified.
3. Long Lifespan
The updated e-bike batteries have a long lifespan that cuts the future cost. But to achieve this, manufacturers are using high-quality materials such as lithium-ion.
4. Small Niche Market
While e-bike sales are rapidly rising, they are still a niche industry. Because of this, manufacturers cannot make parts and components in large quantities, which significantly raises the price of e-bike batteries.
5. Other Things That Make Electric Bikes Expensive
If you break down e-bikes, you will find that the motor, frame, controller, and other components contribute to the hefty price tag. 
The frame has to support the motor, the battery and the rider's weight, but also it has to be light. To achieve this goal, the frame is made from high-quality material.
Due to the additional labour required, each bike's motor needs to be explicitly fitted, which raises the cost. These are typically constructed specifically for the bike, which can increase the cost of the bike overall.
Other components like the brake, controller and pedal assist system are also made from high-quality material, adding extra cost to the e-bike.
How Much Does an E-bike Battery Cost?
The price of a high-end e-bike battery varies from $500 to $800 depending on the brand, quality, capacity, and other considerations. Here's a price chart for different e-bike batteries:
How Much Does an E-bike Battery Cost?
Is There Any Way to Save Money on an E-bike Battery?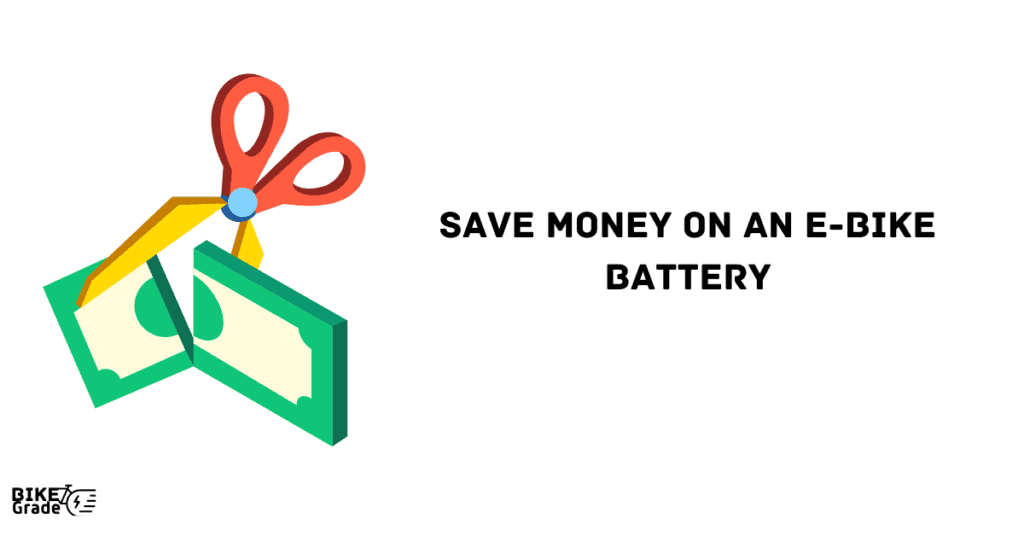 E-bikes batteries aren't only quite expensive to buy but also expensive to maintain. But if you follow my pro tips, you can save a good amount of money
Build your own DIY battery
You can save some money if you build a DIY battery. Building a DIY e-bike battery will benefit you by saving money and getting a custom battery that fits your requirements. But you must have extensive knowledge and expertise in e-bike batteries to build it successfully.
Take good care
If you already have bought an e-bike battery, you better take care of it as the longer it runs, the longer you need not buy a new one. Typically e-bike batteries have a lifespan of 3-5 years. To get full of it, you should take care of your battery. 
Taking Care of Your E-bike Battery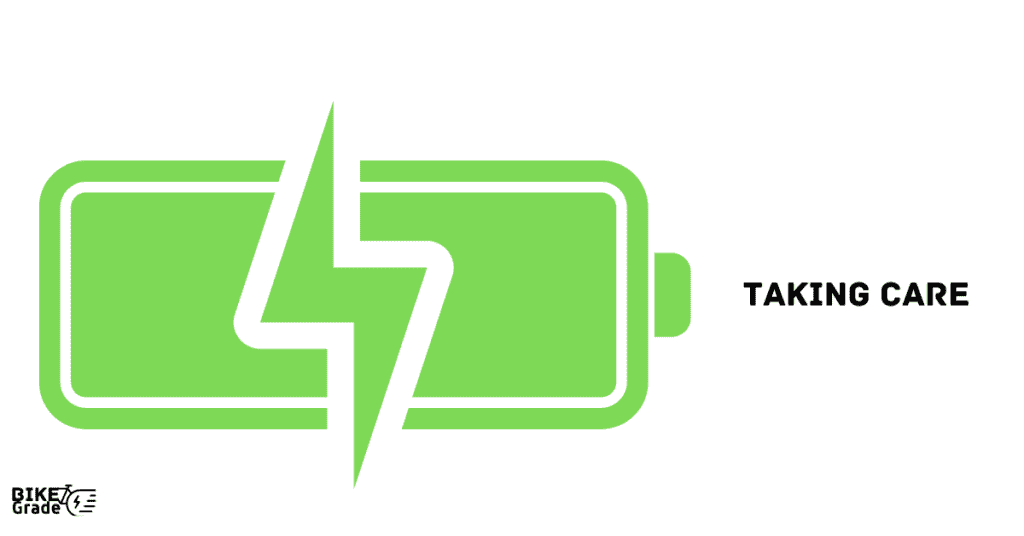 The more you take care of your e-bike battery, the longer it will last. Here are some tips for you.
Keep your e-bike battery in a dry and cold area.
Before charging your e-bike battery, allow it to cool.
Use only original chargers and adapters.
Don't subject it to very high temperatures.
Never wholly discharge or overcharge a battery.
Whenever cleaning, never immerse it in water.
Can You Have an Old Battery "Repacked"?
You can have an old battery repacked if your e-bike feels sluggish and the range has dropped to the point where it no longer meets your needs. Repacking old battery packs is a great technique to restore them to like-new condition.
To do this, the pack must be disassembled, its internal cells must all be removed, and new cells must be installed in their place. Only connect matching cells during repacking. Never combine cells with varying chemistry, ages, or capacities.
Can You Ride an E-bike Without the Battery?
You can ride your e-bike without the battery by pedalling like traditional bicycles. But it'll require a lot of work. An eBike's frame, wheels, and spokes should be sturdier to withstand the additional weight of the motor and battery. Without power support, the bike will be sluggish because of the weight.
How Costly is E-bike Battery Charging?
An electric bike typically costs 5 to 12 cents to charge. Your battery's voltage, capacity, and regional power tariffs all have a role in this price. Higher voltage and capacity batteries will cost more to charge.
Conclusion
The more expensive e-bike batteries are often well-reviewed and composed of high-quality materials. However, there are a lot of wonderful mid-range e-bike batteries available. The most important thing to keep in mind is to see the Voltage, Ampere hour, and charging cycles.
FAQ
How Often Do E-bike Batteries Need to Be Replaced?
You need to replace your e-bike battery if you've owned it for three years or longer and notice a lack of power and voltage fluctuations.
Which Battery Is Better for E-bike?
Lithium-ion battery is the better battery for an ebike for its high energy density, compact size, higher efficiency, and longer life span.
How Long Does a 1000W E-bike Battery Last?
A 1000W battery last for 3 to 5 years and can go up to 60 miles.
Should I Charge My E-bike Battery After Every Ride?
There's no such rule. You can charge your e-bike when its charging level is between 30%-60%.
How Much Is a New Battery for an Electric Bike?
A new battery for an e-bike can cost anywhere between $300-$750.
Are There Any Disadvantages to Using Lithium Batteries in an Electric Bike?
Yes. Lithium batteries are delicate and need a protection circuit to continue operating safely.