How To Replace Ebike Battery [ A Full Guide and Tips]
If you own an ebike, you will almost certainly need to replace the battery at some point. It's not rocket science that you would need someone's help, but if you lack experience and want to understand when to replace the battery as well as learn a few tips and tricks, then it's highly recommended to keep on reading.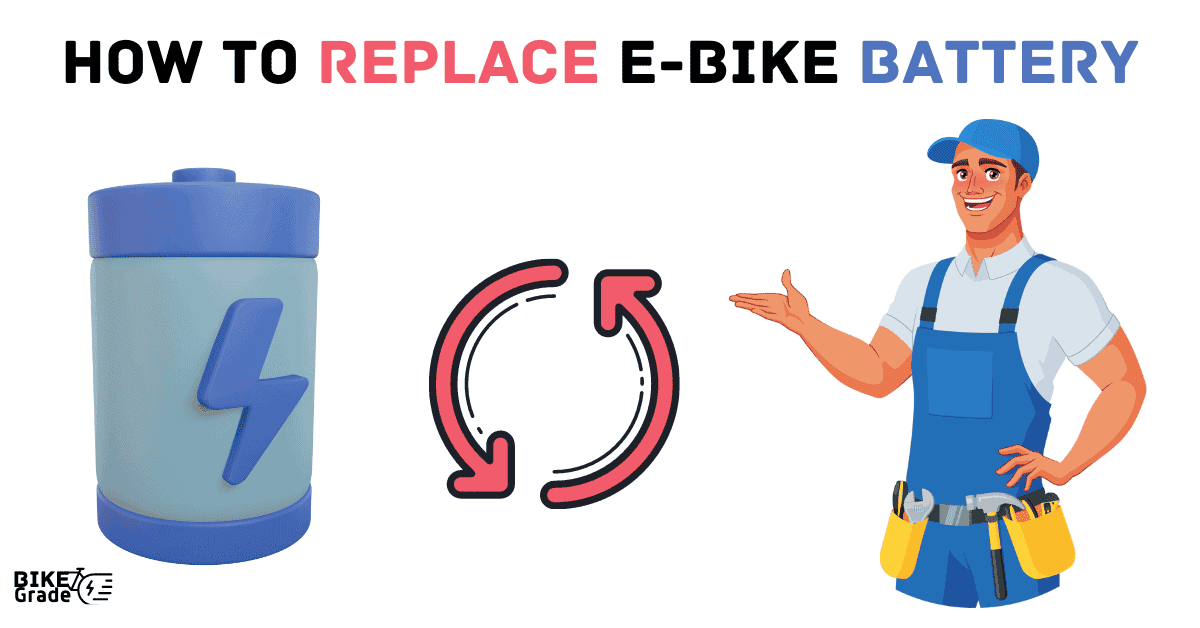 Can You Replace Ebike Battery?
An ebike battery can absolutely be replaced. Depending on your needs, you can rebuild, repair, or replace the battery.
If the battery is old and worn out, or if it has been hit and puffed up, you must replace it. However, if the problem is hidden, seeking technical help and repairing the battery may save you a decent amount of money. 
How To Replace Ebike Battery
If you are certain that replacing the battery will solve the issues then here is a step-by-step guide for your convenience. There are different processes for removable and non-removable batteries. First determine which type of battery you have then pick the right process. 
How To Replace A Detachable Battery?
Nowadays, the majority of riders prefer detachable ebike batteries. Detachable batteries, whether internal or external, are easy and effortless to replace.
Step 1: Unlock and remove the battery
Most ebike batteries provide a lock system to keep the battery secure. If your ebike has an internal detachable battery, simply insert the keys and unlock the battery pack. While removing the battery, keep your hands below or aligned with the battery to prevent it from falling.
Step 2: Don't forget to double check
It's now time to perform a thorough visual inspection. Examine the battery compartment with a flashlight to see if there is any rust or moisture. Check that the connector is not damaged and in good condition.
It is also advised to take the old battery and seek technical assistance. If it was recyclable or repairable.
Step 3: Insert the new battery
The final step is to place the new battery into the compartment. Place it carefully, making sure it's well aligned and linked to the connector. Once you've locked the battery compartment, you're ready to go.
How To Replace Frame-Integrated Battery
Although frame integrated fixed batteries are lighter, faster, and better suited to the system, the main disadvantage is that they are a challenge to remove.
Step 1: Find the right tool for the job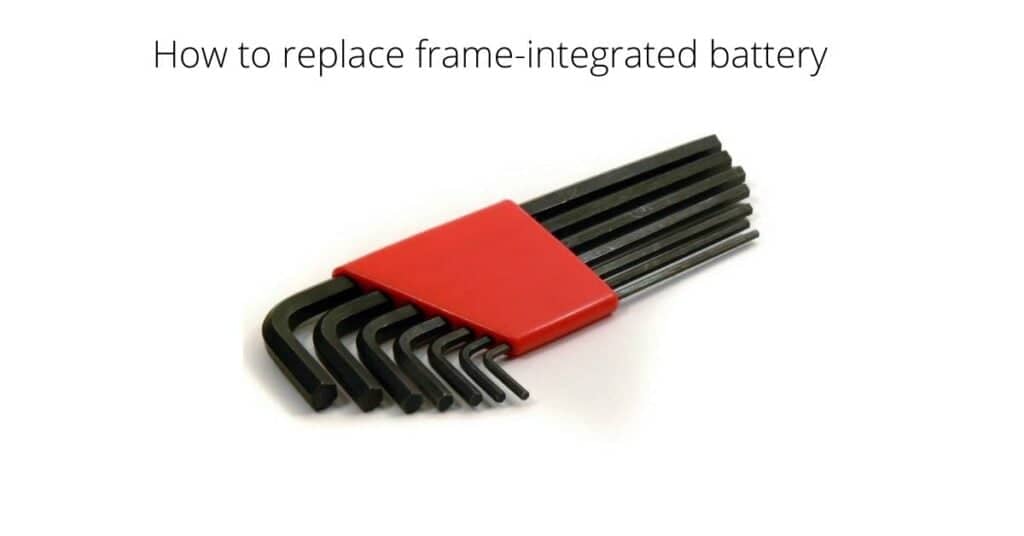 The wiring and connectors layout of a frame integrated ebike battery is pretty complex. It is strongly advised to seek professional help while replacing non-removable batteries. However, if you are desperate and have no other choice than to replace it yourself, you will require
An allen wrench
Matching screw driver
Video recorder
Step 2: Start removing the screws, don't forget to record
Unless you do it every day, it's challenging to remember all of the wiring arrangement when installing from memory. So, it is essential that you record each step, keeping in mind the cables and connectors, as well as the setup orientation.
To access the bike's frame and batteries, first remove the display and flip the bike upside down.  
Most frame integrated battery screws may be removed with an allen wrench; if your battery has a different screw set, find an appropriate screwdriver or wrench and gently loosen them.
Step 3: Tie a long thin rope with the connector wires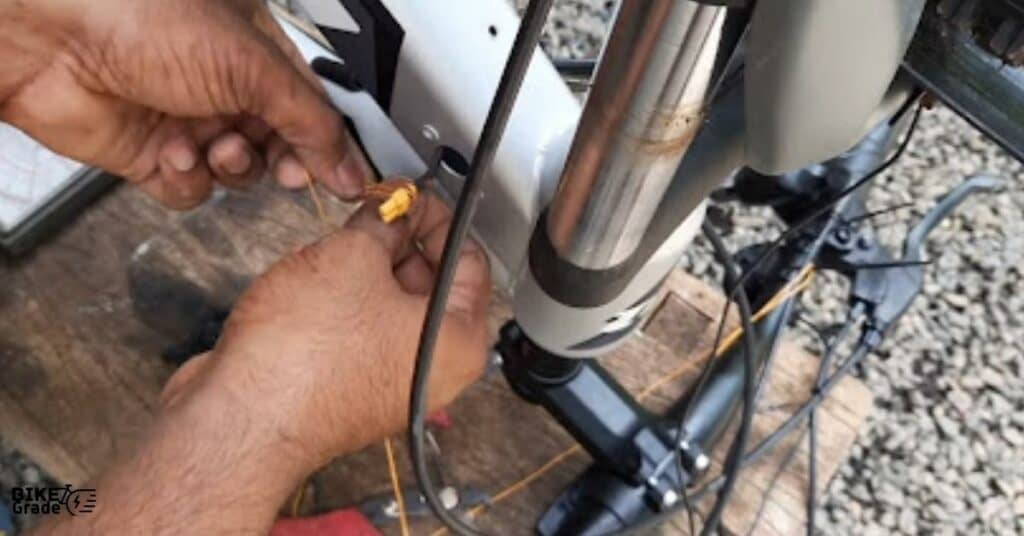 For frame integrated batteries, there are connectors on both ends of the battery. It would be wise to tie a thin rope at the front connectors. You won't have to face any hurdle finding the connectors while reconnecting them with the display wires.
Step 4: Remove the battery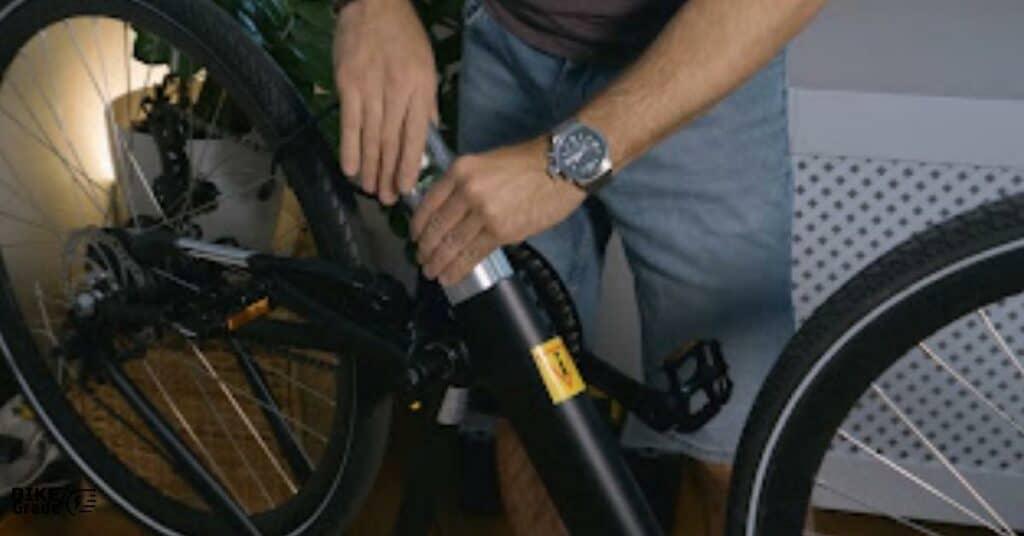 After you've removed all of the screws/nuts and the battery is easily moveable within the frame, it's time to remove it. You may gently lift it up with your hand.
Step 5: Remove the connectors on both ends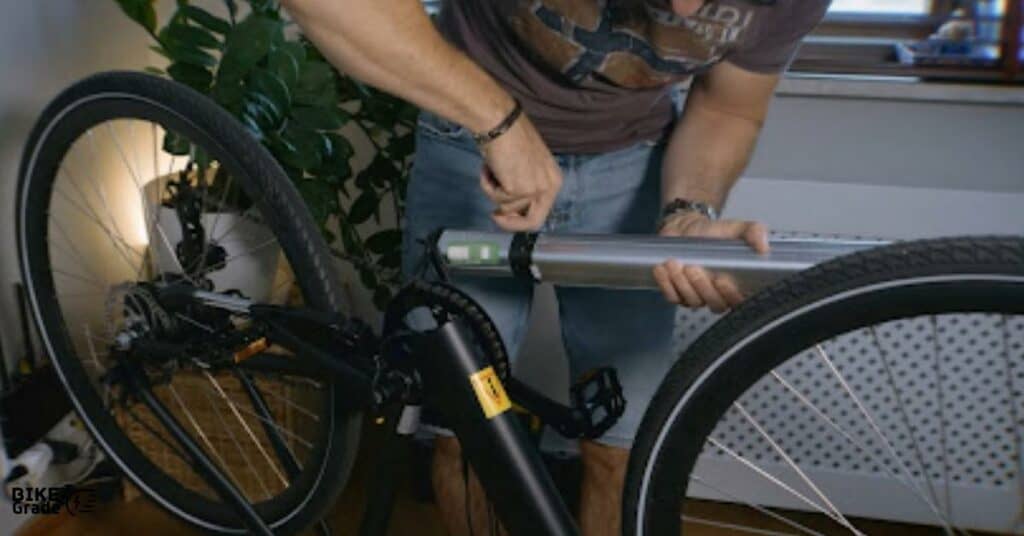 Use an allen wrench or screwdriver to remove connectors from both ends of the battery.
Step 6: Finding a new battery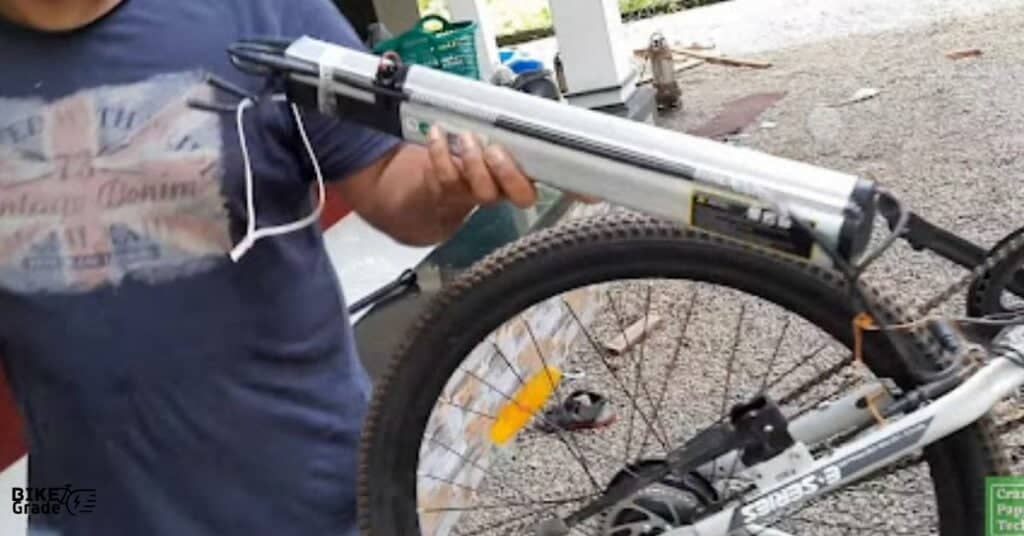 Because frame integrated batteries are rare to find on the market, it is recommended to contact the original retailers or, if necessary, the manufacturer. If you have a new battery in your hands, it is time to begin the installation procedure.
Step 7: Battery inserting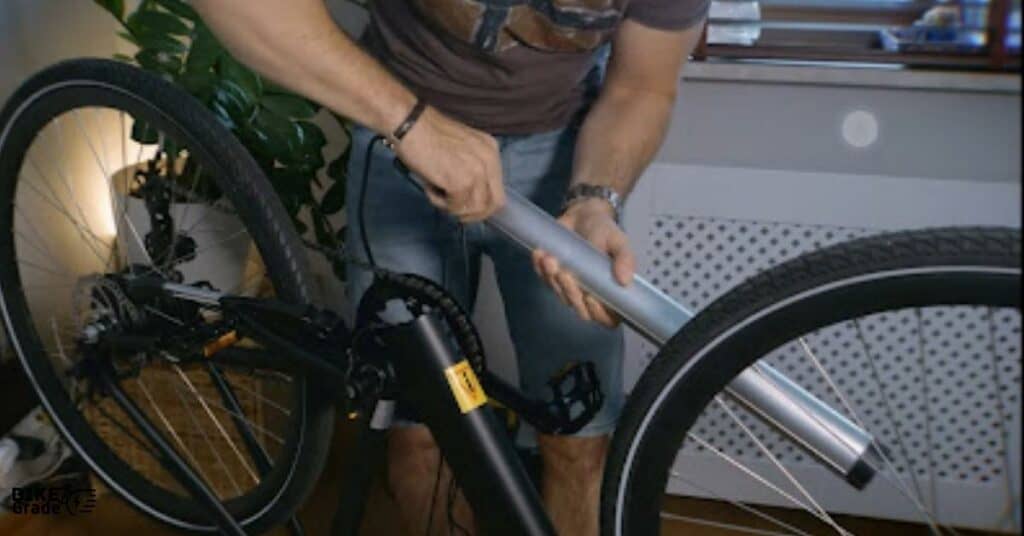 The most important thing is to retrace your steps, watch the recorded video of the battery, connector, wires disassembly, and have a clear mental picture of the installation procedure.
Attach both ends of the battery to the connectors. When finished, slip it into the frame. Then, plug in the display and motor connector, confirm the wire orientation. Tighten the nuts and screws,
When everything is perfectly set, start the ebike to see whether everything is working properly.
Note: The installation process is a little bit time consuming and challenging. Make sure to be patient and install everything in a calm and composed manner.
What You Need To Know Before Replacing Your Ebike Battery
1. Going Through The Manufacturer's Guide 
You should first read the ebike manufacturer's guide for information on voltage and amperage suggested for the bike. It is best to look for an identical copy or battery with the same volt and amp as your original battery.
2. Seeking Professional Help 
It is also strongly advised that you seek technical support and check for any problems with the motor, connectors, wiring, and related components.
3. Investigating Why And How The Battery Broke Down  
If you are changing your battery after 4 or 5 years of use, it is acceptable; however, if you are changing a newly purchased ebike battery that is less than a year old, you must investigate the cause of the damage.
Otherwise, you may encounter the same issues again. 
Why Does My Ebike Battery No Longer Work Like It Used To?
If you don't take care of your ebike battery properly, it will start to reduce the performance. Here are a few reasons for reduced performance. 
The Battery Is Old
Riding an ebike for more than 3 to 4 years, and recently noticed a drop in performance, it's likely that the battery has worn out. Replacing the battery will be the solution.
Damaged Battery
If you're having performance issues with a bike that's less than a year old, it's almost certainly a battery issue.
Some damage is easily repaired, so you may not require a new battery right away. 
Problem With Bike
If you are unable to find any issues with the battery and have  replaced it; if there are still performance issues, the root of the problem is your bike.
The motor, wires, connector, and circuit must all be thoroughly inspected. 
How To Tell If Your Battery Has Been Damaged?
Here are some common indicators for you to tell if your battery is damaged. 
Charge Not Lasting Longer
If a battery does not last for half an hour after 20 hours of being connected to the charger, there is clearly a problem with the battery.
Self Discharge Is Too High
Keep it connected for at least 20 hours to fully charge the battery. If a self-discharge occurs after being inactive for 48 hours, the battery is damaged. 
Deformation In The Battery 
If the battery is overly puffed up or has dents and irregularities in shape, it's time to replace it. Riding your ebike with such batteries is extremely dangerous. 
Not Turning On Despite Having A Full Charge 
The most obvious sign of a damaged battery is that it will not turn on despite being fully charged.
Where Should I Go to Get a Replacement E-Bike Battery?
The best way to get a Replacement E-Bike Battery is to contact the original retail outlets, but you can also compare prices at local retailers. If the battery is not available in your area, contacting the manufacturer may provide you with more information. 
Factors That Influence The Life Of A Battery
Here is the list of factors which may negatively influence the lifespan of your ebike battery. It's best to know about them and avoid them as much as possible. 
Weather Damage: 
If you leave your bike in the sunlight for an extended period of time, the UV rays may transfer heat and can definitely damage one or two battery cells. The damage is hidden and statistically minor in number, yet one damaged cell is enough to ruin the circuit.
Overloading
Ebikes and their batteries are designed to support a rider's weight plus a little extra weight, but most riders have unrealistic expectations of their bikes. 
The ebike battery and motor will not provide enough torque to deal with overloading. It will merely put needless strain on the entire system, reducing battery life.
Trying To Adjust With The Busy Traffic:
Riding an ebike on a busy road and trying to keep up with the speed of a motor vehicle is a terrible thing. The battery will work much harder to provide power to the system, and may reduce lifespan.
The Tire Pressure 
It is difficult and harmful for the ebike to move when the tire is flat or the pressure is low.Maintaining proper tire pressure on an ebike will improve overall performance & reducing pressure on the battery
Benefits Of Changing Your Old Electric Bike Battery
By replacing your old battery, you can expect your new ebike battery to perform better in terms of speed, performance, power, and efficiency. You won't have to worry about the charge running out quickly or not being able to reach top speed.
Another advantage is that you will be able to determine whether the reason you replaced your old battery was resolved or if there is still a faulty part in your ebike.
Can You Replace Ebike Battery By Yourself? 
Yes, it is quite simple to do so. If your ebike has an external battery, simply remove the connector and plug in the new battery; it's that simple. If you have an internal battery, simply open the compartment and replace the old one with a new one.
The only difficult part is investigating and deciding whether or not you actually need to replace a battery. 
FAQ
Can eBike batteries be replaced?
Yes, bike batteries can definitely be replaced.
How much does it cost to replace an eBike battery?
It costs $450 to almost $1000 to replace an ebike battery depending on different manufacturers.
How often do you need to replace a battery on an eBike?
You may need to replace an ebike battery after 3 to 5 years of use. Usually, an ebike battery can last up to 7 years.
How long does it take to recharge a battery?
Approximately it takes a minimum of 2 to 6 hours to fully recharge an ebike battery.
How to know when your battery needs charging
The battery light indicator will turn red, your ebike won't get to the desired speed, and there will be a remarkable drop in performance.
Can I Use Any eBike Battery on my Electric Bike?
Not all ebike is adaptable with any random batteries. Following the user manual and installing a dedicated battery for your ebike model is advisable.
Conclusion 
Whether it's an internal or external battery, replacing an ebike battery is simple and quick. However, it should only be the last resort. Minor damage can be easily repaired, and there could be other factors causing the bike's performance issues. You should troubleshoot the issue and then decide whether you should replace it or not. 
Also Read