Why does my eBike battery spark when I connect it?
Ebikes battery tends to spark when connected to the charger, you don't need to worry about it. The main reason behind such phenomena is the leakage of static charge. The flow of current leads to a tiny bit of electrostatic charge leakage and when mixed with air's gaseous molecules it creates sparks. 
There are other reasons for sparks like wires connected in reverse polarity, inductance, and more. So it's better to keep the outlet switched off and connect the battery and charger.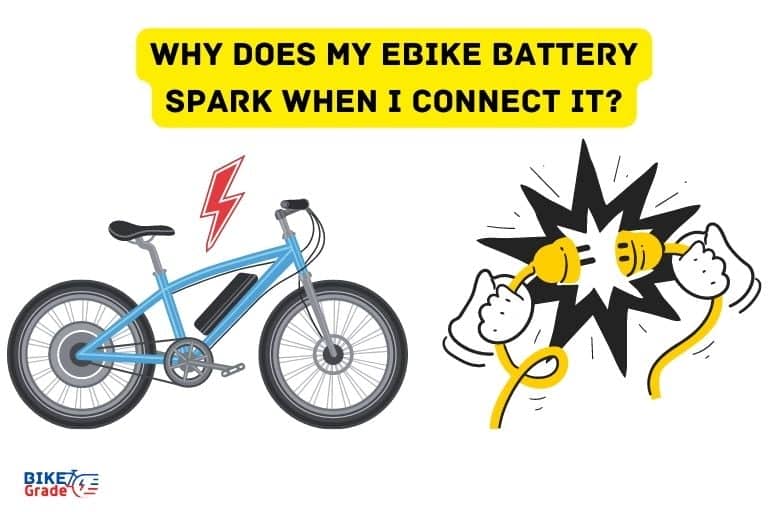 In extreme cases, there could be a short circuit which may lead to a smoke buildup. Proper maintenance and relying on well-known battery brands would be the most ideal way to avoid any unfortunate events. 
Why does my battery charger spark when I plug it in?
The battery charger spark when you plug it in might be because of inductance. Any loop in the charging wire might create a magnetic field and any changes in current flow will force it to create an equivalent state which is called inductance. You can thank the inductance for creating the beautiful yet dangerous flash of light.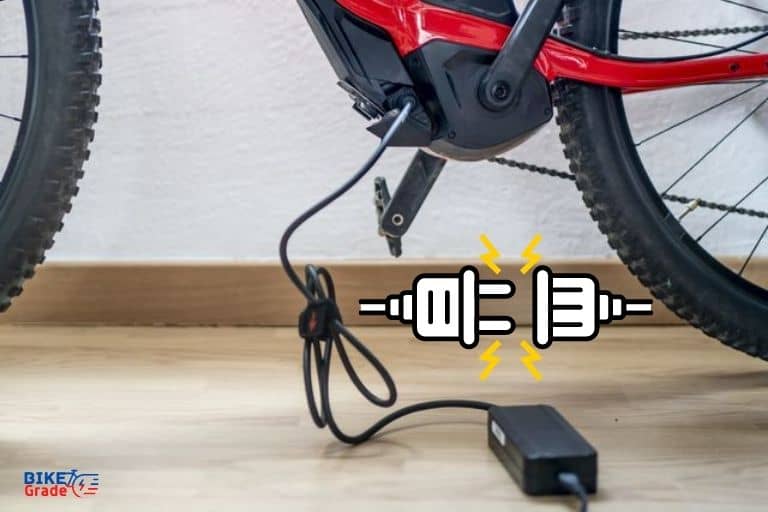 Although the spark may be harmless, it's better to avoid it. Always keep the wire straight, plug it in then turn on the switch and make sure to clean and maintain the charger. 
What to do if a battery starts smoking?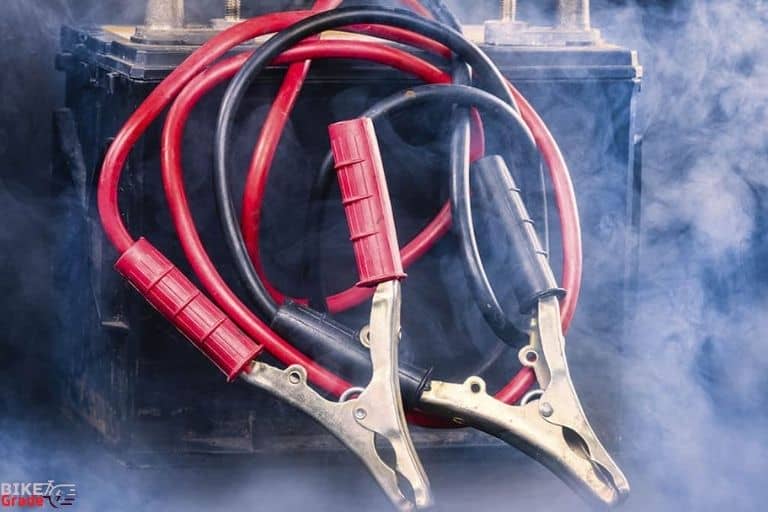 Most e-bikes use lithium-ion batteries and it's quite hard to handle if it catches on fire. So keeping your distance and calling the fire service is the most ideal thing to do. However, there are some dos and don't you should follow in such situations:
Don't use water: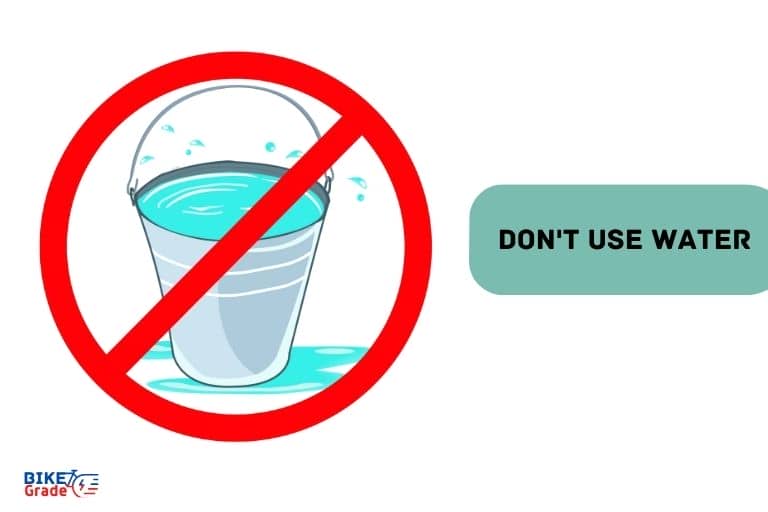 It won't help no matter how many gallons of water you pour in, it won't surpass the smoke, however, it could surely make things worse. Water and electric devices don't go well together so keep them away from the smoking battery.
CO2 Fire extinguishers aren't enough: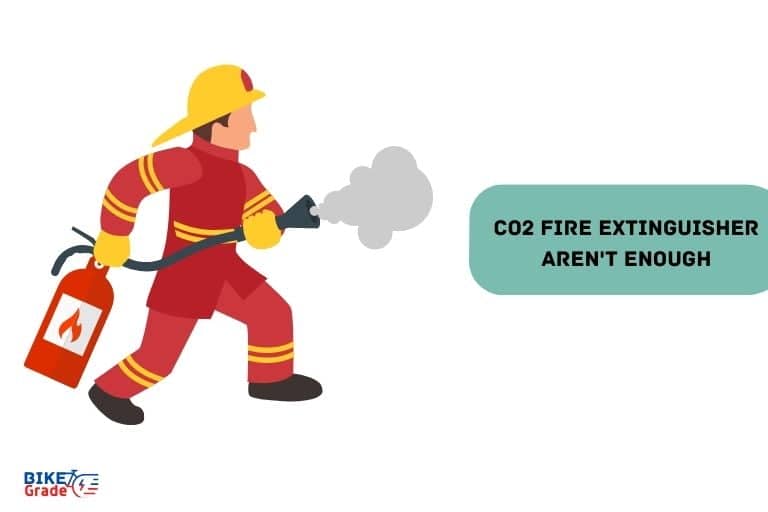 If you are thinking that water doesn't work maybe a fire extinguisher will help then you are going on the right track. A fire extinguisher might not be able to dominate the fire but it will surely make it weaker, at least the smoke and fire won't spread around. 
Best ways to control the e-bike battery smoke and fire situation: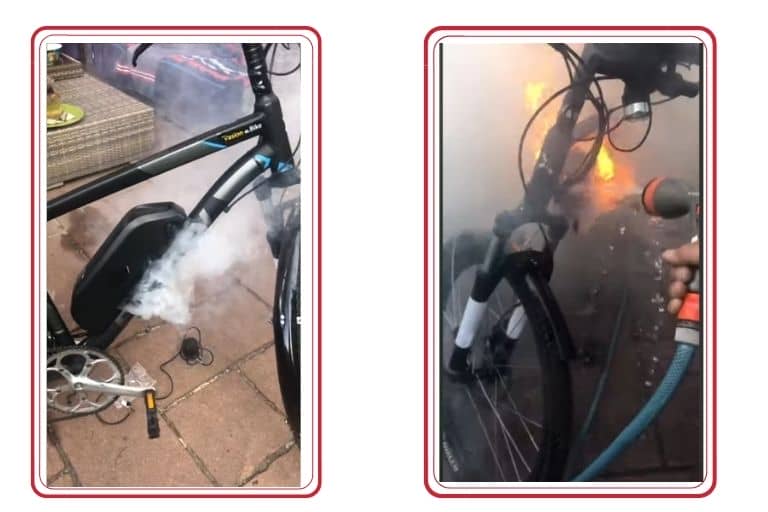 The best thing to do is to apply an ABC dry powder extinguisher. It will surely help reduce the reaction rate. Fire extinguishers with magnesium, copper, or graphite are ideal for reducing the reaction rate, drawing away heat, and controlling the smoke. 
Bucket of Salt and sand (cheapest extinguisher)
Salt or (NaCl) sodium chloride is a great extinguisher for any lithium-ion, lead ion batteries. It is sure to reduce the smoke and keep battery fire from spreading.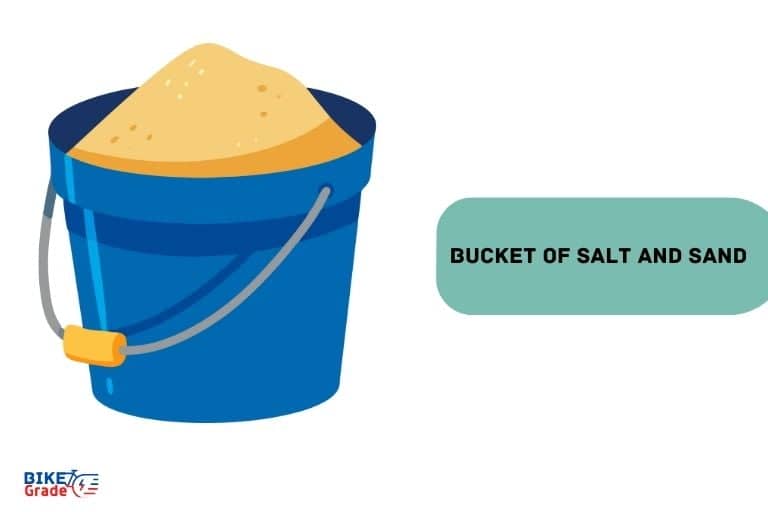 The sand (SiO2) silicone dioxide will also act as a cheap convenient fire extinguisher. Blocking the smoke and fire and controlling the situation. 
Why is your battery smoking?
Smoke coming out of your e-bike battery is the worst red flag, and several factors might be at play in such a bizarre situation.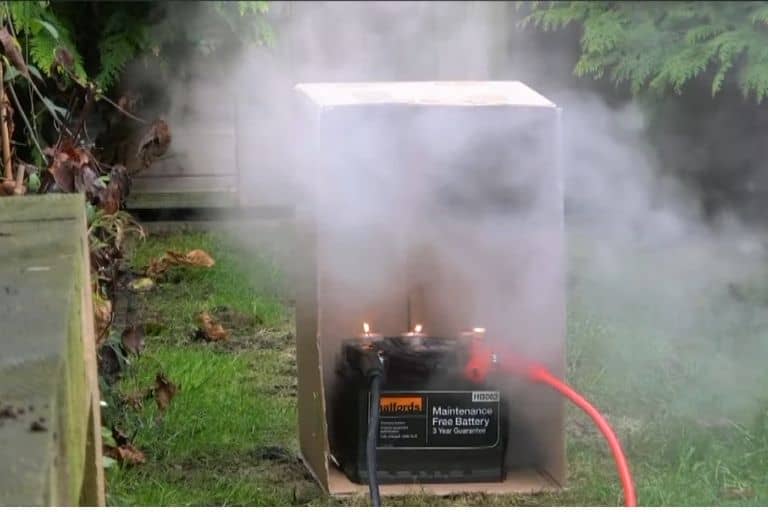 Short circuit: one of the most common reasons behind smoke coming out of your battery might be a short circuit. A faulty wire connection or a positive wire getting in contact with a negative wire is the main reason behind it.
Over charged: stored up charges overtime might make the battery circuit's semiconductor puffed up. Over charging the battery over a long period of time is sure to damage the battery and produce smoke.
Fried circuit: plugging the battery in a higher voltage outlet or plugging the charger in a lower voltage outlet for a long time, both actions can severely damage the circuit. The fried up circuit will create more trouble for you.
What causes eBike battery fires?
There are multiple factors that may ignite a fire on your e-bike. The common reasons are: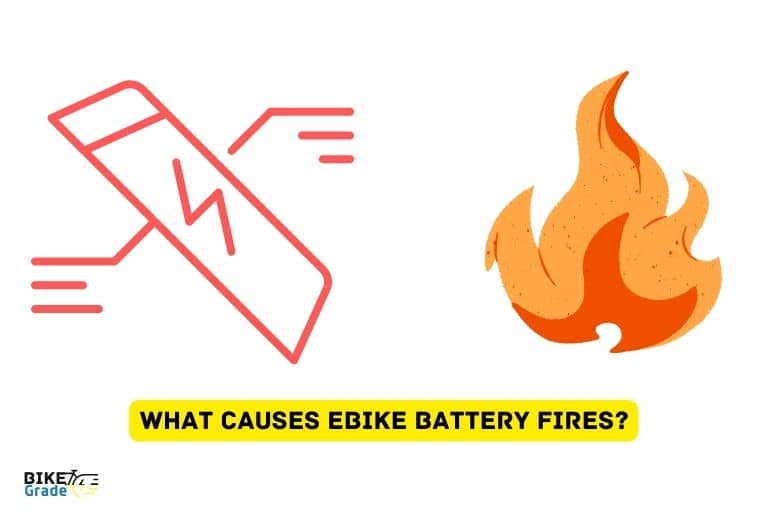 External damages: any external damages, deformation, or cracks may quickly lead to a fire hazard. Using a protective cage to secure your battery may reduce the risk. 
Internal damages: exposure to extreme heat or cold may lead to shrinking or elongation of the metal components of the battery. A higher or lower-volt charger may also fry the circuit and create havoc. Only properly maintained & stored batteries have a lower possibility of getting internal damage. 
Faulty design: Most DIY or non-brand batteries may have a defective design that is sure to short-circuit and create fire. 
Incorrect disposal: e-bike batteries have extremely flammable electrolyte fluid inside of the cells and if not properly disposed they may cause a fire, Hazzard. 
Why is there a Spark when Plugging in a Battery |watch video|
How common are e-Bike battery fires?
Ebikes fires are a rare sight as most manufacturers try their best to make them fireproof. The fail-safe system installed in e-bikes makes them a reliable vehicles. That being said, the incident reported by e-bikes catching on fire has increased in recent times.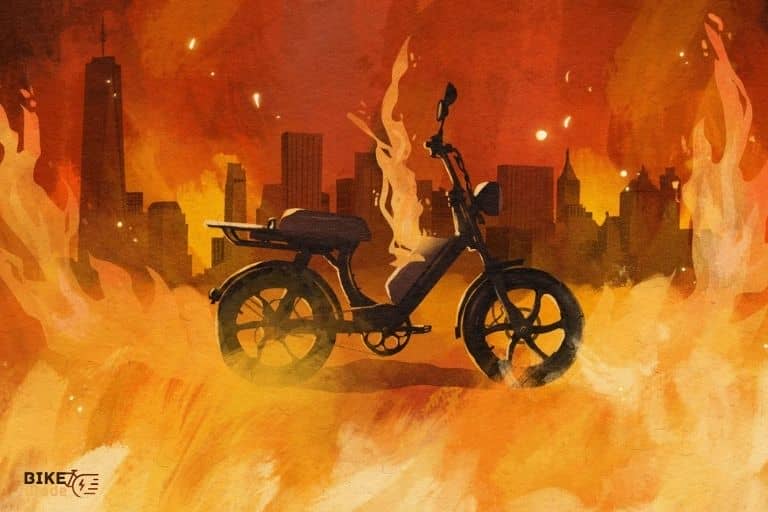 If you take a look at recent numbers only in New York City it's quite alarming. In the year 2020, it was 44 e-bikes caught on fire. The next year the cases almost doubled, in 2021 a total of 104 incidents were reported. But from 2022 till October, the number reported was almost 174.
In 2022 only in New York, the number of people injured because of e-bikes catching on fire is more than 93. So the transportation authority and manufacturers are trying to find suitable methods and modifications to deal with the situation. 
FAQ
Is it normal that sparks are generated when the battery is plugged and unplugged?
Yes, the spark you sometimes witness while plugging or unplugging the battery is normal, it's due to inductance. However, it's best to check the voltage flow of the outlet with a multimeter.
How often does Ebikes catch on fire?
Because of all the fail-safe installed, an e-bike rarely catches on fire. However, it's quite alarming because the number of e-bikes caught on-fire incidents reported only in New York City from 2022 to October was 174.
What causes electricity to spark?
When the electric field creates an ionized conductive channel mixed with air gaseous molecules create a spark.
Can batteries cause a spark?
Yes, batteries can cause sparks. Batteries hold up charges and if not disposed of or recycled properly it's sure to cause hazards.
Conclusion 
Inductance, electrostatic charge leakage, reverse polarity, there could be several reasons behind the spark you witness while plugging in the e-bike battery for charging. It's not that much of a deal but it's always better to be safe than sorry. Keep any flammable material away from the charging area and keep a dry powder extinguisher around you to deal with sudden mishaps.