Can I Use Car Battery For Ebike: Truth Revealed
Yes, theoretically, it's possible to use a car battery for your ebike but that's a risky and inefficient move. However, you can use a car battery to charge your e-bike, you will just need a battery inverter. 
Using a car battery on an e-bike is theoretically possible but you are sure to face problems with weight distribution. The bike will definitely become heavier and the weight balance all messed up, you will surely face difficulties handling the ebike. 
If somehow you are able to deal with the weight distribution then the next and most crucial thing would be replacing your Ebike's wires and motor. The car battery will supply an astonishing amount of power which might fry the wires and might heat up the Ebike's Motor. There is an alarmingly high risk of fire hazards.
Also, a regular ebike battery will last much longer than a car battery. So, using a car battery on an e-bike will only add up more trouble and increase your expenses. If you desire to utilize the car battery for your ebike then the only resalable thing will be using a battery inverter to charge the ebike battery. 
How To Charge an Ebike Off A Car?
To charge an ebike off a car, you can follow 3 simple steps:
Step 1 Get the right battery inverter
You should buy a pure sine wave inverter as it's the most efficient in converting DC to AC. The capacity of the inverter should be higher than the battery, for example, if you have a 48v 10ah battery you should buy a 500-watt inverter. 
To determine what capacity inverter you should buy, you just need to multiply the battery voltage with amperage, for a 52 volt 10 Ah you will need (52×10=520 watt) at least 600 Watt inverter (the capacity of the inverter should always be higher than the battery).
Step 2 Connect the wires and device 
If you have an inverter in your hand then you should start with the wire connections process. It is quite simple, just connect the positive end of the inverter to the positive end of the car battery with wires and the negative end of the inverter to the negative end of the car battery. 
Install or insert a kill-a-watt device into the inverter. It will help you monitor the voltage, capacity, and PFC data and will save your battery from getting overcharged. 
Step 3 Connect the charger
It's the final and easiest step. Connect the charger to the inverter or kill a watt device and you are ready to charge your e-bike battery. 
Before that you should always look for a charger with PFC or power factor control, it will be efficient in controlling any overloading and the charging time will reduce quite a bit if the charger has PFC. 
You could keep the car engine on, even if it's off you don't need to worry, charging an ebike battery with your car won't drain out the car battery.
What Is The Difference Between Car Battery And Bike Battery?
1. Weight difference
The weight difference between a car battery and an ebike battery is remarkably huge. The ebike needs to be lighter for better handling, ideal weight distribution, and providing comfortable performance for the rider. So, the battery is designed to be lightweight. 
A typical Ebike lithium-ion battery might weigh around 5 lbs to 20 lbs whereas a car battery will weigh around 40 lbs to 60 lbs. 
2. Chemical composition
Most ebike batteries have lithium-ion, graphite, copper, metal oxide, and other lightweight material. It keeps them light, efficient, and perfectly fit to last for 6 to 7 years.
Most car batteries are lead-acid batteries. The common chemical components found in lead acid batteries are lead metal & dioxide,  lead sulfate, sulfuric acid, calcium, and tin.  Lead acid batteries are cheap and can produce a great amount of power. However, they have pretty short longevity, it may last for around 2 years. 
3. Design layout 
Ebike battery design can be described as a large number of individual battery cells connected and set up in a single box. 
Where car batteries have a completely different design layout, there are mostly six different compartments filled with sulfuric acid, for the cathode use lead alloy & Spong lead, and for the anode, you will find lead dioxide. 
Can I Charge My Ebike At A Car Charging Station?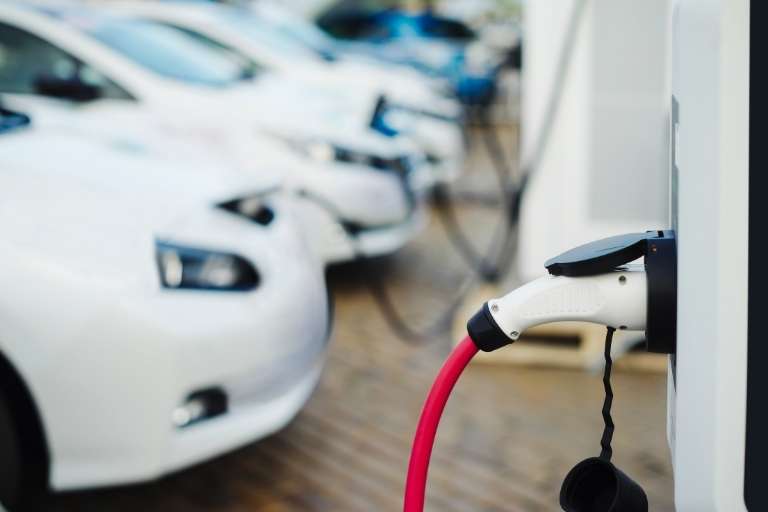 Ebike batteries can be charged at a car charging station. Most Car charging stations nowadays have 220-volt outlets. So, before you connect the battery, be sure it can be charged from a 220-volt outlet.
If you have a 110-volt outlet at home, the ebike batteries may have been adapted to it or were purchased to match it, so be cautious while inserting the battery charger into a higher voltage outlet.
Some charging station ports might not be the perfect fit for your ebike charger, so having an adapter with you will surely come in handy. 
Can I Charge An Ebike Battery In My Car?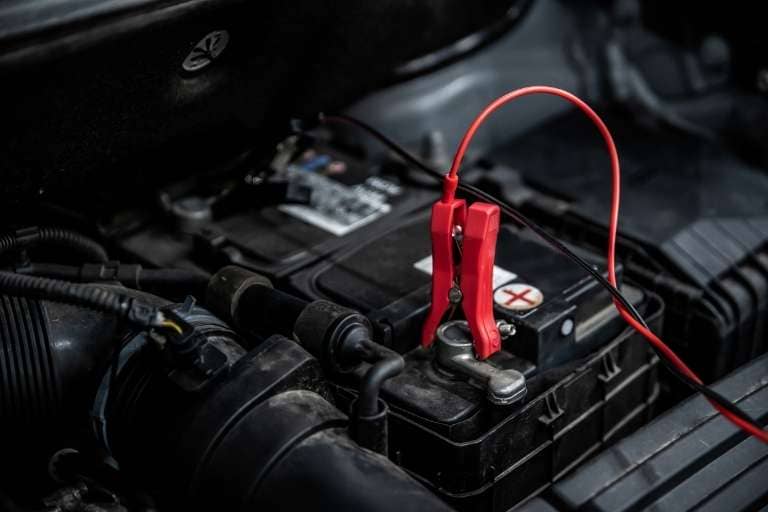 If you are thinking about plugging in the ebike battery into the cigarette lighter socket of your car then it won't give you satisfactory results. 
The cigarette lighter socket is suitable for a 12V battery, your ebike battery charging voltage requirement is quite higher than that. If you plug in the ebike battery charger in the car cigarette lighter socket, it may show the battery is getting charged but it will take a long time to show any significant difference.
In the worst-case scenario, you might end up frying up your car circuit, and wires or may permanently damage your ebike battery. 
What Size Inverter To Use To Charge An Electric Bike?
Going for a 1000W inverter will undoubtedly be the better choice. It will be able to charge both high and low-voltage batteries. However, it might heat up the Ebike's battery a little bit.
If you have a 48v 10Ah ebike battery then you should at least go for a 500W inverter. If you have a 52V 10Ah or higher voltage battery then you will have to go for a 600W or higher capacity inverter.  
Can I Charge My Ebike Battery Using A Portable Power Station?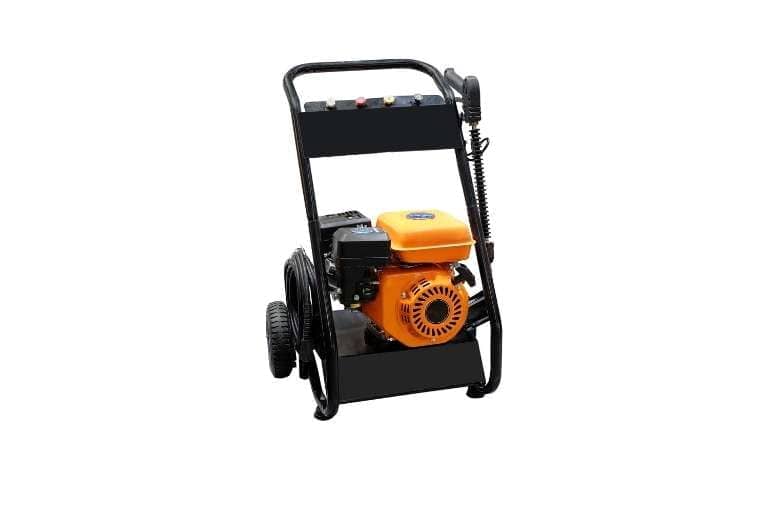 A portable power station may be used to effectively charge your e-bike battery. It would be ideal if you had a 1000-watt portable power station, or at least one with a capacity of at least 500 watts.
Most portable power stations can charge many devices at once. It is not difficult to charge the ebike battery; simply switch the output of the portable power station from DC to AC and attach the ebike battery charger, and you are ready to go.
Can I Charge My Ebike Battery Using A Solar Panel?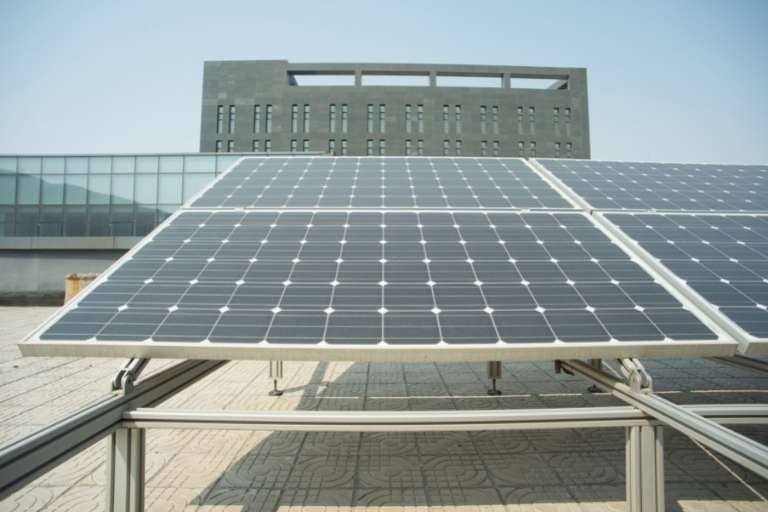 You can definitely charge your ebike batteries using a solar panel. To charge an ebike battery with a solar panel, you will need a 
solar panel or blanket 
charge controller 
Adapter
A flexible and lightweight solar panel would be easy to carry and set up. The charge controller will help you maintain and adjust the electrical energy supply from the solar panel, and with the adapter, you can easily connect your solar panel setup to the ebike battery. 
FAQ
Can You Put A Car Battery On An Electric Bike?
You should not put a car battery on an electric bike.
Why Do Electric Bike Batteries Die So Quickly?
The ebike batteries run out of charge due to the ebike motor consuming a lot of power (amp-hour) to generate enough torque for speed and load carrying.
Can 12 Volt Batteries Be Charged With A 48 Volt Charger?
You should not charge a 12V battery with a 48-volt charger.
Is It Possible To Charge An Ebike While Riding?
Charging an e-bike while riding is possible, but the output or charging percentage might not be that much satisfactory.
Can I Put A Higher Voltage Battery On My Ebike?
It's not safe to put a higher voltage battery on an e-bike.
Conclusion 
Using a car battery to replace your ebike battery might be out of the question but you can certainly use a car battery to charge your ebike battery. 
You will simply need a pure sine wave inverter, kill a watt device, and a few wires, and you are all set to charge your e-bike battery off a car. Hope you won't have to desperately look for a power outlet to charge your e-bike next time you plan an off-grid trip.
Resources